Posts
https://ymi.today/wp-content/uploads/2018/11/Episode-3-What-Is-The-Best-Way-To-Live-As-A-Single2.jpg
613
1024
YMI
https://ymi.today/wp-content/uploads/2017/05/ymi-logo-black-3.png
YMI
2018-11-19 14:27:12
2018-11-19 14:36:25
Episode 3: What Is The Best Way To Live As A Single?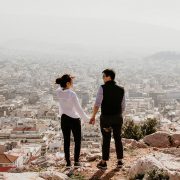 Written By Philip, China, originally in Simplified Chinese
When I was in my second year of university, our youth group went through a half-year course on romantic relationships. During that time, I longed to meet the partner I believe God had prepared for me.
However, when I looked at the world around me, I wavered. I told myself that I just needed to find a girl I liked—even if she didn't believe in Christ. I assured myself that it didn't matter much if she wasn't a Christian, since I could always bring her to church someday.
At one point I ended up dating an unbeliever. Though I had hoped that she might become a Christian, it didn't happen. Instead, because of our different approaches to life, we really had trouble communicating. Eventually we broke up.
When I decided to go into full-time ministry, I took my desires for a partner before God. By this point I had realized that it was best for Christians to marry other Christians, and I needed to trust God about it—"Dear God, I pray for a partner who would love You more than she loves me. I pray that when I meet her, I'll love and pursue her."
Though mature Christians in church introduced me to a couple of potential individuals, I hoped that I would be able to meet her as I went about my daily life. When a few years had gone by—and I still had not met her—I brought my desires before God once again. "Dear God, may You lead me and help me to serve You faithfully. As for marriage, let it be as You will."
Unexpectedly, I met her while I was working as a research student after I finished university.
Our first meeting occurred by chance. I was at a training conference when a girl came up to me hurriedly to borrow keys for the apartments we stayed in, since she was helping to look after someone. She had only eaten a few mouthfuls of yogurt from her buffet meal before borrowing the keys from me.
At that time, I didn't think much about it. I was merely amused that she had only yogurt from the wide spread offered at the buffet. I didn't think we would meet again.
Some time later, I learned that a new intern was arriving at church. When I found out that a church elder was going to pick her up at 6:00 a.m., I offered to go instead. After all, I was young and could save the elder the hassle of waking up early. And I did not want to pass up this opportunity for service.
That morning, I woke up early and rushed down to the train station. When I saw her, I realized that she was the one who had borrowed my keys during the training course. We started chatting and learned more about each other as we made our way to church. "What is your direction in ministry?" she asked me.
I was stumped by her question. I had always thought that a ready heart was all I needed. Someday, when God called me, I hoped to respond, "Here I am!" While I continue to trust that God will use a willing heart, I have also begun to think about and pray for direction in my ministry since that particular conversation.
Eventually I attended seminary in preparation for ministry, and we were able to interact more often. Through our interactions, I realized how intimate a relationship she shared with God.
Then one night, I found myself unusually keen to attend fellowship—because I kept thinking about her.
"Is she the one?" I asked God.
I proceeded to kneel in prayer and tears before God. "Stop me from being reckless if she is not the one for me! I am willing to submit to Your will. Please guard my heart!"
I began paying more attention to her. Her love for God and His people speaks through her words and actions: she serves actively in ministry; she is always warm and hospitable when interacting with newcomers. Her heart of service was particularly evident in her readiness to help wash everyone's cutlery after meals. From her sharing, I could also tell that God's Word was very close to her heart.
Over time, I continued to commit my marriage to God in prayer. Through my prayers, I realized that my affections for her were growing stronger. I admired her aspirations, her passion, and her mission. I began to pray for an appropriate time to express my feelings to her.
On the day that I had decided to tell her how I felt, she fell sick. I wasn't sure if I should go ahead and confess to her as I had planned to, but a friend encouraged me to be unafraid and express what I truly felt.
So I prayed that I would still get a chance to see her that day. We managed to meet, and I took the opportunity to share my feelings with her.
I like you! I like your love for God, your passion and your sincerity. I admire your will and mission. I know that I'm not worthy of you, but I believe that God has allowed us to meet at the right time. I know that love is not based on feelings. It is not reckless, but a conscious decision. Love requires acceptance. As I have been praying about this, I realized that I like you more and more. . .
Thankfully, she felt the same way. And so, we embarked on the road to marriage. Thinking back, she looked very different from the partner I had always envisioned for myself. At first, I was merely looking for someone who believed in Christ, had decent looks, and whom I liked. However, I soon realized that the most important criteria for my life partner is not just that she claims to believe in Christ, but that she truly loves God.
And so I found her, and she has fallen for me too.
https://ymi.today/wp-content/uploads/2018/11/God-Changed-What-I-Wanted-In-A-Life-Partner.jpg
613
1024
Contributor
https://ymi.today/wp-content/uploads/2017/05/ymi-logo-black-3.png
Contributor
2018-11-05 10:00:16
2018-11-05 10:32:29
God Changed What I Wanted In A Life Partner
ABOUT US
YMI (which stands for Why Am I?), is a platform for Christian young people all over the world to ask questions about life and discover their true purpose. We are a community with different talents but the same desire to make sense of God's life-changing word in our everyday lives.
YMI is a part of Our Daily Bread Ministries.
Scripture quotations taken from The Holy Bible,
New International Version® NIV®
Copyright © 1973, 1978, 1984, 2011 by Biblica, Inc.®
Used by permission of Biblica, Inc. ® All rights reserved worldwide.

The "NIV" and "New International Version" are trademarks registered in the United States Patent and Trademark Office by Biblica, Inc.®