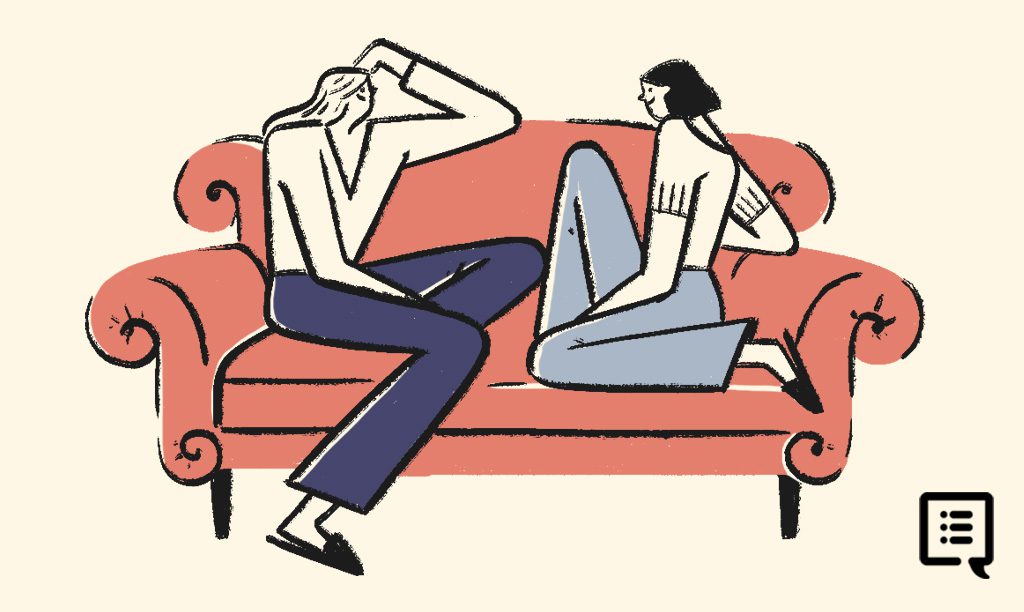 "Friending" each other is very easy in our digital world. We send a stranger we met five minutes ago a "friend request", and in seconds, we are accepted into their "inner sanctum". Soon, we're privy to every part of their lives–we know they had lasagna for dinner and a big brunch on Saturday.
Yet, we haven't actually had a proper sit-down coffee catch-up with them. And they haven't sat next to us as we cry our hearts out for a breakup (in fact, they have no idea we're going through a breakup). 
It's little wonder that old sitcoms like Friends are having something of a revival these days. It speaks to the quiet ache most of us feel–of having a friend who knows us beyond our curated photo reels. Scripture talks about the "sweetness" of friendship (Proverbs 27:9). Or in the words of the bear of very little brain, "A day without a friend is like a pot without a single drop of honey". C.S. Lewis once said that friendship "gives value to survival". 
But as much as we'd love some good friends in our lives, we should start with one of the most basic questions: What do flourishing friendships actually look like? (hint: it's more than sending each other memes 24/7).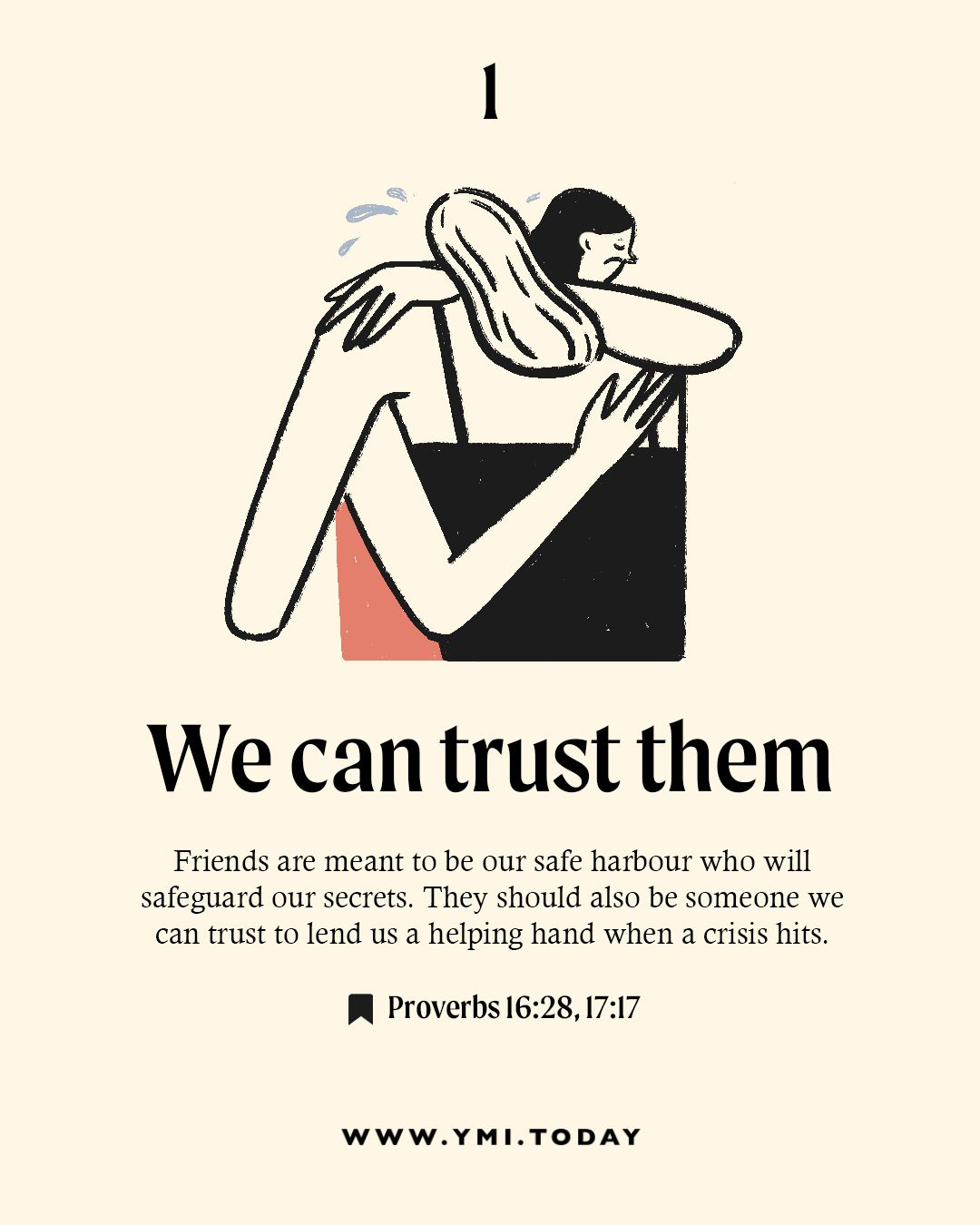 1. We can trust them
Friends are meant to be our safe harbour who will bring our deepest secrets to their graves (unless they have a legitimate concern and need to involve others for the sake of our safety and well-being). They should also be someone we can trust to lend us a helping hand when a crisis hits, rather than someone who disappears just when things get hard or inconvenient. 
Scripture says "a friend loves at all times" (Proverbs 17:17), but "gossip separates close friends" (Proverbs 16:28). A good indicator of whether the person is trustworthy is whether they're repeating personal stories of their friends to us that we feel uncomfortable knowing (especially since we don't know their friends), and how reliable they are when it comes to making good on the commitments they've said they would do.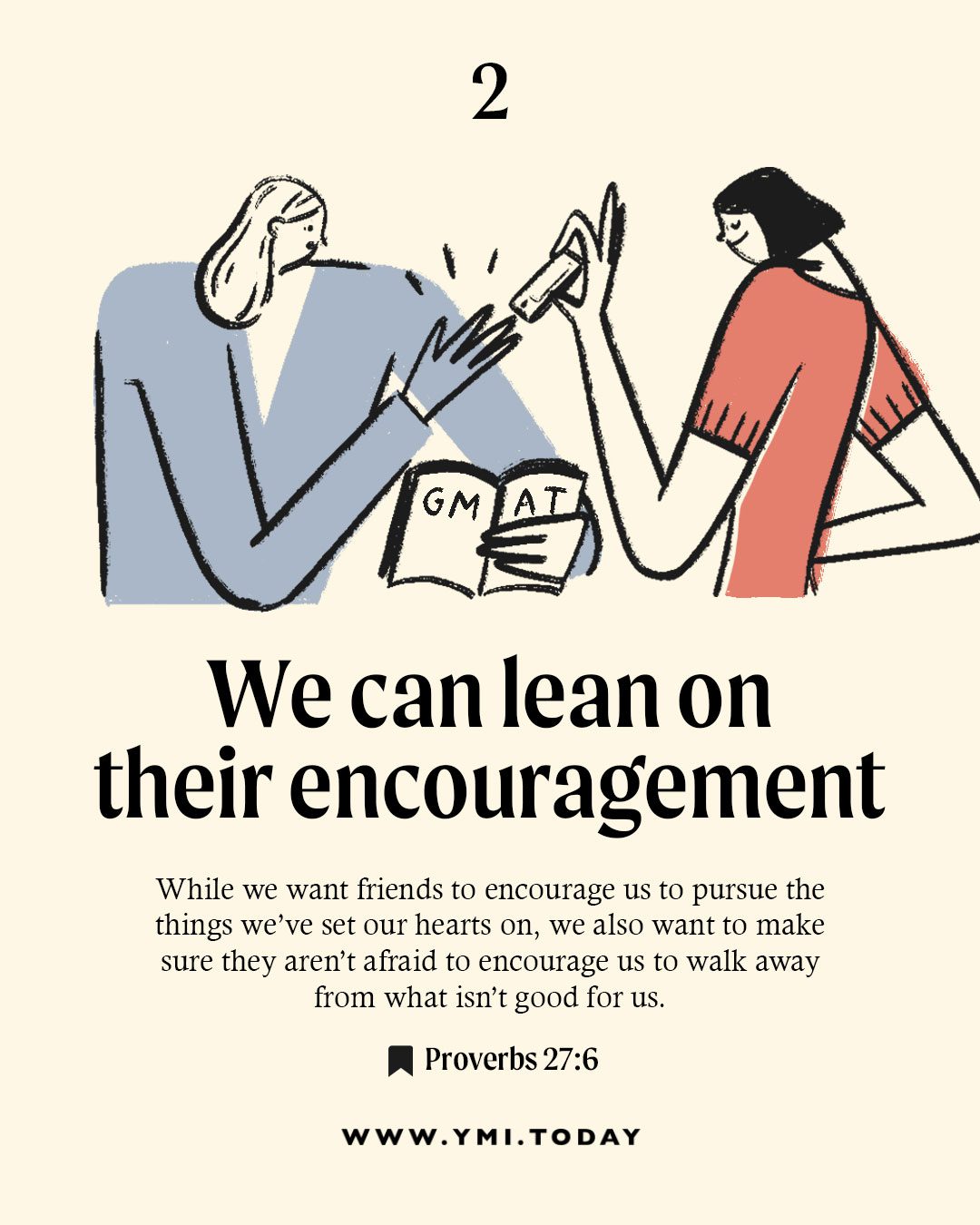 2. We can lean on their encouragement
Too often we think an "encouraging" friend is someone who will cheer us on without question in every aspect of our lives, even if the path we're taking might not be the wisest (so long as we're being "true to ourselves"!). While we do want friends who will encourage us to pursue the things we have set our hearts on, we also want to make sure they aren't afraid to encourage us to walk away from things that aren't good for us.

Scripture says, "Wounds from a friend can be trusted, but an enemy multiplies kisses" (Proverbs 27:6). As such, we also have to be careful of friends who offer flippant encouragement such as, "Yes, totally go for it", just because they're afraid of disagreeing and "offending" us, or they don't care all too much about us. 
Whether it's a subject at university we want to pursue, a potential partner to ask out on a date, or a certain business venture we're looking to dive into, those who genuinely care about our welfare will not be afraid to ask the difficult yet important questions of why we're doing this and that, before weighing in with their advice in a respectful manner. Yes, they will encourage us to go for it, but only if it's good for us, and only after everything has been taken into consideration.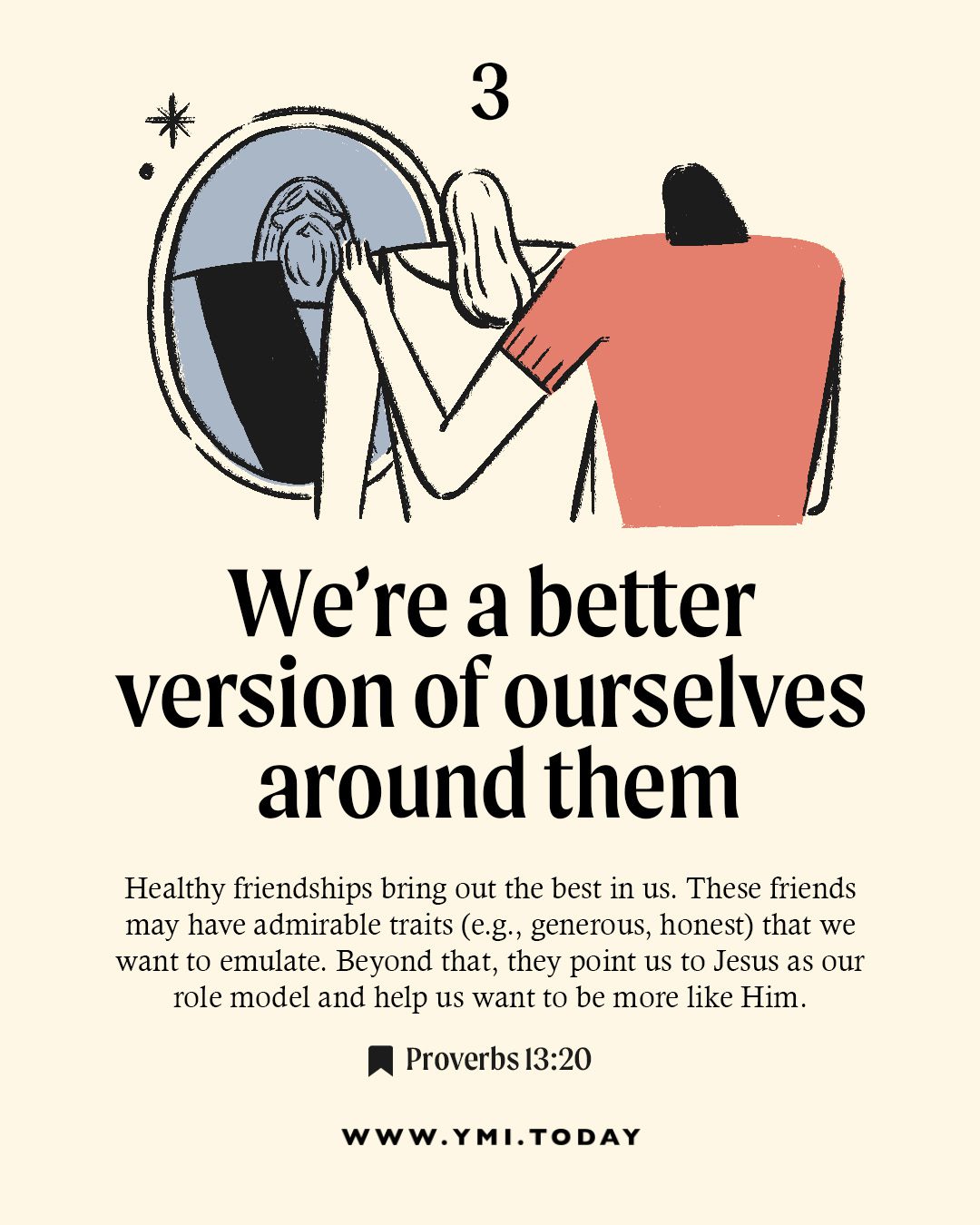 3. We are a better version of ourselves around them
"You make me a better person" is not a sentence that's just for misty-eyed couples sharing their vows on their wedding day. Friends are just as important in shaping and moulding our character. 
Scripture says that "bad company corrupts good character" (1 Corinthians 15:33), and we're advised to "walk with the wise, for the companion of fools suffers harm" (Proverbs 13:20). So, if our friends are contented to cut corners at work when they should be working, or skip classes to chill around in cafes, we may soon find ourselves adopting their habits. 
Healthy friendships are ones that bring out the best in us, or perhaps they have traits that we admire, such as generosity, honesty, and integrity, and we want to emulate them. And beyond just bringing out our best qualities, these friendships help us want to be more and more like Christ–and they also constantly point us towards Jesus as our ultimate role model.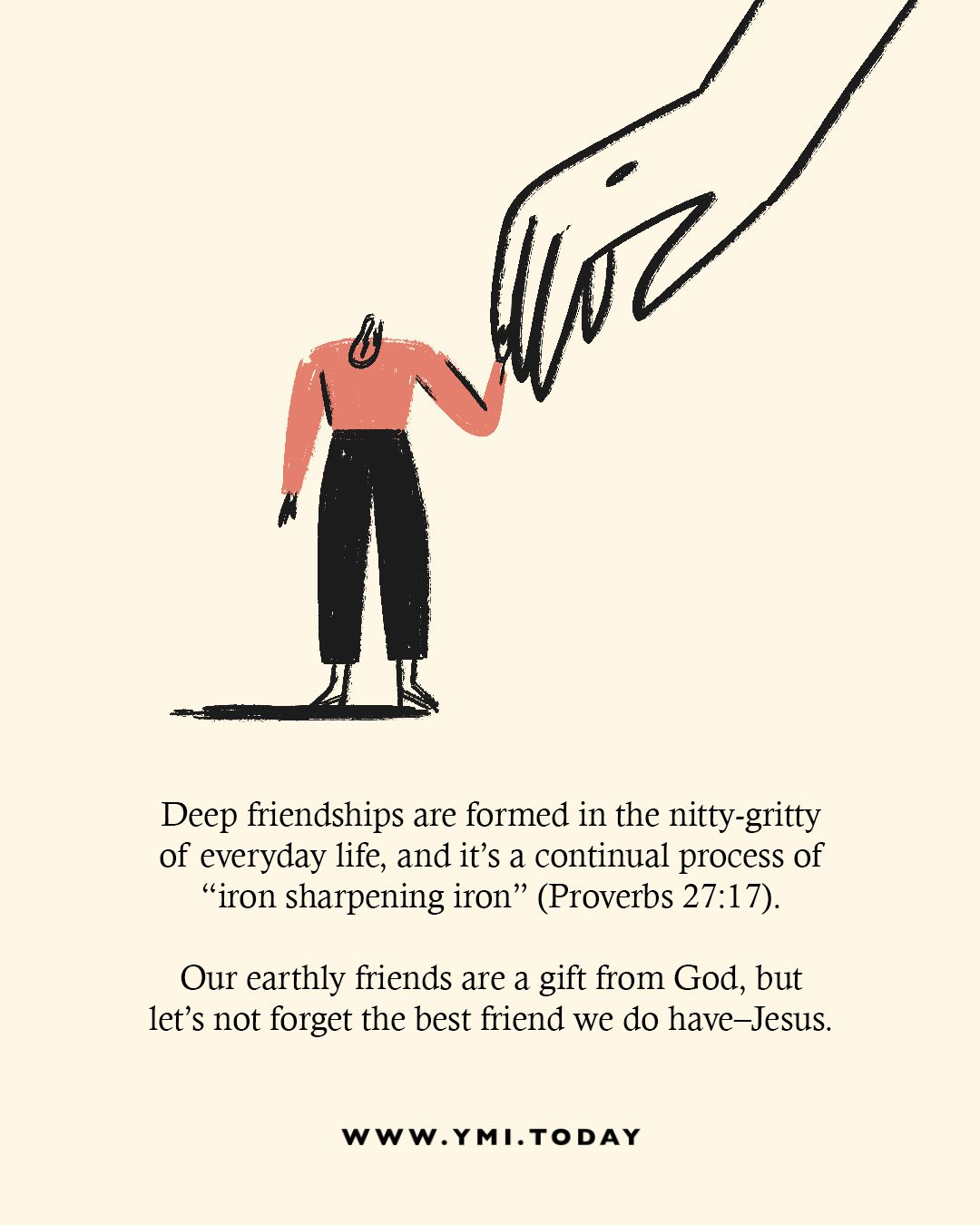 Deep friendships aren't formed after just one lunch hangout, but it could be the beginning of a friendship. Deep friendships are formed in the bonds of fire, in the nitty-gritty of everyday life, and it's a continual process of "iron sharpening iron" (Proverbs 27:17). 
Our earthly friends are a gift from God, but let's not forget the best friend we do have–Jesus. He's our most trustworthy friend who encourages us and helps us become better by being like Him. He's also the most generous friend, giving up His life on the cross in exchange for ours, so we may one day gather in heaven to feast at His table. What a friend indeed!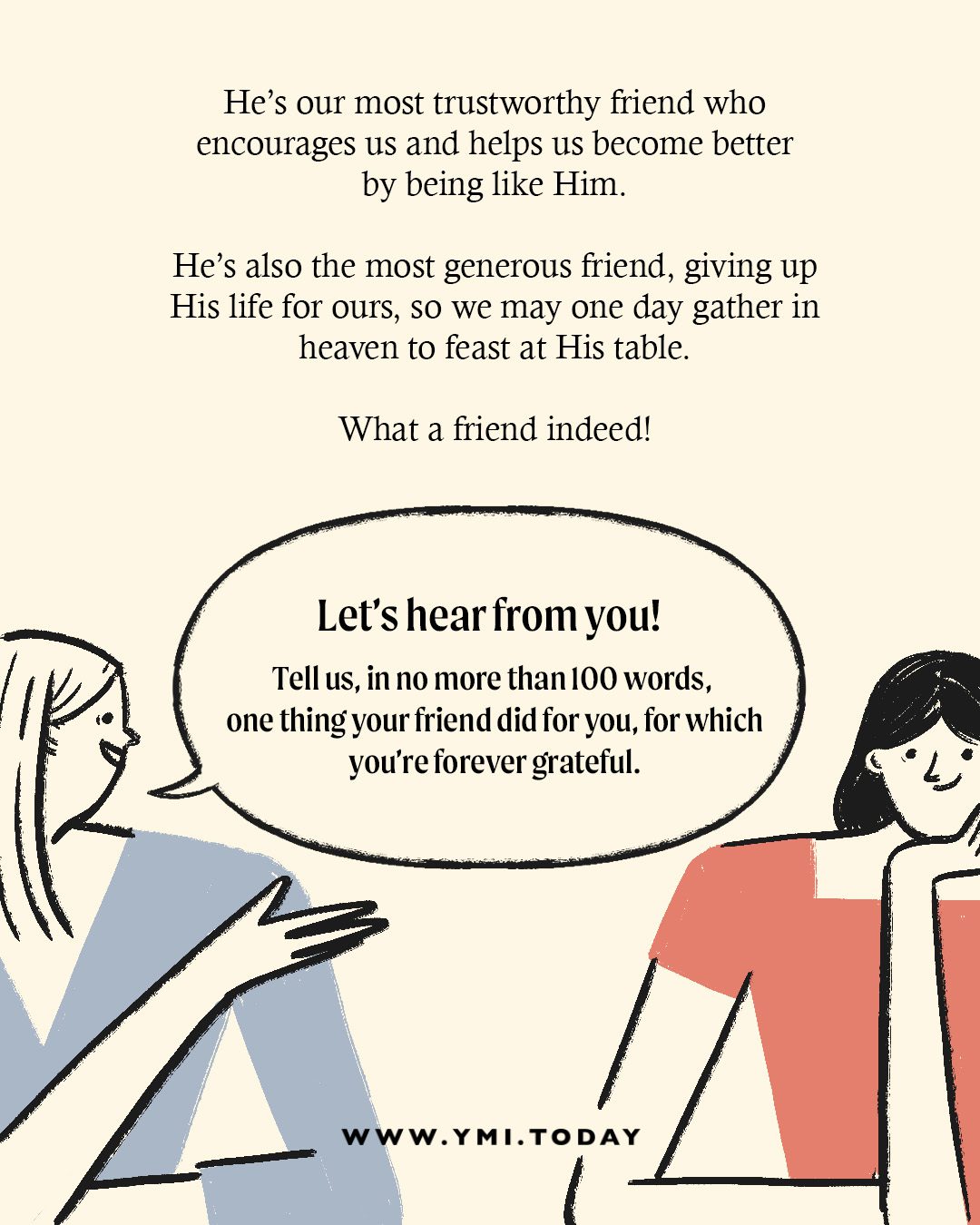 https://ymi.today/wp-content/uploads/2023/09/09-Sept-23-YMI-series-featured-image.jpg
612
1024
YMI
https://ymi.today/wp-content/uploads/2017/05/ymi-logo-black-3.png
YMI
2023-09-27 10:00:07
2023-10-18 11:12:17
3 Signs of a Healthy Friendship