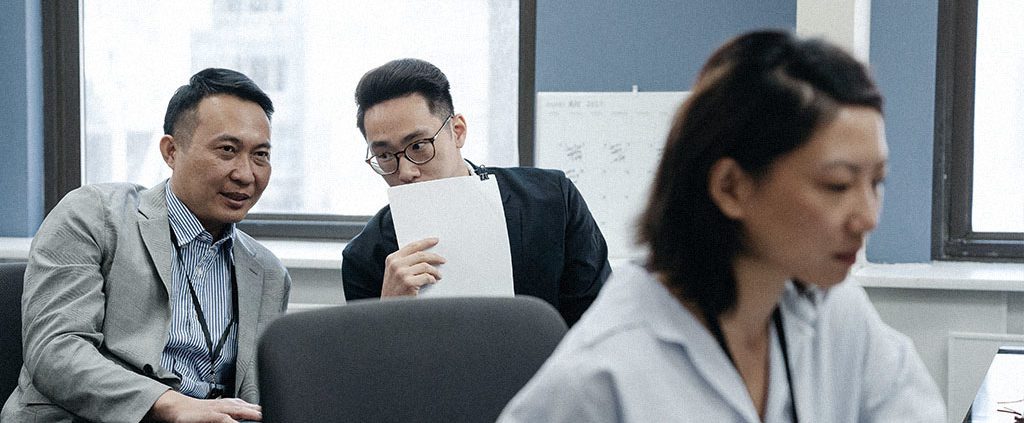 Written by AC, Singapore 
W joined my company about a year ago and was placed in my team. As we began working together, what struck me was his willingness to share his knowledge and experience, bringing a fresh perspective from his previous field of expertise.
It also happened that we took the same subway lines on our commute, so I often ran into him on the way home, and we ended up talking and getting to know each other. This deepened my interest in him as a person. But since he wasn't a Christian, I tried to hold back my interest in anything more than just being friends.
One evening, W asked some of our colleagues out for dinner, but I was the only one who responded to the invite. Despite my best effort at asking others to join, no one else seemed to be available. 
So that evening, we spent almost three hours over dinner, and we got to know more about each other's likes and dislikes. The week after, we were seated at adjoining desks, talking and laughing as we did our work alongside each other for hours. 
Little did I know that our colleagues were watching us from the other side of the office. Soon, they started teasing W about the possibility of a relationship between us, which I didn't know about.
After which, I began to sense that W was trying to avoid me, and I didn't know why. Then one night, he suddenly texted, saying: "I want to clear the air 'cause of the rumours going around—are you interested in me?"
When I didn't answer his question right away, he texted again minutes later to say that it was okay if I didn't want to answer because it was too sudden. He then said that he wasn't ready to be in a relationship, but he hoped that we could still be friends and that this would help "clear up the situation". 
When I read that, I thought it was good that he still wanted to maintain the friendship. However, at the back of my mind, I began to wonder if I should have given a straight answer since he had asked for it.
I also thought that perhaps telling him how I really felt—about getting caught off guard by his message, my growing interest in him due to our interactions (despite him not being a Christian), but also coming to terms with our differences in terms of faith and interests—would give me some closure. 
I decided to write a letter to explain how I felt, thinking that it would help both of us understand our respective positions. 
It turned out that I had misjudged the situation. Two days later, a colleague in whom I had confided about this matter texted me, saying she heard I had written an indirect confession to W, and all our colleagues knew about it.
Suddenly, I felt deeply hurt and embarrassed, not because W said he was not ready for a relationship, but because a matter I had tried to resolve privately had been made public.  
Believing that it's usually the guy who's expected to make the first move, I was afraid that people would be laughing behind my back and making negative comments about me. Truth was, I felt ashamed about having been "rejected romantically".
I was also worried this would affect my friendships with other colleagues, especially since some of them were also friends with W and they had known each other for longer. I was worried that my support structure at work would crumble because of this. 
However, I knew that the right thing to do was to respond in love like Jesus, who loved His enemies despite being persecuted by them. For me, that meant not badmouthing W, but to keep treating him like I would any other colleague. 
I knew that I had to trust in Jesus, even though I was emotionally distraught and worried about my colleagues' perceptions of me. But it was difficult to immediately respond with grace because I was still reeling from the hurt.
So, I texted my Christian friends for support, and they responded by sharing Scripture, songs and articles, to offer me comfort, hope, and to point me to Christ.  
I was reminded that what I was experiencing is nothing new. Romans talks about how gossip runs among the ungodly (Romans 1:29), while James 3:8 says that "no human being can tame the tongue. It is a restless evil, full of deadly poison." These verses reminded me that sin is still very much present; it poisons speech and causes real hurt.
However, during my quiet time, I was reminded to read Colossians 3:12-13 again, in which God calls His chosen people—us—to "clothe yourselves with compassion, kindness, humility, gentleness, and patience. Bear with each other and forgive one another if any of you has a grievance against someone. Forgive as the Lord forgave you."
Reading this, I felt that God was calling me to pray to Him so I could forgive W as well as the other colleagues who gossiped behind my back. I realised that the strength to forgive comes from God, not from myself, especially because all of us sin and fall short. And only He can truly help me heal; it's not something I can do for myself.
While reflecting on these lyrics—"What love could remember no wrongs we have done" (His Mercy is More by Matt Papa)—I was reminded that although human love may disappoint, God's love will never disappoint. I thought about how God keeps getting disappointed and betrayed by men time and time again, just like how the Israelites did in the Old Testament, and yet He continues to love us. Because of this, I can be sure of God's everlasting love for me no matter what happens.
I felt God speaking to me through all this—that in order to love others as He loves me, I needed to forgive W and the other colleagues for the hurt they had caused. So I prayed and asked God to give me the strength to forgive even though it hurt. And after that, I felt an amazing wave of relief washing over me. 
When I went back to the office, I did my best to interact with my colleagues in the same way as I would before. I also made sure not to spread any negative comments about W regarding this incident. I told myself that I have nothing to fear as God is for me and with me. The COVID-19 lockdown that happened a month later also helped put some distance to the matter, and it eased the awkwardness slightly.
Neither I nor W brought up this incident after, and unfortunately, my friendships with him and his close friends withered. However, with time, new colleagues joined my team, and God blessed me with other friends I could count on at work.
I thank God for letting me experience His healing and restoration during this difficult time. I pray that these valuable life lessons will stay with me as I continue to seek the Lord, trust in His goodness, and please Him with all my heart, soul, mind, and strength.
https://ymi.today/wp-content/uploads/2023/05/When-Office-Gossip-Left-Me-Embarrassed-3.jpg
613
1024
Contributor
https://ymi.today/wp-content/uploads/2017/05/ymi-logo-black-3.png
Contributor
2023-05-11 10:00:28
2023-05-15 11:29:34
When Office Gossip Left Me Embarrassed