Photo taken by: Ian Tan
YMI Reading James
Day 3 | James 1:9-11
Having come from an average-income family, there have been many times in my life when I wished I was richer. Recently, I caught myself turning into a green-eyed monster when I saw my friends buying new cars and dining at Instagram-worthy spots. It didn't help that these were friends I knew known to be devout Christians (so I couldn't even get away with accusing them of being materialistic).
I want to be godly; but at the same time, I also want to be rich. I know it's not wrong to be materially-rich, as the Bible does mention several godly characters who were rich such as Job and Joseph. Yet, there are also many warnings in the Bible against the pursuit of material wealth and power (1 Timothy 6:7-10).
How then should I view material riches? Would my desire to be materially-rich dilute my "godliness"? Is it wrong to want to be rich?
In James 1:9-11, James uses paradoxes to help his readers— likely suffering economically because of their faith—make sense of their predicament and standing before God.
He starts by addressing the materially-poor Jewish believers, who he says have a "high position" (v. 9). While these people might be low in the eyes of the world, they have much to boast about. They are "blessed with every spiritual blessing in Christ" (Ephesians 1:3), and are "heirs of God and co-heirs with Christ" (Romans 8:17).
In Christ, the poor are exceedingly rich, indeed!
They are therefore the rich poor.
James then addresses the materially-rich, who he notes have "humiliation" (v. 10). Though they may enjoy better lives, James highlights the danger that these people face: they tend to put their trust in riches, forgetting that their accomplishments will one day pass away, just like the flowers of the field (vv. 10-11). Hence well-to-do believers need to learn to glory in their lowliness, by cultivating the spiritual poverty they felt when they first came to Christ. They are therefore the poor rich.
The reason James gives for both paradoxical instructions is that everything we have on earth will fade away, whether poverty or riches (v. 11). We should therefore place our security in eternal riches.
Instead of curbing our desire to be rich, let's discover our true spiritual wealth in Christ and find our lasting security in our all-sufficient God.
To have Him is to have everything!
—Tracy Phua, Singapore

Questions for reflection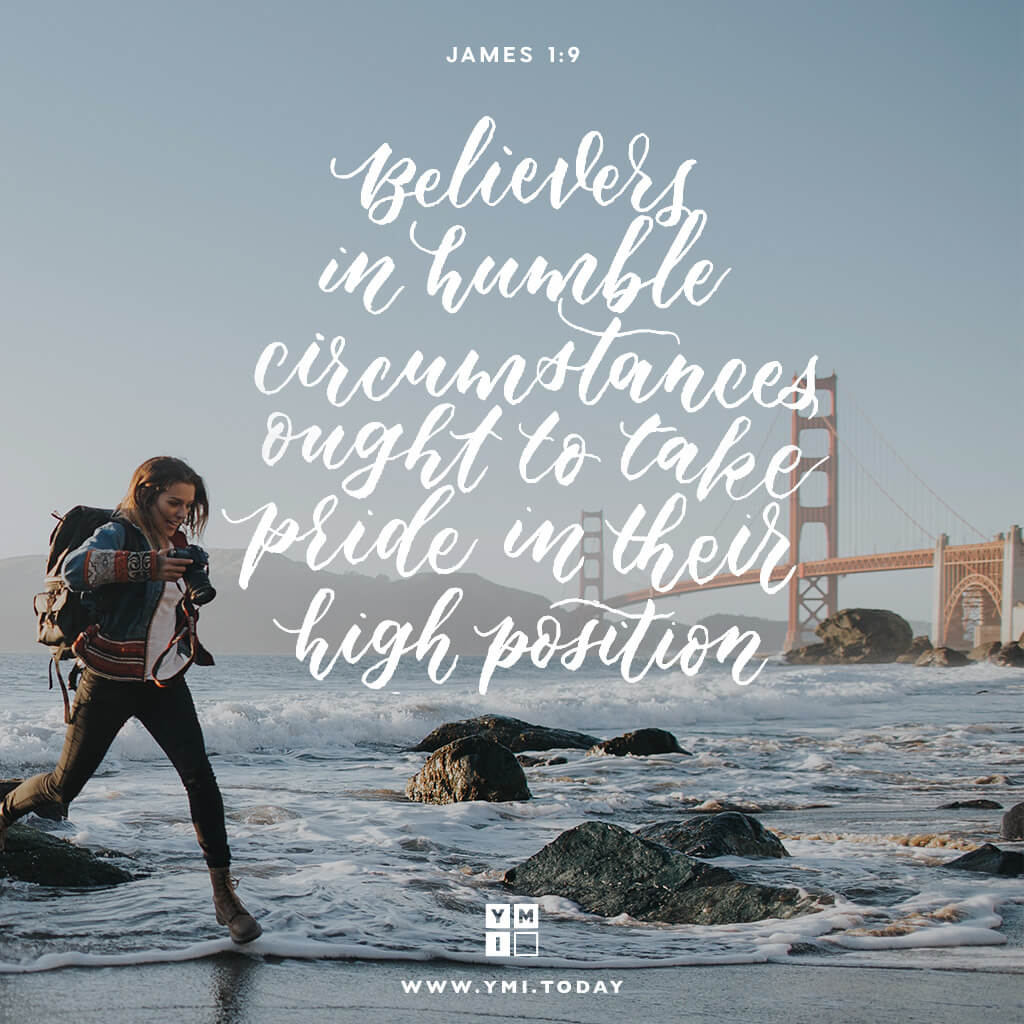 Hand-lettering by Sonya Lao
---
Tracy enjoys spending time with loved ones, preferably over a good meal. She finds the organizing and cleaning of spaces, therapeutic. Her fascination is with languages and she hopes to pick up one or two more during her time on this side of eternity. Spending time immersed in God's creation – by the sea or on a mountain – is her idea of a perfect holiday. She will not say no to huggable cats, hot soup on a cold day and fried chicken.
Return to YMI Reading James Homepage
https://ymi.today/wp-content/uploads/2018/03/Day-3.jpg
613
1024
YMI
https://ymi.today/wp-content/uploads/2017/05/ymi-logo-black-3.png
YMI
2021-04-27 00:00:30
2021-10-01 12:13:47
Poor But Rich In God