Title: Myths on Relationships
Artwork by: YMI X @yanyancandyng
Description: When I get into a relationship, then I can finally be happy.
I'll know he/she is the One, because we'd connect and understand each other.
God will bring me the One, I just know it.
There's so much stuff about relationships that we unconsciously buy into, usually because a lot of people around us feel that way, or because it sounds inspiring and hopeful. Or sometimes, because it's exactly what we want to hear about our situation.
And yet, when we get so caught up in these "ideals" without testing them, we end up becoming disappointed—disillusioned even—with love.
Deep down, we all want our relationships to be built on what is true and good. We want relationships to do what they're meant to—fulfill our need to be complete and whole.
Which means that we want God to be in our relationships, because only He, being absolutely complete in Himself, can offer the kind of wholeness we desire.
Here are 9 myths we can exchange for God's truths, so that we can be set free from illusions that disappoint, and start to build God-centred and truly fulfilling relationships.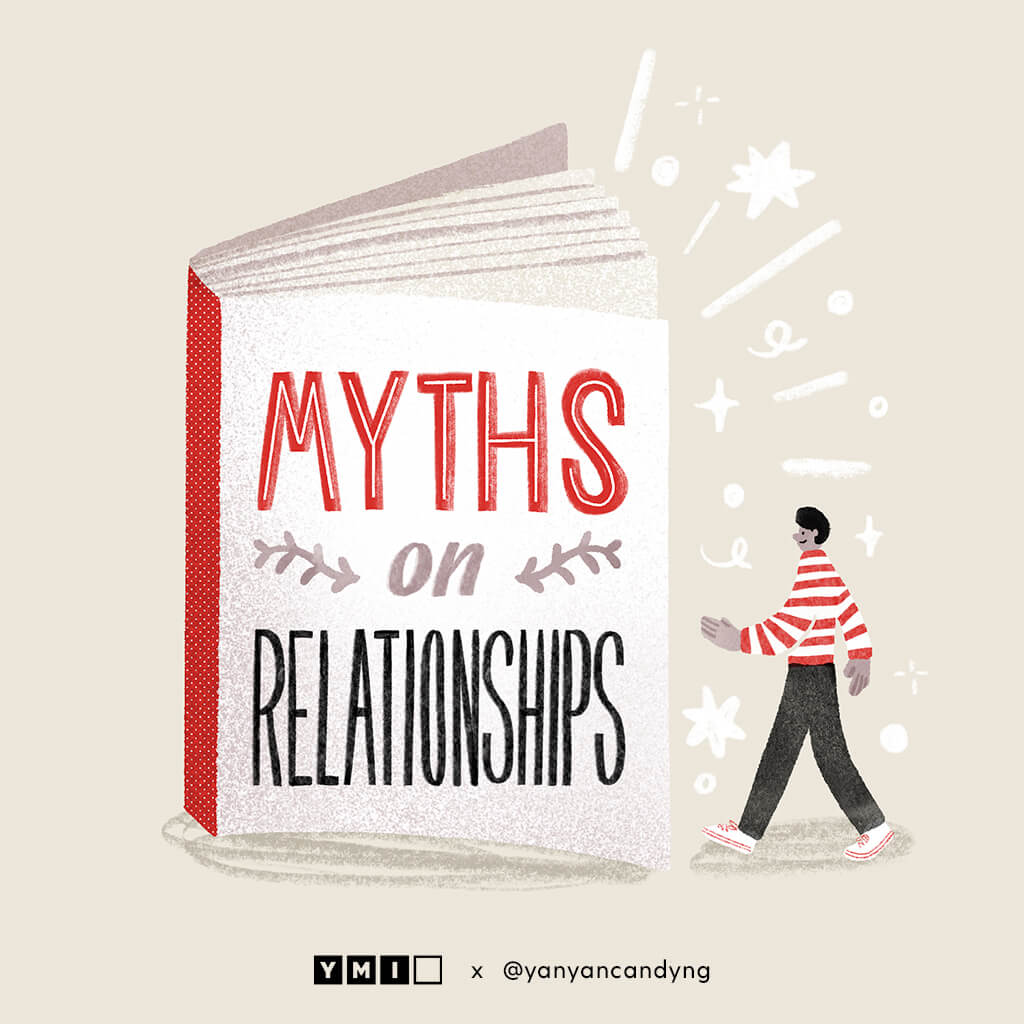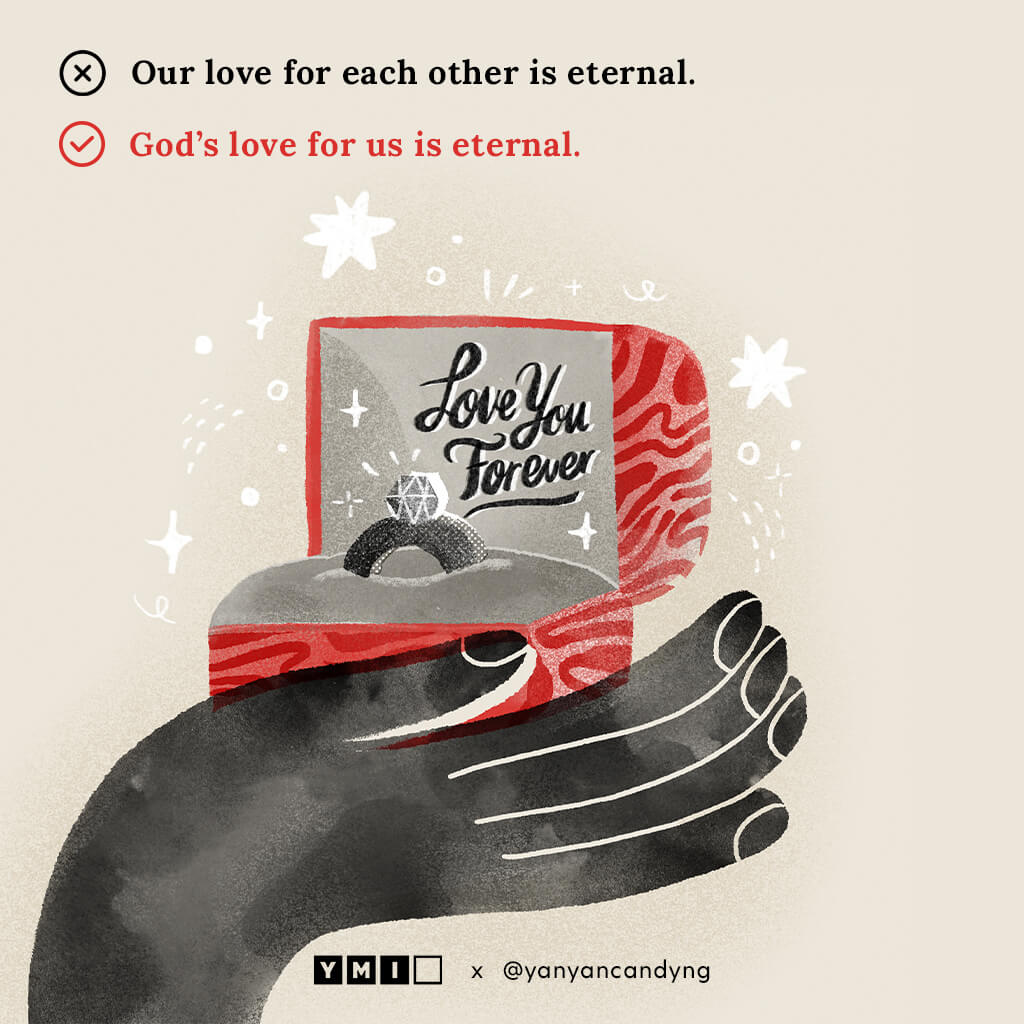 Marriage is for this lifetime only, because in our new life, we "will neither marry nor be given in marriage" (Mt 22:30). But the love we'll have with God and each other then will be greater than any kind of love we experience on earth.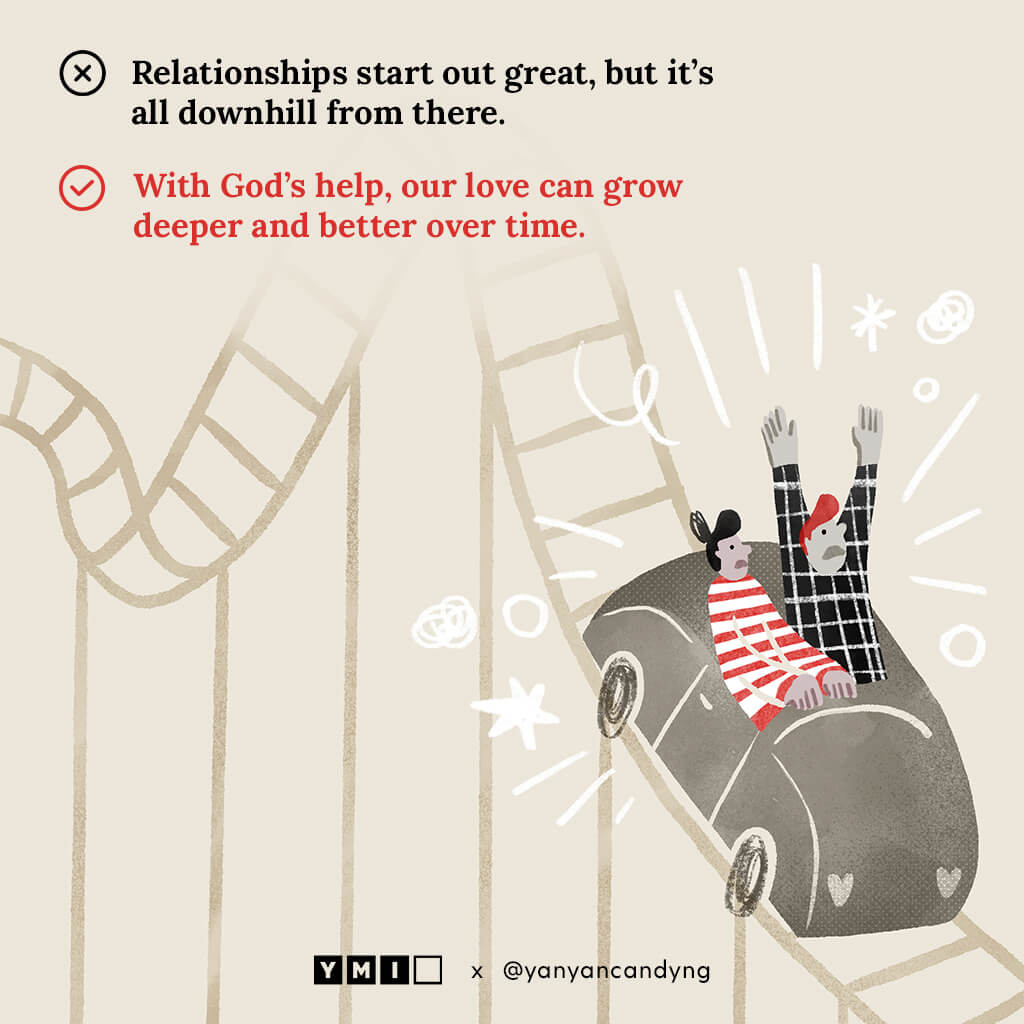 Relationships can be hard, but they can also bring out the best in us by teaching us how to give sacrificially to one another. Only when the going gets tough do we see the depths of kindness and patience, and experience love that "covers over a multitude of sins" (1 Pet 4:8).
A God-centred marriage is rooted in God Himself.
We should prepare for marriage, but we can't rely solely on strategies and how-tos. Reading all the books out there will not make marriage foolproof. Only in living by the Spirit (Gal 5:16-18)—listening to His prompting and leaning on His enabling—can we grow in love and maturity.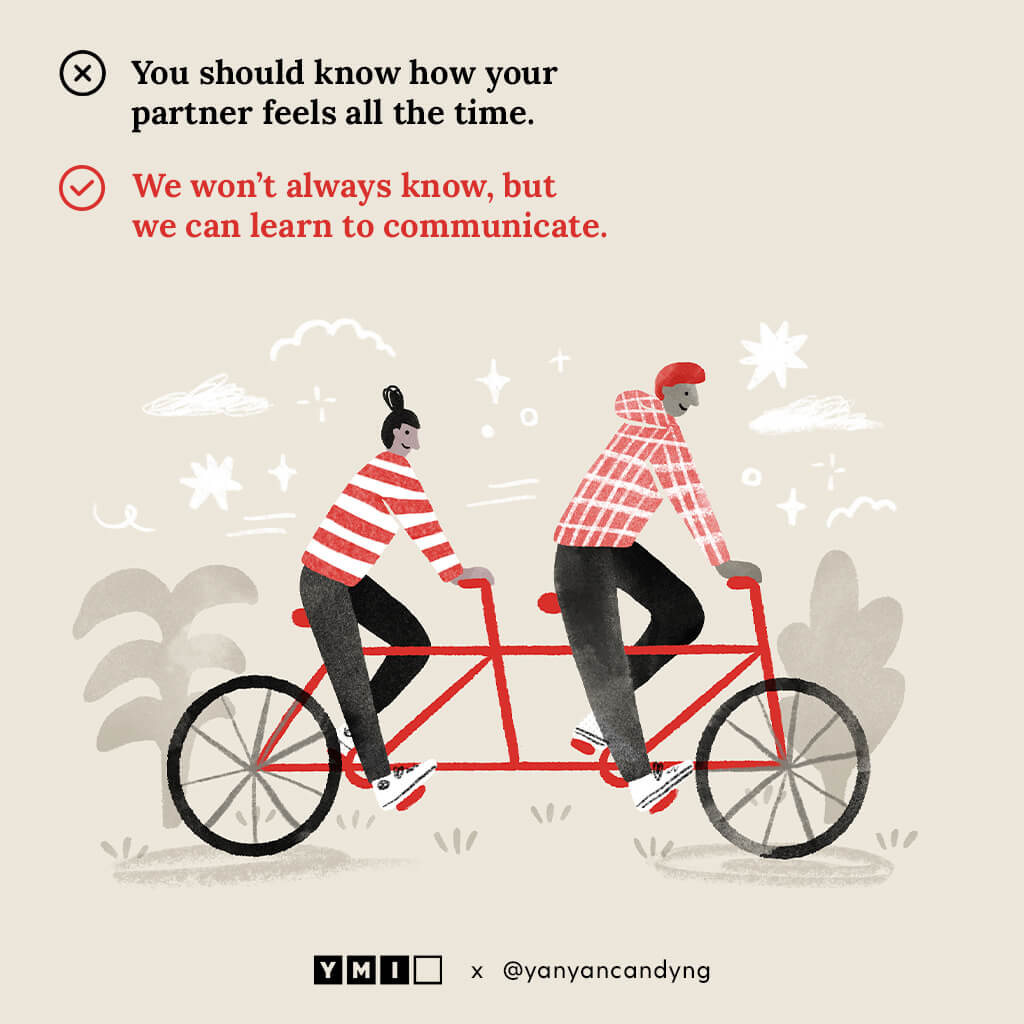 You may complete each other's sentences and exchange knowing glances, but you won't always be on the same page about everything. As we grow and change, we can stay in sync by learning to communicate well (Prov 15:2). When there's a lack of understanding, ask God for wisdom to know how to move forward.
We can't hold on to something that's constantly fluctuating. But we can hold on to what God says about love and marriage. The loving feeling can fade, but that does not mean the love is any less true. We know true love because He first loved us (1 John 4:7), and will love us to the end.
Having that connection—the sense that you 'click'—can certainly be special. Even so, a good relationship isn't built on that one thing. There are other things that matter more in the long run, like sharing the same faith, hope, and love that holds us together (Col 3:14).
God takes care of us and He does have His plans. Yet God also gives us freedom to make decisions. While He brings us opportunities to meet other people, what we do with these encounters is up to us. 
But greater than the goal of finding our one true love is coming to see God as the ultimate One True Love. Nothing is as deeply satisfying as knowing Him and finding pleasure in this eternal loving relationship (Phil 3:8).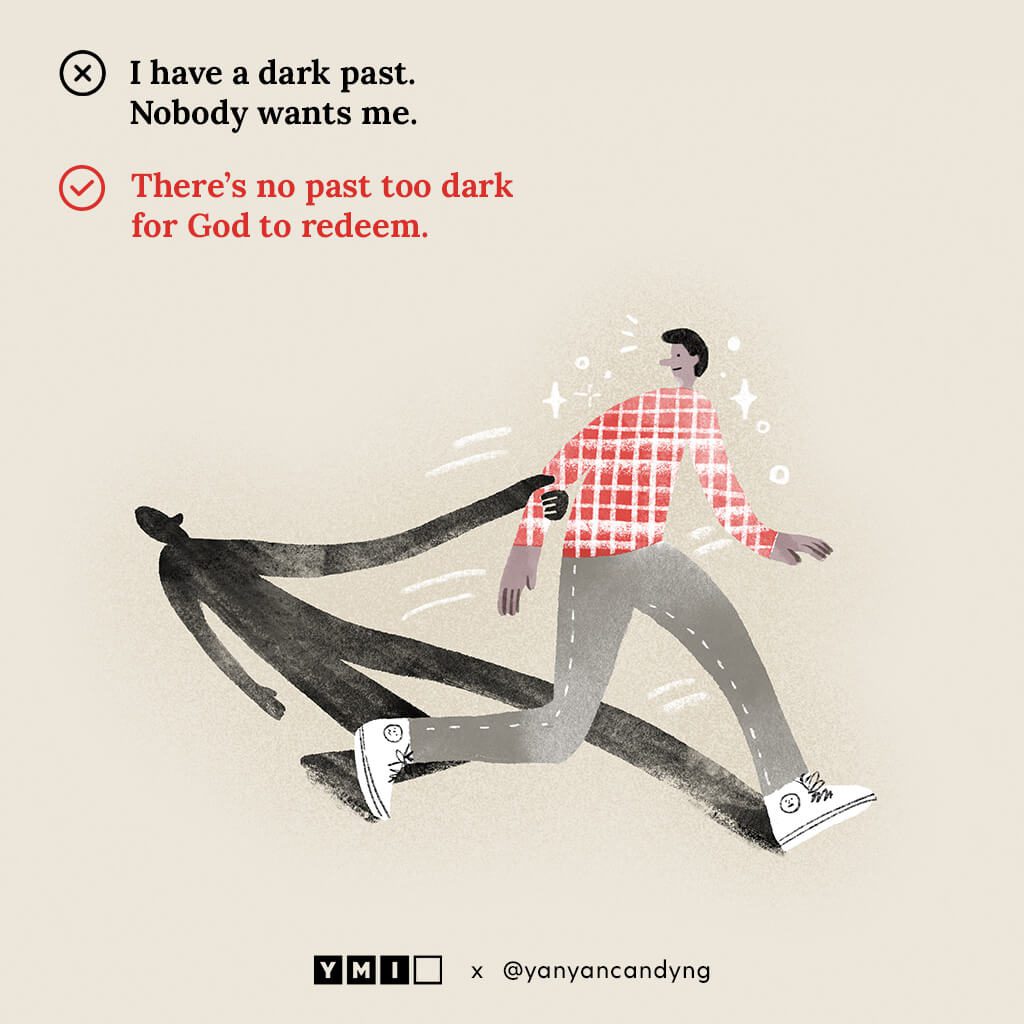 You may have come from a broken family, or committed a serious sin. But it doesn't have to end there. Who you are now is more important—God has forgiven you and received you as His child. He won't leave you broken forever (Phil 1:6). Learn to make peace with your past, and embrace all the good God wishes to give you.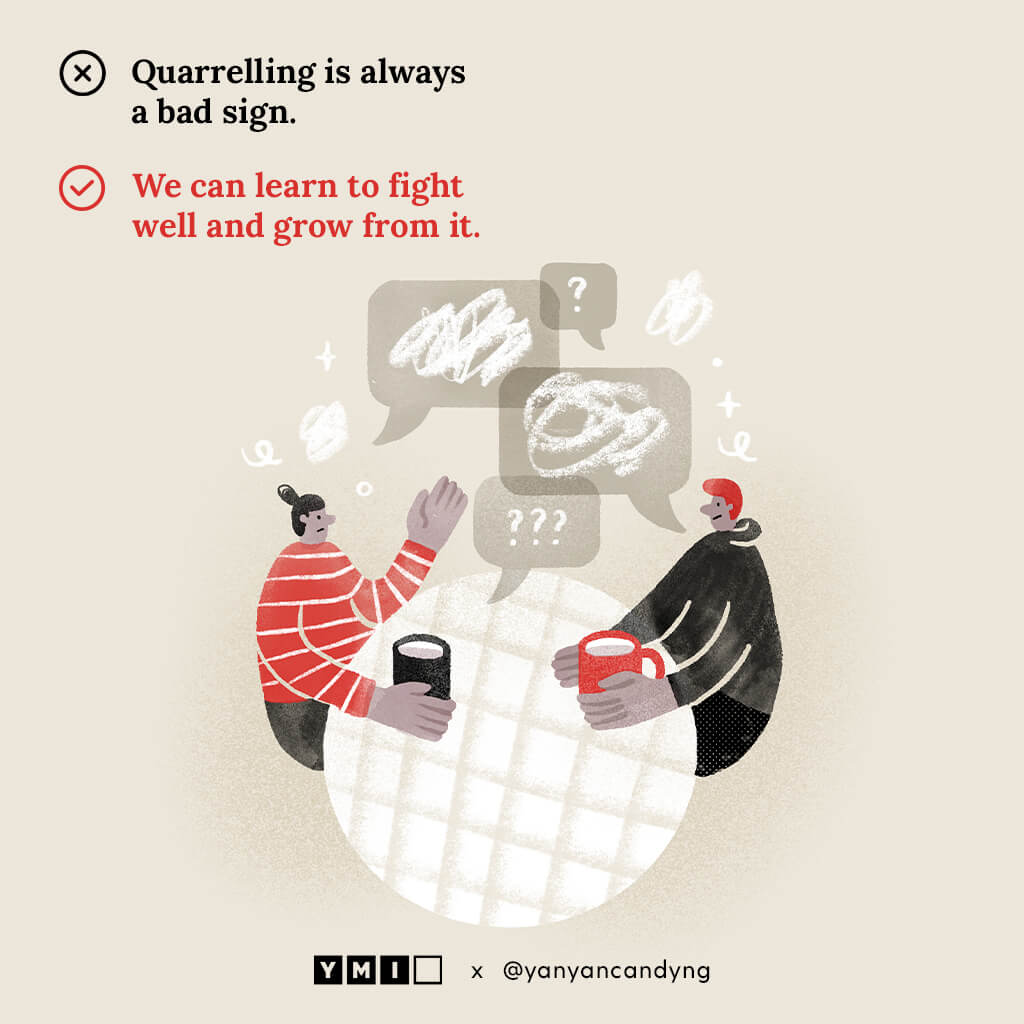 Quarrelling is not always bad (Prov 27:6), because it can show us how we handle conflict. Learn to fight well by 'attacking' the issue and not each other, and your relationship will become stronger. 
Make time to discuss how you can face recurring issues in the best way possible.
https://ymi.today/wp-content/uploads/2021/08/Myths-on-relationship-featuredimage.jpg
613
1024
YMI
https://ymi.today/wp-content/uploads/2017/05/ymi-logo-black-3.png
YMI
2021-08-25 12:00:23
2021-08-25 19:31:14
Myths on Relationships