By YMI X Zach S
A few months ago, our schedules, habits, and life-rhythms were completely upturned. It took a while to get used to the "new normal," but we did what we had to do, and settled into new rhythms. Now, just as many of us are finally getting used to things, transition is back on the horizon.
Once again, it will be stressful. Overwhelming. Isolating. Traumatic. It's exhausting to think about. But here are five verses that can help us as we prepare for another "new normal."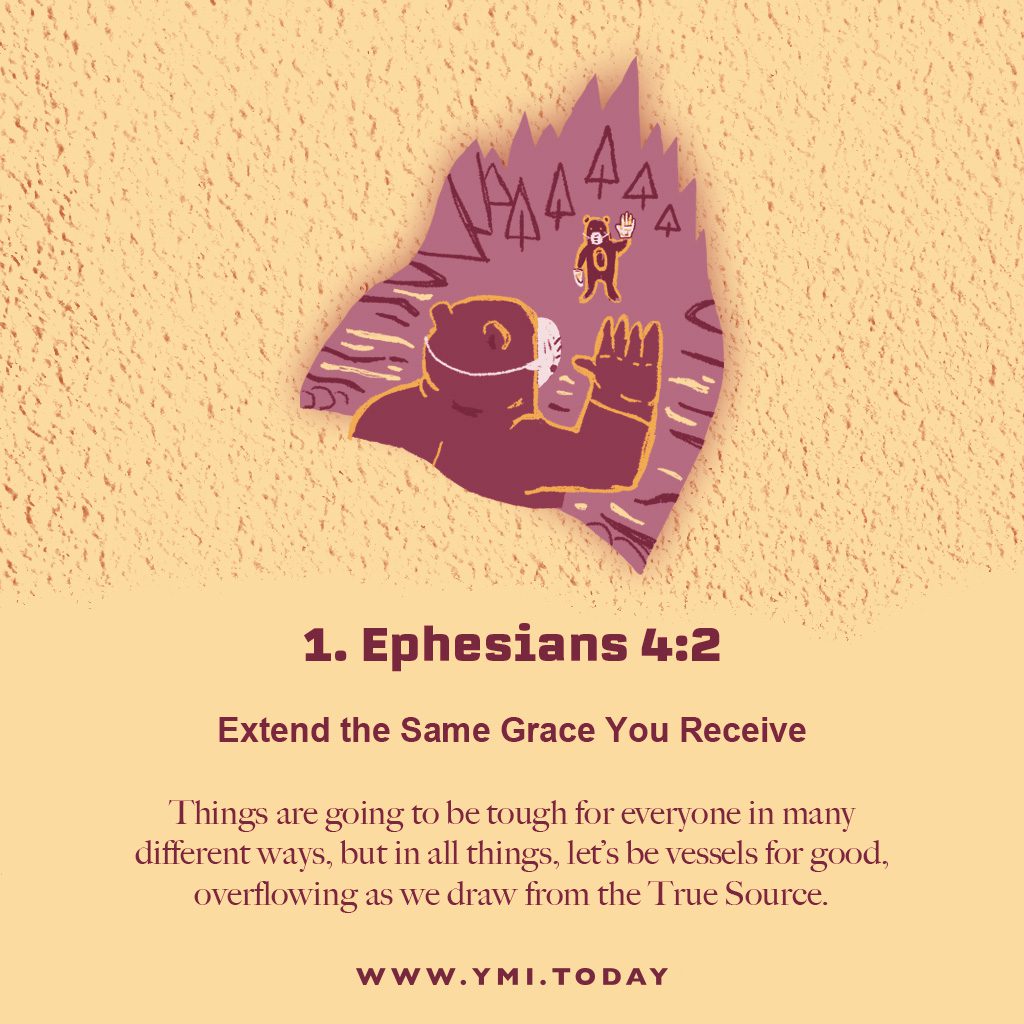 1. Ephesians 4:2 – Extend the Same Grace You Receive
In Ephesians 4:2 we read, "Be completely humble and gentle; be patient, bearing with one another in love." When the transition comes, let's ask God to strengthen us to be patient with ourselves and others, remembering He is the source of each of these good traits. In humility, let's admit that things are hard, and look for ways to serve and encourage others to make the transition easier for them.
We can remember the gentle grace of God when we wake up late or forget what day it is because our schedule is out-of-whack, again. And be gentle with those we care about when they let their emotions get the best of them.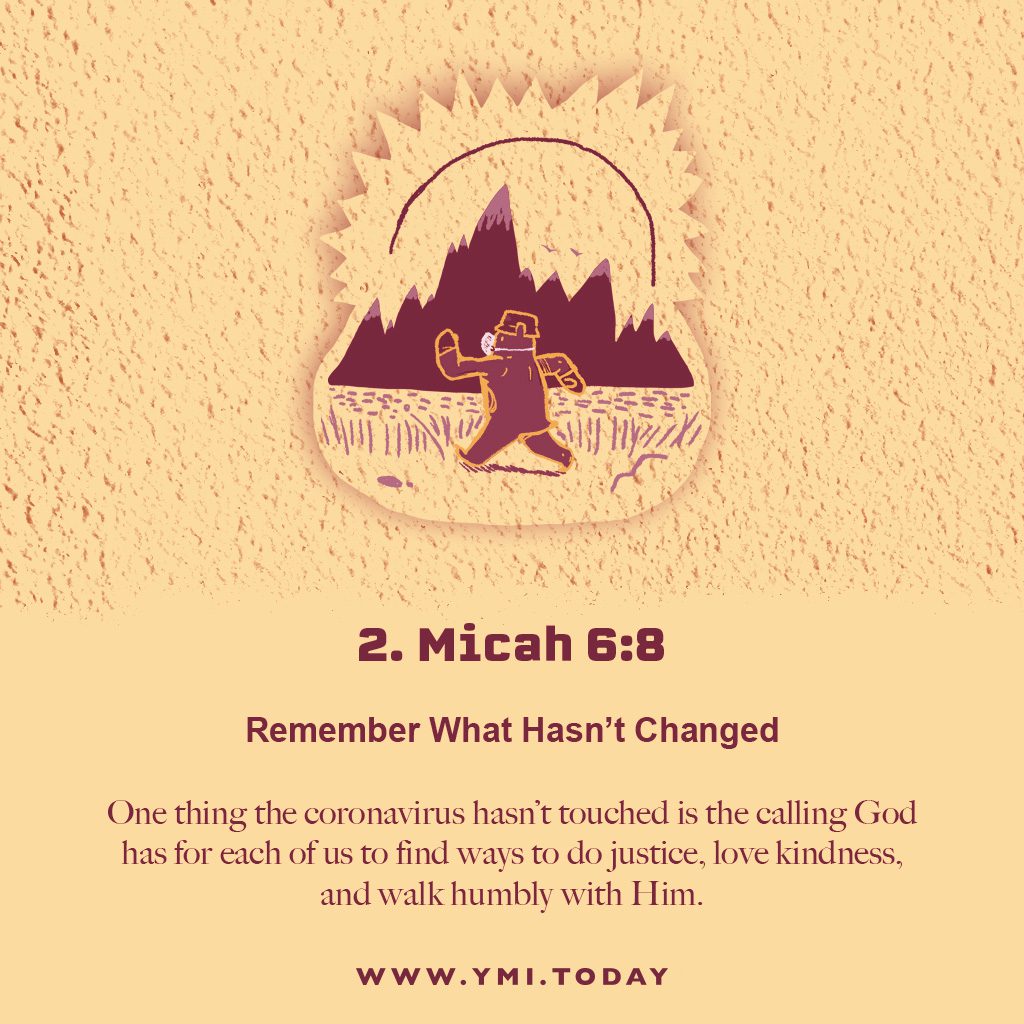 2. Micah 6:8 – Remember What Hasn't Changed
Micah 6:8 reads, "What does the Lord require of you but to do justice, and to love kindness, and to walk humbly with your God?" Before the coronavirus and after, God's will for us hasn't changed . . . even for those whose work has been dramatically impacted. We are still called to do justice, and to protect the vulnerable—especially those vulnerable to COVID-19.
God still wants us to be characterized by a peaceful presence and caring heart, especially toward those who are struggling. He still desires that we walk humbly with Him, honest about our weaknesses, and faithful in whatever He has for us to do each day. Our primary purpose before the pandemic, and after, is still the same—to hear Jesus' voice and obey when He says, "Come follow me."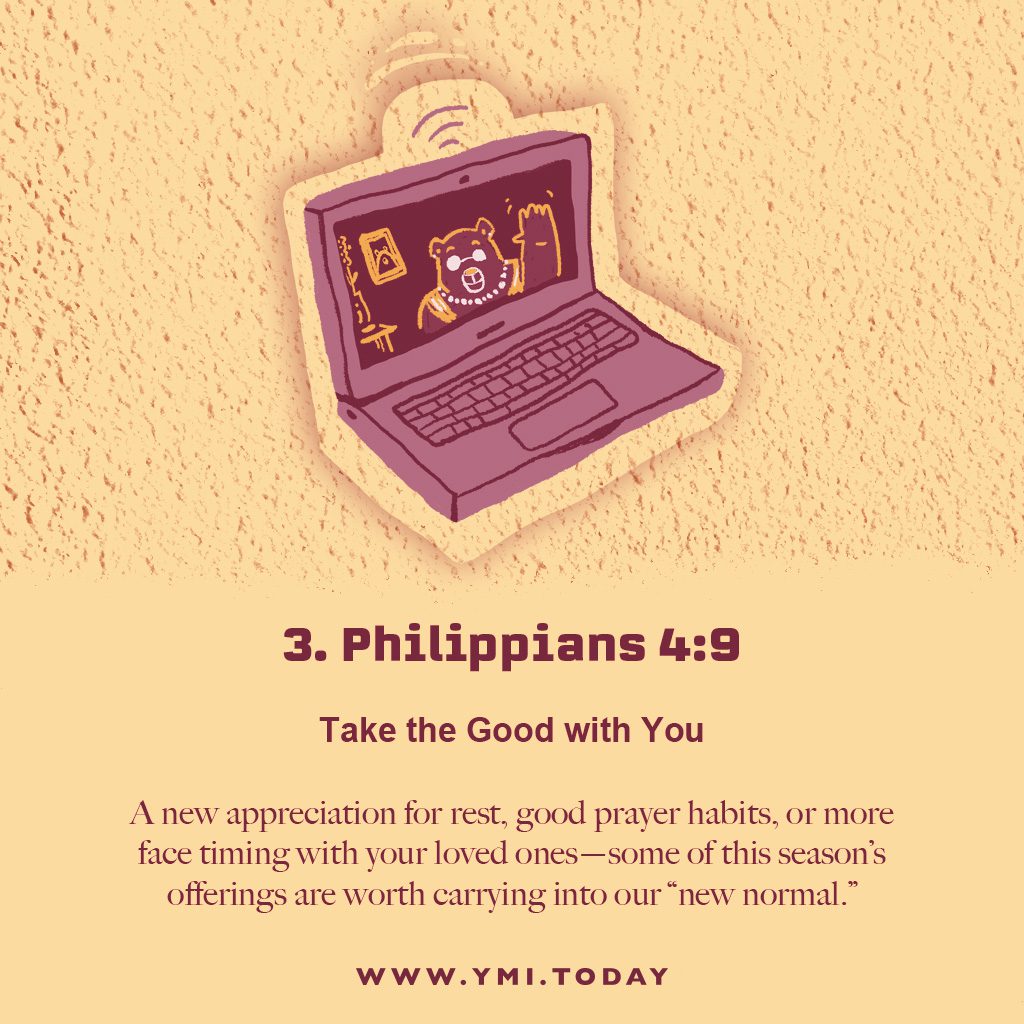 3. Philippians 4:9 –Take the Good with You
In Philippians we read, "Keep on doing the things that you have learned and received and heard and seen in me…" (4:9) Paul was referring to what is true, honorable, just, pure, pleasing, commendable, excellent, and worthy of praise (v.8)—things that are good for the mind, heart, body, and soul.
All of us will walk away from the pandemic with some good things. Maybe our lives are less busy than before. Or we've finally gotten into good prayer routines, exercise schedules, or read some books on our wish lists. Consider what good habits the pandemic helped create, and how we can keep them up!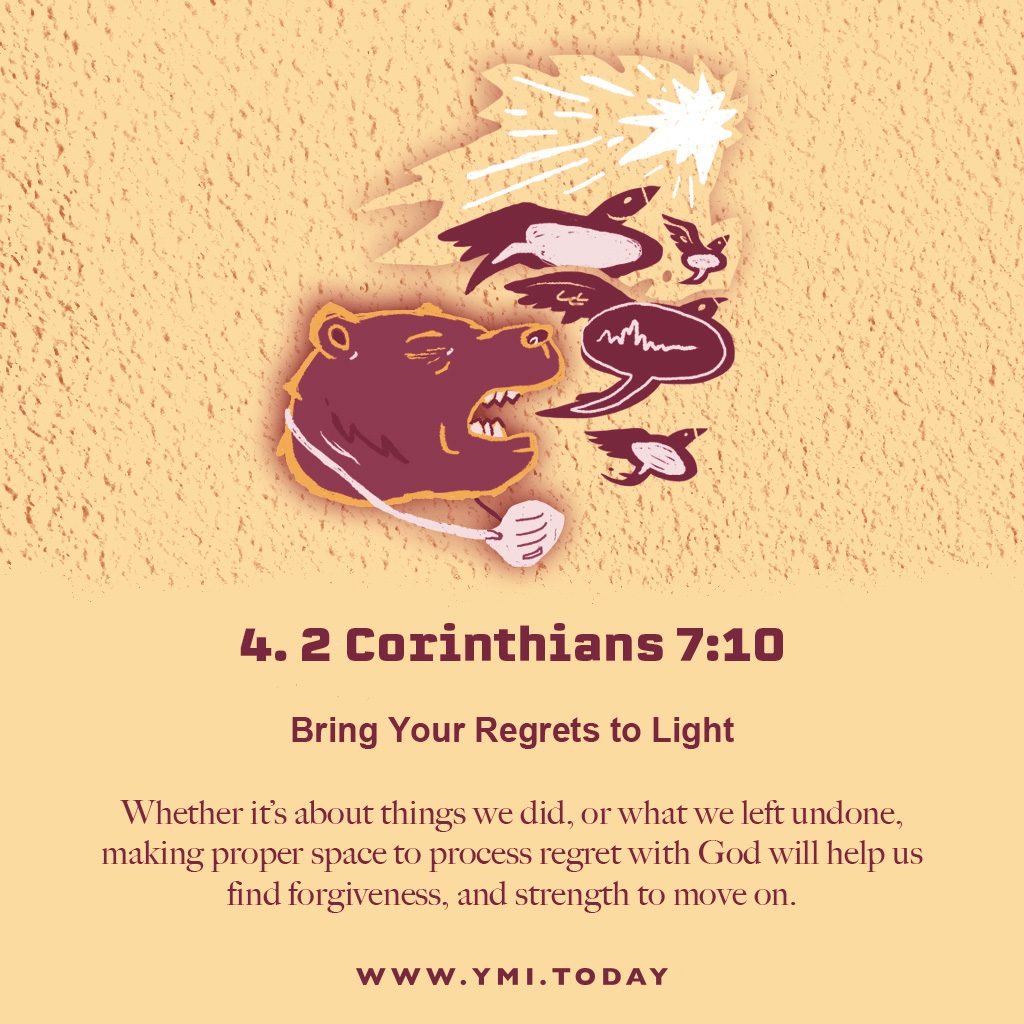 4. 2 Corinthians 7:10 – Bring Your Regrets to Light
In 2 Corinthians 7:10 we read, "Godly sorrow brings repentance that leads to salvation and leaves no regret, but worldly sorrow brings death." Some of us have created negative habits during the pandemic (Binging TV shows, anyone? Working late? Living on your phone?). Or we might soon find ourselves longing for the quieter moments of working from home, thinking we should've enjoyed them more. Many of us will wish we had spent more time in prayer or reading the Bible.
It's really important to deal with regret—to sit with it, think about it, feel it, and bring it before God. We could try listing the bad things that come to mind, telling God about each of them, and then crossing them out. As we process our regrets about what we did or left undone, we can find forgiveness that helps us move on.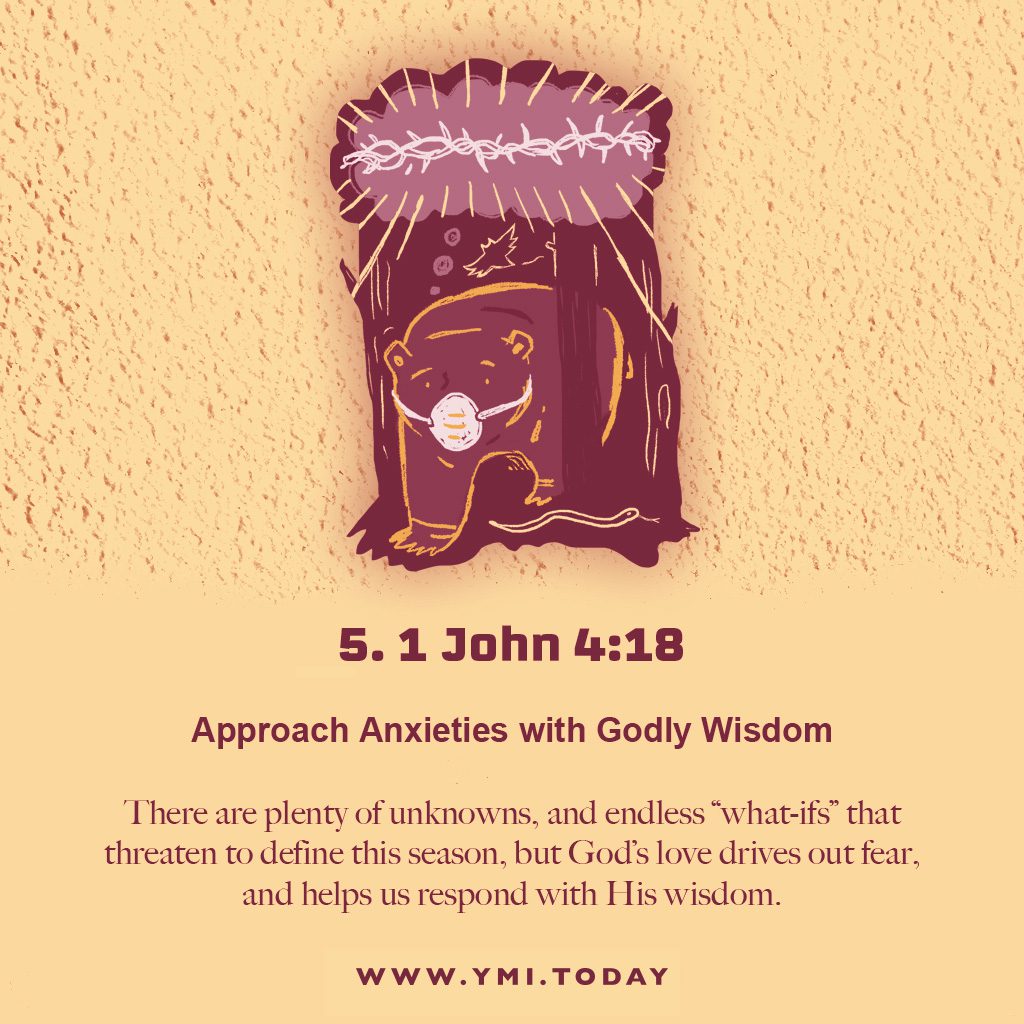 5. 1 John 4:18 – Approach Anxieties with Godly Wisdom
"…perfect love drives out fear…" (1 John 4:18), and we are all perfectly loved by God. We are not called to live in fear, but to trust God. From this point forward, the world might freak out over any rumors of sickness. Social-distancing could be a permanent word in our vocabularies, and face-mask shaming (when someone is belittled for not wearing a mask) might stick around. There's no doubt that we are called to be wise (Ephesians 5:15), but the Bible is also full of commands to not be afraid (Isaiah 41:10).
How do we do both? Perhaps we could start by writing down what we are most afraid of with the "new normal." Then, ask God to help us approach these anxieties with godly wisdom.
Even though none of us know how to "go back to normal" when there's no normal to go back to, at least we have these five principles to lean on as we watch and wait for what's to come.
https://ymi.today/wp-content/uploads/2020/06/5-Verses-to-Help-You-Navigate-a-"New-Normal"_CoverBanner.jpg
613
1024
YMI
https://ymi.today/wp-content/uploads/2017/05/ymi-logo-black-3.png
YMI
2020-05-21 23:15:53
2020-06-17 09:27:55
5 Verses to Help You Navigate a "New Normal"