Title: Easter in 5 Letters
Artwork by: YMI X Grace S (Behance: @graceful_illustrations)
Description: What does the name of Jesus mean to you? Perhaps you know Him as the Son of God. Redeemer. Saviour. Prince of Peace. 
But so often, we forget the path it took for Him to fulfill those roles for us. 
Jesus was no ordinary man. He was the King of kings who traded His place in the Heavenly realms to mix and mingle with ordinary men like you and I. He was sent to earth by His Father to atone for our sins (John 3:16), by dying a painful death on the cross. It was the only way we'd be reunited with our Father and enjoy everlasting life with Him in Heaven. 
This Easter, may we grasp the significance of what Jesus did for us 2,000 years ago on the cross, and may His name evoke a reverential awe in our hearts.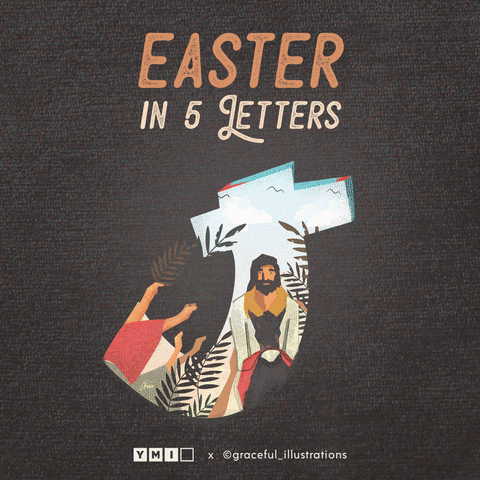 A humble entrance by a mighty King.
Jesus is the King of kings. He could have chosen to make His arrival into any town or city riding an imperial horse or to be pulled in by chariots. Yet He chose to come to us "riding a lowly donkey" (Zechariah 9:9). 
This King also began His life in a humble setting. He traded His place in the Heavenly realms for a birth in the manger, surrounded by animals. This humility marked a huge portion of Jesus's life on earth, and He died the lowliest way a person could die—by being nailed to the cross.

He humbly laid aside everything so He could reconcile us with His Father. Will you hearken to His call today?
A body broken for His great love for us.

The bread and the wine symbolises Jesus' own broken body on the cross and the blood He shed for the atonement of our sins. "Take and eat, drink from it," (Matthew 26:26-27) Jesus told His disciples as the bread and wine was passed around at the Last Supper. He wanted them to remember what He was about to achieve for them, and for us, at the cross.
This invitation is still open to us today, to partake in His body in remembrance of what has been accomplished for us on the cross.
Anguish and agony raked His body. Yet He carried out His Father's will.
The mission that Jesus was sent to accomplish wasn't an easy one. Jesus prayed and prayed for the cup to be taken from Him (Luke 22:42). 
But the Heavens were gravely silent. Anguish and agony raked through His body, and his sweat was like drops of blood falling to the ground (Luke 22:44). But it had to be done, Jesus had to carry out His Father's will.

It was the only way we could enter a relationship with Him. Will we, too, choose to walk the path of obedience in fulfilling the Father's will for our lives?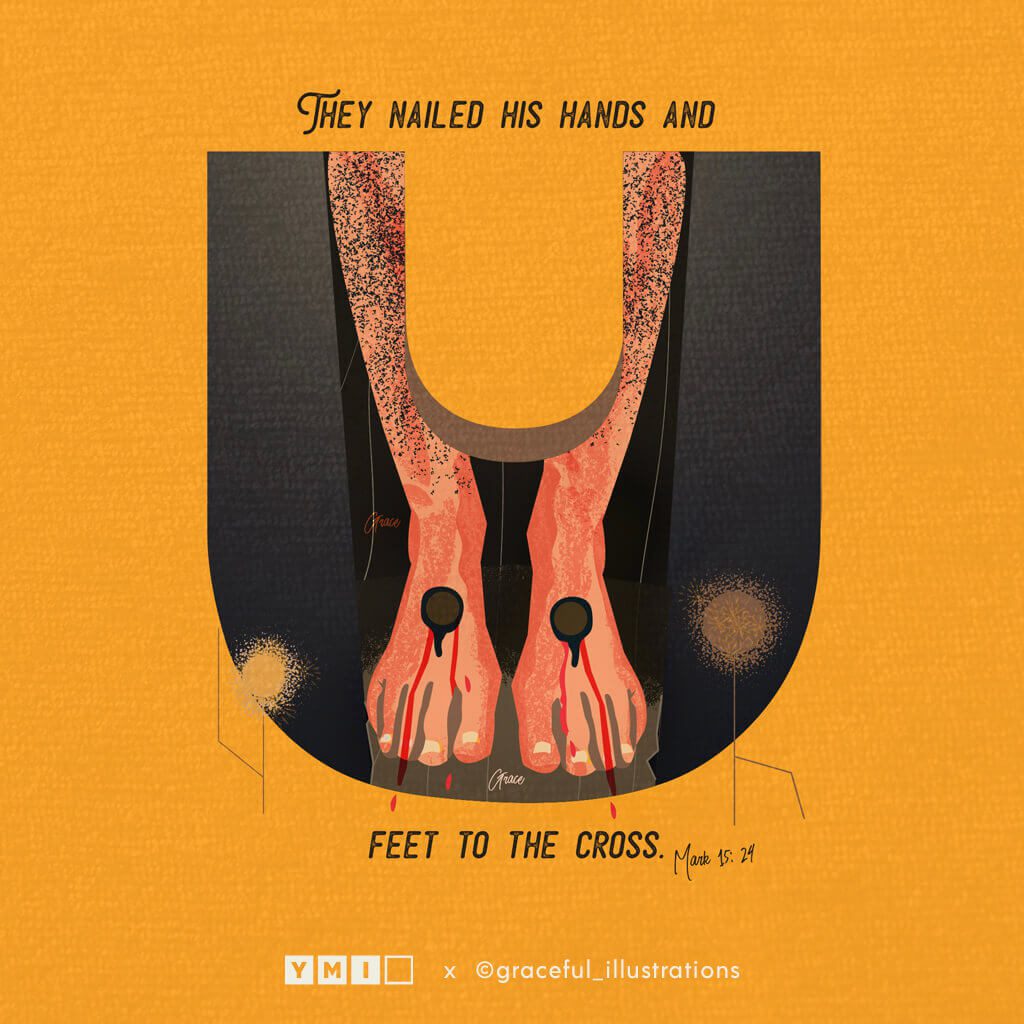 Bruised and battered, He hung on the cross for our freedom.
Jesus, the King of kings, was bruised, broken and battered, and then nailed to the hard, scratchy cross, like a common criminal.
But even in His pain, He was able to utter to one of the two thieves hanging beside Him, "Truly I tell you, today you will be with Me in paradise" (Luke 23:42-43). Before drawing His last breath, He cried, "Father, forgive them, for they do not know what they're doing" (Luke 23:34).
Jesus didn't just die for the prisoner, or the crowds that gathered on that day. He died for us, and 2,000 years on, the offer to spend eternity in Paradise, where there'll be no more tears, no more death and no more sorrow (Revelation 21:4), is still available to us.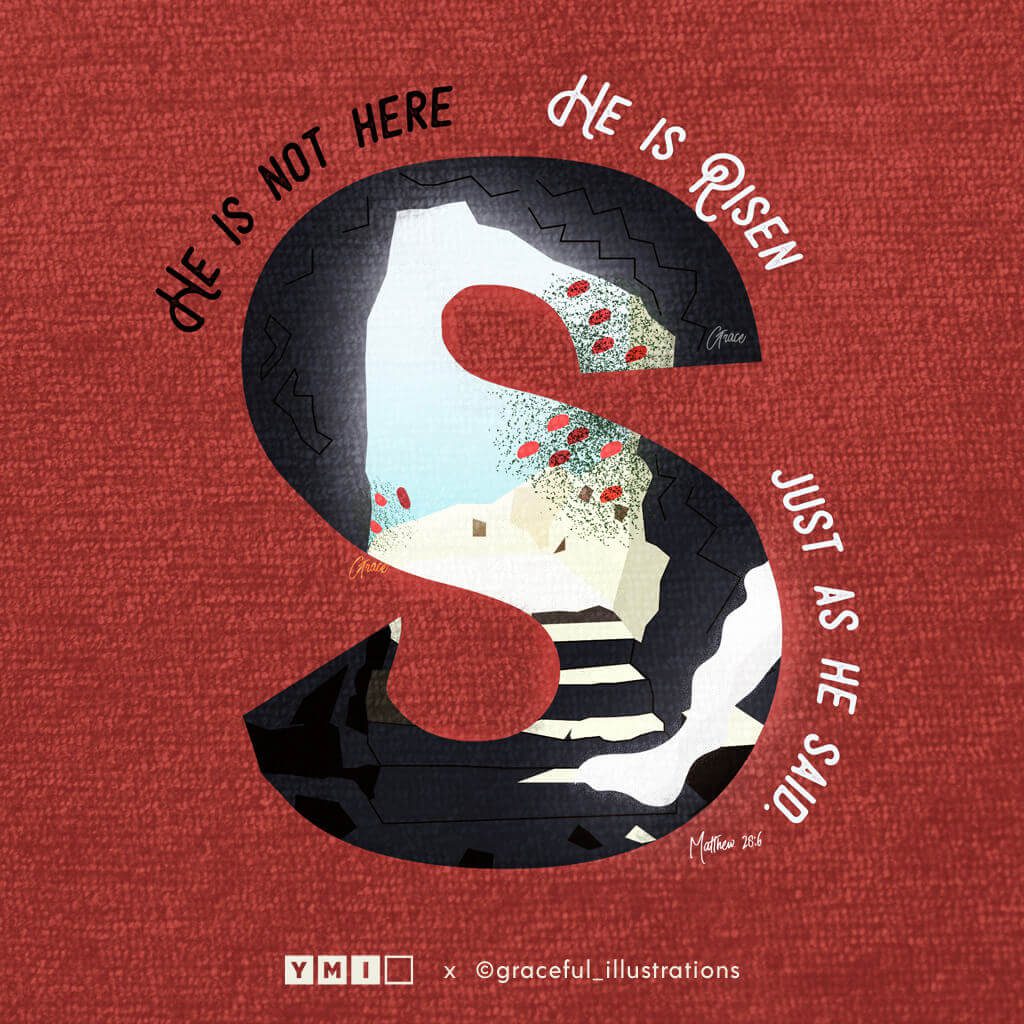 Death could not hold Him down. Jesus rose again! 
It must have been distressing for Jesus' disciples to watch Him "give up His spirit" (Matthew 27:50), and equally distressing to bury Him. Their Messiah is now dead and buried, His tomb fiercely guarded by two Roman soldiers. 
But on the third day, there was a violent earthquake and an angel came down from Heaven to roll the stone away (Matthew 28:2). The guards were so afraid they "shook and became like dead men" (Matthew 28:4). 
When the women came to look for Jesus, the angel said: "Do not be afraid . . . He is not here; He has risen, just as he said", and they hurried away, afraid yet filled with joy, to tell the others the good news. (Matthew 28:6-8)
"He has risen!" The resurrected King has come for us, to give us eternal life and everlasting hope, and to one day bring us Home safely. With news this wonderful, will we also run to tell others about Him?
A little about Grace S (Behance profile):
Grace is a qualified illustrator and designer. She's passionate about producing creative, reflective, and thoughtful artworks and graphic solutions in various styles to express ideas, emotions, and faith. Outside of work, she's a wife to a poet/theologian/songwriter and a mum to three handsome boys!
https://ymi.today/wp-content/uploads/2021/03/01-Easter-in-5-letters.jpg
1024
1024
Contributor
https://ymi.today/wp-content/uploads/2017/05/ymi-logo-black-3.png
Contributor
2021-04-02 09:00:03
2021-04-02 22:15:24
Easter in 5 Letters