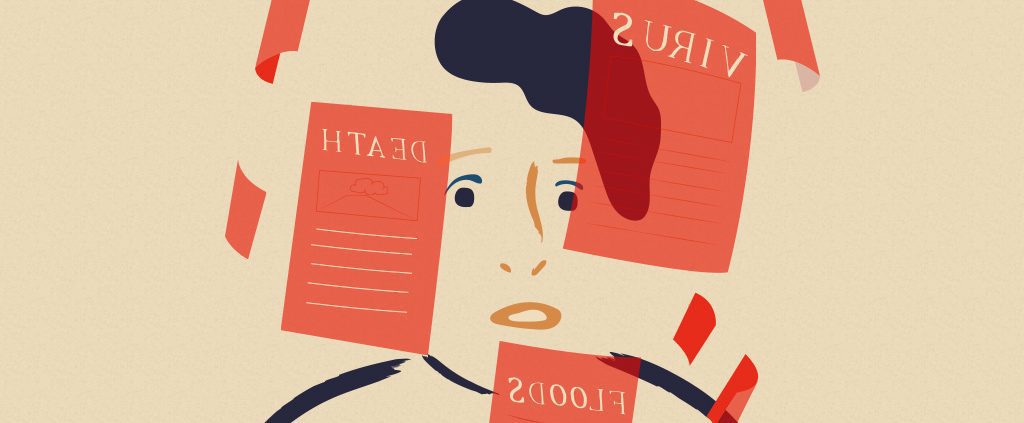 Written By Chia Poh Fang, Singapore
Poh Fang never dreamed of being in a language-related profession; chemistry was her first love. The turning point came when she received Jesus as her Savior as a 15-year-old and expressed to Him that she would like to create books that touch lives. She serves with Our Daily Bread Ministries in the Singapore office as Managing Editor.
I hope your new year is off to a good start.
That's how I've been starting my emails lately—with a sincere wish.
The bad news that we've been reading and watching on the media this year have affected people I know on a personal level.
On the very first day of 2020, it rained in Jakarta, Indonesia. The water level rose so quickly that many Indonesians were caught unprepared. One of my friends was separated from her children for a few days, as the kids had a sleepover at their grandparents' house. Another friend had to fly out to Malaysia for a meeting on 3 January, but couldn't make it home to pack his luggage due to the flood. He had to purchase new clothes in Malaysia.
Then, we heard the news about the Taal volcanic eruption in the Philippines. Five Tagalog translators from our Philippines' office stayed near the area. Their homes were covered with ashes. Three of them experienced shortness of breath due to the heavy ashfall, and lived without electricity and water supply for three days.
Meanwhile, the bushfires in Australia raged on. A friend was flying home from Bangkok to Canberra, Australia, and was so near home, only to learn that a fire burning in Canberra had forced the cancellation of most flights at the nearby airports. He was re-routed and had to take a roundabout trip home. Here's what he wrote on Facebook: "Davao—Manila—Sydney—Canberra . . . waiting . . . I just want to go home!"
And the bad news continues. The latest news that have been dominating the headlines is the spread of the novel coronavirus, which has now claimed more than 427 lives since it first broke out on 31 December 2019.
While I do not personally know anyone who has contracted the virus, I know of three deaths that happened within the first 17 days of this new year. There was my cousin, whose passing leaves his young wife with a permanently empty seat at her reunion table, an elderly gentleman who lost his partner of over 40 years, and a mother whose five-year-old was suddenly snatched away from her by death's claws.
To say that this year hasn't gone off to a good start wouldn't be an overstatement.
Perhaps your life has been disrupted by the recent spate of bad news too, and it stirred up fear, worry, anger, or sadness. If so, can I say this to you?
It's okay to say that you are not okay.
It's normal to be angry that death has robbed you of a loved one. You should rightly be upset about the climate change that caused the floods and the fires, or be worried about the spread of the novel coronavirus.
I was saddened by the news of my cousin's death, and I questioned why a young life was snuffed out so prematurely. I was upset, along with my friends, for the pains they had to go through to reach home because of the fire, or to clean up their house after the flood and volcanic eruption.
We saw Jesus displaying some strong emotions at a funeral too. When He saw Mary, whose brother, Lazarus, had recently died, "weeping and saw the other people wailing with her, a deep anger welled up within him" (John 11:33, NLT).
Jesus was angry, but at what? Possibly, He was indignant at sin and its consequences. God did not make a world filled with sickness, suffering, and death. But sin entered the world and marred God's beautiful plan.
When things are not okay, know that it's not yet the end.
There are many questions about pain and suffering that I have not been able to find a satisfactory answer to. But whenever I struggle with doubts, I remember that Jesus stepped into our world 2,000 years ago, and showed us what God is like.
His hands touched the leper (Mark 1:41); His eyes rested on the bereaved widow at Nain (Luke 7:11-17). He hurts when we hurt. We have a sympathetic Savior who suffers with us. But more than that, Jesus died and rose from the grave. He is the only person who died, lives, and will never die again! He proved that there is life beyond the grave. We have a living hope in Jesus because our Savior lives.
And He has promised that there would come a time when all human pain will be over (Revelation 21:4). While we can't stop illnesses and sin from ravaging our physical bodies now, as His children, we are destined to receive a new, glorified body (1 Corinthians 15:42-43). This is the grand finale of human history that we have the privilege to know beforehand.
Has your year been off to a bad start? Be comforted that this is not the end. God is in the business of restoration and redemption; He is working all things for the good of those who love Him (Romans 8:28).
As 2020 unfolds, we would probably find ourselves thrust into situations where we need to learn to trust Him. Would you join me to fix our eyes on Jesus? Because of the hope we have in Him, we can be assured that everything will be okay.
https://ymi.today/wp-content/uploads/2020/02/Has-Your-2020-Been-Off-to-a-Bad-Start-2.jpg
613
1024
Contributor
https://ymi.today/wp-content/uploads/2017/05/ymi-logo-black-3.png
Contributor
2020-02-04 17:00:08
2020-02-05 15:05:10
Why Such A Bad Start to 2020?