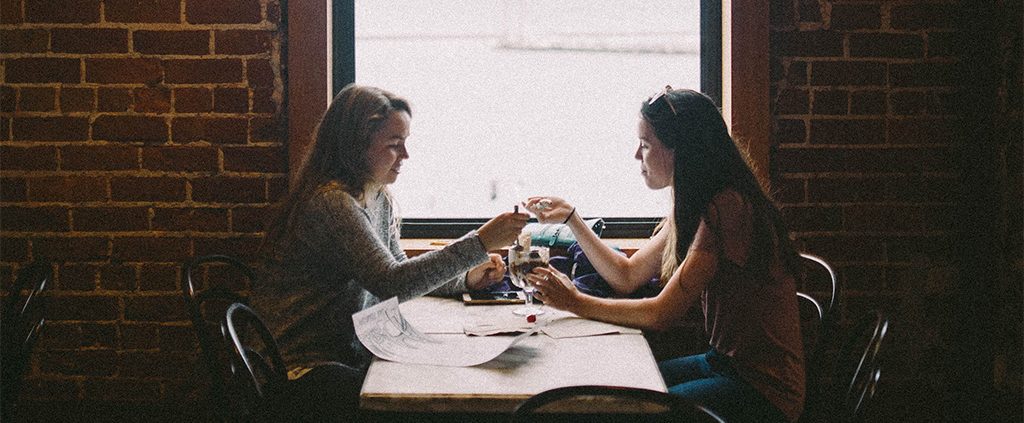 Written by Q. Jackson, USA
"Evangelize." It even sounds like a dirty word, doesn't it? An act of pushing one's religion on another. A prideful way to tell someone they've got it totally wrong. That their worldview is wrong. That their beliefs are wrong. That they've got everything wrong, and I've got it right.
That's what evangelism sounds like to you, I think. And it's hard to respond with anything that doesn't sound like worn sentiment. "Oh, but my God is the real one." "I don't haughtily push my faith on others—I share it so they can know truth." You think everyone says that about what they believe.
But my God is different. My God is real, and is worth knowing. Though recently, I've learned something valuable about sharing that with you.
You won't ever take my word for it. And maybe that's a good thing.
As we talk about faith, you ask if I think it's just good luck that I was born into a country where the "right" religion is the dominant one.
You ask if I've considered the reality that if there truly wasn't a god, humankind would probably construct one anyway. . . just to feel better about all of the big things we can't understand. How do I know that's not what has happened?
You ask hard questions. And I've tried to give thoughtful answers. I've prayed for wisdom to speak, for God to lead me to answers that will sway you.
But you won't ever take my word for it, and I've finally realized why.
I've been thinking about it totally wrong. Words aren't what you need.
Because I don't think reasoning and unanswered questions are what's actually holding you back.
You need to know a God who heals.
You need a reason for all of the pain you've been through.
. . . a purpose worth living another day for.
You need to know the all-reaching forgiveness that you're offered—to believe that nothing you've done has made you unworthy of it.
Most of all, you need to be loved—to know true love that is whole, unwavering, and given freely by grace, not based on merit.
My efforts to evangelize by providing you with logical answers can't do that for you.
So, I've got to re-shape my perspective on evangelism. I have to realize that my words won't win you over. In fact, I have to accept that, until you come to the end of yourself and turn to God, you won't be able to see my faith as anything but foolishness (1 Corinthians 1:18).
I pray that the day would come soon, friend. I often ask God to work in your life in whatever way is necessary for you to realize that Christ fulfills the deep longing you've been wrestling with all your life.
But I can't will that day into coming any sooner. So, in the meantime, I'll keep praying, and I'll start letting my life, instead of my well-intentioned wisdom, be a testimony to you.
You can watch how I work. I hope you see someone who works tirelessly to do a job well, even in a place that doesn't treat us how it should (Colossians 3:23).
You can watch how I speak. I hope you see someone who considers the impact of her words before she releases them, and carefully avoids ones that give space to envy, spite, anger, or self-righteousness (Matthew 12:36).
You can witness how I treat others—especially the people you know I don't get along well with. I hope you see a person who speaks to build others up and not tear them down, who chooses unity over words that cause division (Ephesians 4:29).
You can see how I spend my time, and I hope that you see someone who cherishes it as a gift and chooses to use it to serve others in my workplace, community, and social circles (1 Peter 4:10).
But most likely, you won't always see these things. In fact, you'll often be the first to see my shortcomings—how I fail to do each of the things above.
But in that, I hope that you notice where I turn when I fall short. I hope that you see I am quick to acknowledge when I'm wrong, and that you'll witness me struggling against my sinful nature, longing to act and love in a more Christlike manner. Oh, you will certainly see how I am broken, and sinful, but I hope you see just as clearly, that I turn to God to help me be someone better.
I hope you're able to see me, and know that anything good you see is grace from the perfect God I serve.
Now, my friend, as I seek to evangelize, I won't focus on convincing you. Instead, I'll try to live in a way that shows you that life with God is rich and purposeful. And when I speak, I'll share stories about a life beyond the cynicism and despair so many are focused on. I will continue to share time and conversations and meals, and I will keep praying desperately that you find the hope which will anchor your soul (Hebrews 6:19).
And so it was with me, brothers and sisters. When I came to you, I did not come with eloquence or human wisdom as I proclaimed to you the testimony about God. For I resolved to know nothing while I was with you except Jesus Christ and him crucified. I came to you in weakness with great fear and trembling. My message and my preaching were not with wise and persuasive words, but with a demonstration of the Spirit's power, so that your faith might not rest on human wisdom, but on God's power. (1 Corinthians 2:1-5)
https://ymi.today/wp-content/uploads/2019/10/To-the-Friend-I-Tried-to-Evangelize.jpg
613
1024
Contributor
https://ymi.today/wp-content/uploads/2017/05/ymi-logo-black-3.png
Contributor
2019-10-25 11:00:55
2020-10-06 15:11:41
To the Friend I Tried to Evangelize