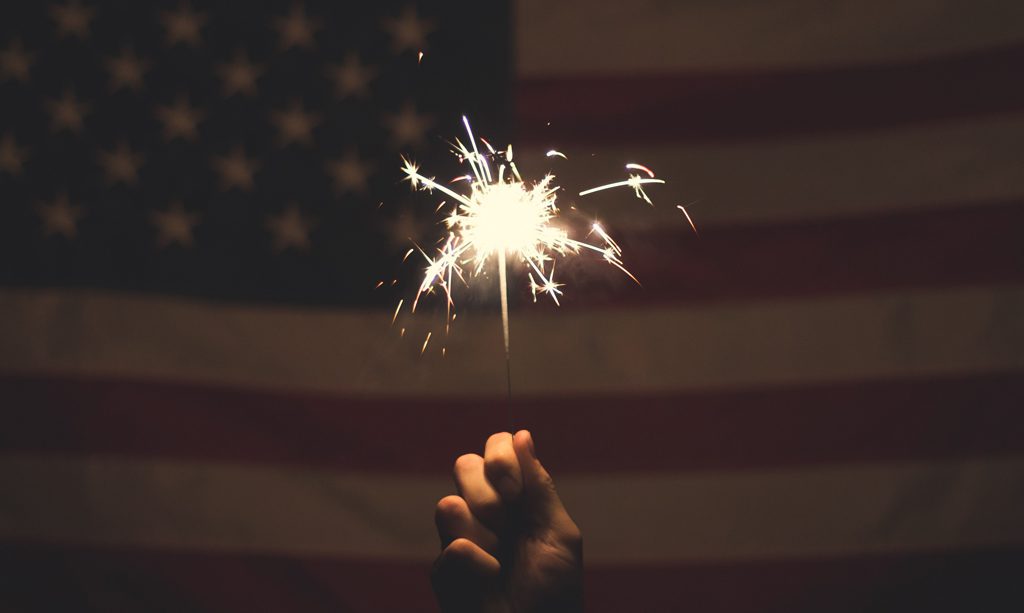 Written by Karen Pimpo, USA
The Fourth of July holiday—commemorating the beginning of the American revolution against the motherland, England—is a central part of the United States' origin story. Odds are that even if you don't live in the USA, your home country has an origin story, too.
This year, I am learning that the birth of my country bears a lot of similarities to the origin of the global Church—the gospel story. How so? Let's take a look at the gospel as it's presented in Hebrews:
There were many priests under the old system, for death prevented them from remaining in office. But because Jesus lives forever, his priesthood lasts forever. Therefore he is able, once and forever, to save those who come to God through him. He lives forever to intercede with God on their behalf. (Hebrews 7:23-25, NLT)
Once and Forever
Although now it is celebrated with parades, fireworks, and a day off work for most Americans, the very first Fourth of July was really the beginning of eight years of bloody conflict. The revolution brought all-out war to American shores, and the Fourth of July marked the "point of no return" when the colonists crossed the line from mere grumbling to high treason. They were going to war with their king; they were preparing for battle.
In the same way, Hebrews describes Jesus' actions as "once and forever." His death on the cross was the point of no return. There was no plan B, and no way to escape. Just like the acceptance of a revolutionary document, Jesus' actions were public, final, and powerful.
Interceding on My Behalf
I love the Bible's use of the word "intercede." It always reminds me of a courtroom, with a passionate lawyer pleading the case of the defendant. But of course, in a courtroom there must also be a plaintiff—an accusing party.
For the American revolution, there was a clear enemy in mind. England was accusing the colonists of subverting rightful authority. The colonists laid out their "case" in the Declaration of Independence, detailing grievances from the king across the sea. The "courtroom" was set.
We also have an accuser, friends. Revelation 12:10 describes a future in which "the accuser of our brothers and sisters, who accuses them before our God day and night, has been hurled down". To imagine the Enemy continually accusing me before God is terrifying. I am a sinful person who falls every day. What could I say in my defense?
But there is the good news! Jesus says it all for me. He lives forever to intercede on my behalf.
Victory!
The result of the American Revolution was a happy one for the colonists: they gained independence from England. Their victory would have been nearly impossible to predict, for the opposing force was more powerful, experienced, and better-equipped than they were.
Our victory in Christ came through a similar way. The Enemy we face is mighty, experienced, and better-equipped. It seems that he would easily overthrow us—except for the help of one man, Jesus Christ.
And since we have a great priest over the house of God, let us draw near to God with a sincere heart and with the full assurance that faith brings, having our hearts sprinkled to cleanse us from a guilty conscience and having our bodies washed with pure water. (Hebrews 10:21-22)
Jesus clears our guilt away, pays our debt, and clothes us with righteousness! We aren't just free—we are adopted as heirs and can approach God's throne with confidence. Now that is an amazing, revolutionary victory!
Living in the Light of Victory
The Fourth of July isn't only a time for celebration; it is a time for sobering up. Each year, Americans are reminded of a conflict that left thousands of families torn apart and a fledgling nation that sang of justice while continuing to oppress others—African Americans, Native Americans, and more—for decades to come. The America we know today is not sanctified—not even close. No human effort could hope to truly create a perfect, holy nation.
When we remember the true human condition, evident in history and in our own souls, it is easy to feel hopeless. The very next verses in Hebrews (10:23-25) are an encouragement for these times: "Let us hold unswervingly to the hope we profess, for he who promised is faithful. And let us consider how we may spur one another on toward love and good deeds, not giving up meeting together, as some are in the habit of doing, but encouraging one another—and all the more as you see the Day approaching."
Sometimes this life wears on me—I feel tired, anxious, and defeated. I am ashamed of my own pride, anger, and fear that get in the way of living a pure life. In times like these, the author of Hebrews encourages us to cling to the church—motivating one another to good works, meeting together, encouraging one another.
Finally, we should recognize that we are forgetful, and sometimes the best thing we can do is sit down and recall God's mercies in our life.
The Fourth of July is a great holiday, but it celebrates an imperfect and costly event in history. No man-made effort, however revolutionary, can truly establish a nation of justice and liberty. Thankfully, we have an all-powerful victor on our side, who has won the victory once and forever. Just like Americans remember the Fourth of July every year, we as Christians also need to be continually reminded of Christ's victory in order to celebrate and live in it.
https://ymi.today/wp-content/uploads/2018/07/Why-This-Independence-Day-Is-Different-for-Me.jpg
613
1024
Contributor
https://ymi.today/wp-content/uploads/2017/05/ymi-logo-black-3.png
Contributor
2018-07-04 10:00:37
2020-03-18 23:35:03
How the Fourth of July Reminds Me of Jesus