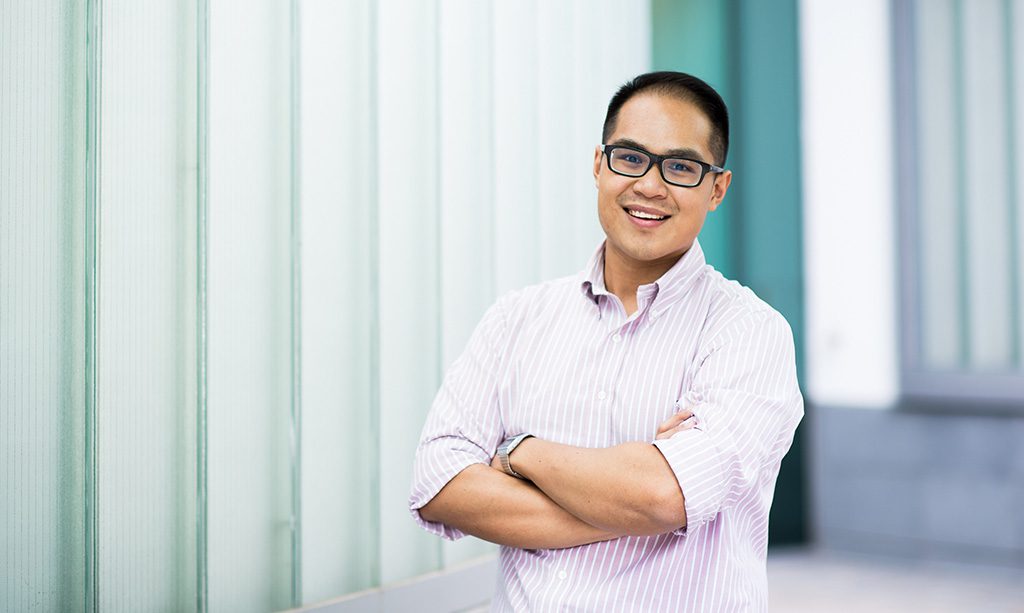 Featured Photo By Ian Tan

As the son of one of Singapore's top legal minds, Paul Wong seemed to be headed in a similar direction.
After studying law at Cambridge University, Paul landed a job in a prestigious law firm in London. The firm—Linklaters—was considered part of the "Magic Circle", a term for the top five law firms in the United Kingdom.
As a corporate lawyer, he helped FTSE 100 companies—or the 100 companies listed on the London Stock Exchange with the highest market value—raise billions of dollars by drafting documents to help them sell their shares.
But at the prime age of 30, Paul decided to give it all up and walk in his heavenly Father's footsteps.
Not that he ever thought he could or wanted to fill his earthly father's shoes. Paul's father, Lucien Wong, was recently appointed as Singapore's Attorney-General in November 2016. Before that, the elder Mr Wong headed one of Singapore's largest law firms—Allen & Gledhill—as its chairman and senior partner.
Paul's legal career in Britain also seemed to hold much promise. When he quit his job two years ago, he was drawing an annual six-figure salary. A run for partnership was also possible if he stuck it out for the next two to five years.
Instead, he resigned and went for training to be a Bible teacher and preacher. At the end of August 2016, he returned to Singapore to become the campus pastor of the Singapore Management University (SMU) with the Christian Fellowship group.
From a gigantic law firm that employed some 2,000 lawyers, Paul moved to a workplace that had only one full-time paid staff—Paul—and an intern.
So why did he make such a huge career switch?
Hitting rock bottom
Ask the 33-year-old if full-time ministry was ever on his radar, and his quick answer would be: Never.
As a teen, he had his fair share of rebelliousness. He skipped classes at Raffles Junior College a few times a week to play pool at Lucky Plaza or catch a movie in town.
Yet he made sure to tick all the obligatory boxes as a Christian. He attended Wesley Methodist church every Sunday and played guitar in its youth ministry. And when he was in London, he went to a local church that was a half-hour drive from where he lived and worked.
"Church was just a Sunday morning affair for me and had little impact on my life, decisions, and worldview," says Paul. "When it came to church commitments versus work, work always won."
Then, he was pulling very long hours at work. He was in office six days a week; it was considered a good day if he could leave the office before midnight for a full night's sleep. On one occasion, he pulled all-nighters two nights in a row and did not leave his office for three days in order to meet a deadline.
"My thinking was, if God put you in a university or law firm, then the most God-glorifying thing you can do is to be the best student or the best lawyer. But I have grown to realize that this is a mistaken idea," says Paul.
According to him, his spiritual walk hit "rock bottom" when he stopped living and thinking like a Christian altogether.
The awakening
On one particular Sunday in 2011, Paul was feeling the inertia of having to go to church. He was already in his office, and was reluctant to leave and return to office to finish up his work. His colleague suggested going to another church that was just five minutes' drive away.
He went and was impressed by what he saw and heard. "I had heard many good sermons in the past but it was always one ear in, one ear out. But there I saw the Word being preached boldly and for corrective purposes, and people living those values out. It was God's Spirit working through his Word that changed everything," says Paul.
He started to attend this church regularly and also joined a Bible study group. The group was then studying the book of Mark for one year. It turned out to be a humbling experience for Paul.
"I thought to myself, Mark is the shortest of the four Gospels in the Bible and I have already read it at least 10 times. Why do we need one year to study it?" he says. "But in the process, I found out that I really didn't know how to read the Bible at all. It was a very humbling experience. What was modeled to me as a child was that it was okay to treat the Bible as a magic book where I ripped things out of context when ironically, as a lawyer, I knew that was the worst way to read things."
At one session, the group was reading Mark 8, in which Jesus told the crowd that whoever wanted to be His disciple needed to deny themselves and take up their cross to follow Him. "I realized that I called myself a Christian but I was still living for myself. It got me thinking about what it meant to follow God, and I realized that I hadn't understood discipleship at all," says Paul.
With that epiphany came drastic changes in the way Paul spent his time. He began to serve in a lunchtime ministry at Linklaters and hold one-on-one Bible study sessions for people from his office and church. To make time for these activities, he cut back his working time by at least seven hours a week. With his billable hours going at a high rate, the move costed his firm a hefty sum—and probably his career prospects.
"I had an understanding boss and I felt I no longer needed to be the best lawyer—I wanted to be the most faithful lawyer. All I had to do was to work hard and with integrity and to make God known to people around me," says Paul.
The sudden change in his priorities shocked his mum, who thought he had joined a cult. She wanted him to focus more on his legal career.
"I could have fallen away from faith in those years but God turned my sin into good," reflects Paul. He married his now-wife Angela three years ago and they have a one-year-old daughter, Elizabeth.
The new life
Angela's support was instrumental in the next turning point of Paul's life.
As Paul started to teach the Bible more frequently, Paul's church leaders began urging him to consider entering full-time ministry in 2013. He discussed it with them, talked it over with Angela, and prayed.
Paul did not have a supernatural "calling" from God in the form of dreams or impressions. "Some people experience that but I don't think one needs a special calling into vocation. The only call made in the Bible is to respond to Jesus. Since I am told I have the gift of teaching and that I should use it, I decided to obey and consider using that for God," he says.
Besides, he thought, continuing work as a lawyer would mean limited time to use his gift of teaching. The impact of his work could be multiplied, he reasoned, if he became a teacher who equipped other students or office workers instead.
So he took the plunge in 2014, signing up for a two-year full-time ministry training course before joining SMU's Christian Fellowship in 2016. The group has about 90 undergraduates. Paul preaches when they meet every Tuesday, and also trains student leaders to run Bible study groups on campus. "It is a joy to see their hunger for God and to guide them at a time when they are forming their identities and ideas about the world," he says.
He still works six days a week because he prefers preparing sermons on Sundays, but says the nature of the stress that he faces now is more meaningful—instead of chasing deadlines, he now worries about people and their spiritual growth.
"The most difficult part in going full-time is not the decision in itself but explaining the decision to people around me," says Paul. His wife was supportive and surprisingly, so was his dad, who told him to do whatever he thought was right.
Interestingly, his mother—a lay leader in church who had brought Paul up as a Christian after his parents separated—was the one with the strongest objections. She felt that he ought not to waste his "good degree" or "bright future", but work longer to build up a retirement nest egg. But she has since come round to the idea and is now fully supportive of his ministry.
Indeed, Paul had to cut back on his spending while he was undergoing training, as he was not earning anything during that time. That meant not taking taxis or eating out at restaurants. Now, he earns a stipend that is pegged to the median pay of a teacher. His wife looks after their daughter as a stay-at-home mother.
The biggest sacrifice for Paul, however, was not a financial one. It was having to curtail a sense of pride or self that came with his ambition. "Despite my career and earning potential, the status or position I occupy is dramatically different from my peers. But I would not trade what I am doing now for anything in the world," says Paul.
His favorite verses in the Bible are from Isaiah 25, which paints a picture of the eternal future and hope to come. The verses in this chapter motivate him in his long-term goal of laying up eternal rewards—and not earthly treasures.
"It shapes the way I view this world," he says. "This physical world is just going to head for destruction and the only thing that is going to be left is God's people. It shapes why I live, how I live, and why I do my job."
Write to us at contribute@ymi.today if you know of someone who has made a radical choice because of his or her faith.
https://ymi.today/wp-content/uploads/2017/03/Paul-Wong-Hotshot-Lawyer-to-Devoted-Campus-Pastor.jpg
613
1024
Janice Tai
https://ymi.today/wp-content/uploads/2017/05/ymi-logo-black-3.png
Janice Tai
2017-03-03 10:00:34
2020-09-11 20:37:27
Paul Wong: Hotshot Lawyer to Devoted Campus Pastor