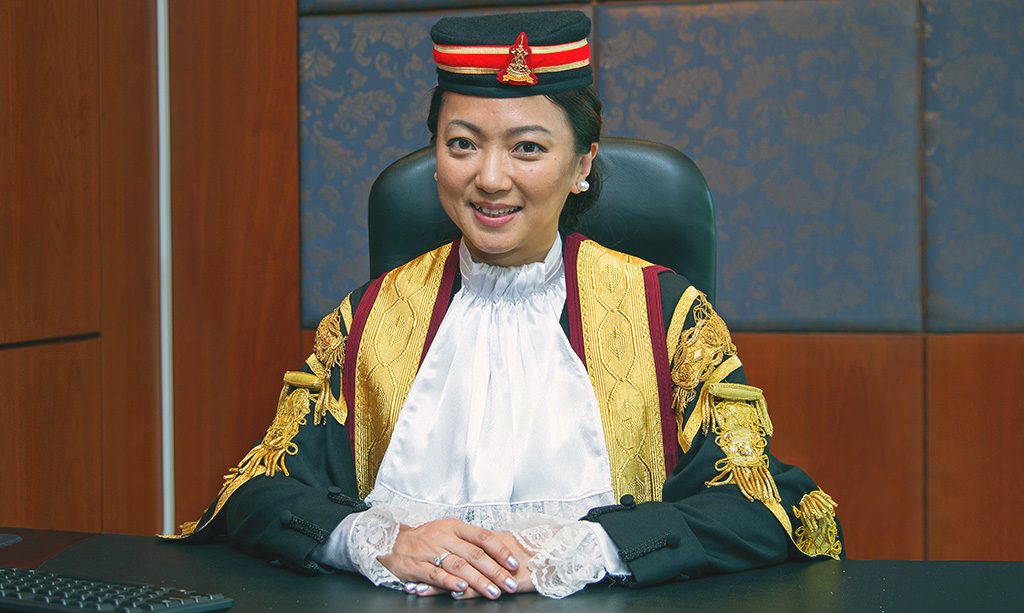 Despite being the minority as a Christian Chinese female in Malaysia, Hannah Yeoh became the country's first female speaker in a state parliament—and its youngest—at the age of 34 in 2013.
To date, Hannah has seen the faithful hand of God guiding her through a decade in politics as a representative for the town of Subang Jaya and five years as the speaker of Selangor State Legislative Assembly.
The former lawyer's unlikely foray into politics started with a dramatic love story.
During a supper with a pastor friend in January 2007, he dropped a bombshell prophecy on her: You will get a marriage proposal in June.
"It seemed quite far-fetched then, as I was single and not seeing anyone. Even up till May, there was still no romantic prospect in sight," Hannah tells YMI.
She continued to go about her daily life, helping her father and friends with his event management business and serving God in church. By then, she had stopped practising as a lawyer.
In June, Hannah, who was then serving in her church's ministry for new believers, preached from the pulpit for the first time. Unbeknown to her, fellow church member Ramachandran Muniandy, an IT engineer, was sitting among the congregation and listening with rapt attention.
She had caught his eye, as God had been giving him visions in the last few months of his future wife preaching in church.
Ramachandran and Hannah were already friends at the time, but from then on, he saw her in a different light. He told her to pray about the next stage in her life. That same month, he proposed to her and she accepted the proposal 10 days later after praying about it. The prophecy was fulfilled. But God had even greater plans for the couple.
Hannah was then co-leading a cell group with a former schoolmate, Edward Ling. He had a keen interest in politics and believed in its role in effecting change.
Hannah, in contrast, had neither inclination for nor knowledge of politics. She was not even a registered voter. But she wanted to give him her support, so she joined the Democratic Action Party (DAP), an opposition party, with Edward.
In the meantime, God had spoken to Hannah and her fiancé and told them to get married in January. They did not understand what the rush was for, but obeyed Him and tied the knot on January 5, 2008.
Becoming Malaysia's first female speaker
The reason for a contracted dating and marriage timeline soon became clear. Elections were called a month later and the DAP chose Hannah to contest the Subang Jaya state seat. They believed she would appeal to the young, middle-class professionals there. Edward became Hannah's campaign manager.
"I had no political ambitions so it came as a surprise. But God provided me with a husband who prayed with me about it and supported me even though I felt ill-equipped to speak at rallies during the campaigning period," says Hannah.
Hannah needed as much support as she could get. She was up against a seasoned female politician. During the campaign period, her opponent distributed a booklet containing a long description of her political experience; all Hannah had was a leaflet with her passport photo printed on it.
Many mocked her for being young and inexperienced but Hannah persevered and leveraged on her youth. She even came up with a tagline that said, "Yes, I have no experience, I have no experience in corruption!" At rallies, she also brought in young people to share their ideas and vision for the country.
Though she could cough up only RM700 (about US$170) from her savings for the election campaign, her supporters and friends raised more than RM100,000 to support her campaign. She won the seat with a majority vote of 71 percent in 2008; she was only 29 then. Hannah was re-elected in 2013 and also sworn in as speaker—out of the 56 state assemblymen in the state assembly—to preside over the proceedings of the House that year. 
 While elated and grateful for the honor, the ex-lawyer nevertheless found the post-election road a lonely one. Young people her age were free to hang out with friends after work, but her weekends were taken up by community events and other obligations.
"God led me on this path and I obeyed, but I also felt discouraged because I felt far away from my own dream to be a preacher," she recalls.
Pressing on in Politics
However, Hannah persevered because she believed God had given her a larger platform to fight for honesty and integrity in Malaysia. Her party's battle against corruption and race-based policies also resonated with her.
In the last five years, Hannah has pushed for more checks and balances in the political system by strengthening the role of the opposition in her state, though her party is the governing party there. For example, she introduced "Opposition Time" for the Opposition Leader to speak in the State Legislative Assembly before each adjournment of the House. She also saw through changes requiring the Opposition Leader to chair the Public Accounts Committee inspecting the state government's spending.
In Malaysia, race, religion and politics are often intertwined. But Hannah, while a Christian, sought to institute fairness in land allocation matters. During her term, she successfully fought for land for places of worship for other faiths, representing the different stakeholders in her constituency who entrusted her with the mandate to be their spokesman.
At the same time, she remained passionate and vocal about her own faith. Three years ago, she launched her biography, Becoming Hannah, which traced the hand of God in her life.
Her detractors, however, used her book to play up religious sensitivities. In May last year, a university lecturer lodged a police report accusing Hannah of attempting to "coax, influence and instigate" people to convert to Christianity through her book. It came right after a well-known Christian politician in Indonesia, Jakarta's former governor Ahok, was sentenced to two years in prison over comments about the Quran.
Hannah was questioned but no charges have been pressed so far. "My opponents usually attack me by playing the religion card, especially in the online space. I have learned to respond by setting the record straight on false allegations immediately and by keeping my hands clean so that they don't have anything to use against me," she says.
While numerous duties such as overseeing committees and hosting diplomatic visits as a speaker fill her days, Hannah still manages to run a home. She and her husband—now a pastor—take turns to pray with their two daughters, aged four and six, before putting them to bed every night.
Ask her if she intends to stay in politics for the long haul, and her reply is: "One day at a time, one election at a time." Her desire, she says, is to stay in politics not one day longer than what God intends. For now, at least, she has discerned that God still wants her to contest the next elections.
Her parting words for young people: Never lose hope in God's plans and purpose for your life.
Hannah says: "People have told me that it is impossible to stay clean in Malaysian politics and that the system will swallow me. But Nehemiah sought to rebuild broken walls despite the desolation and ruin. No task is too great if one trusts and hopes in God."
https://ymi.today/wp-content/uploads/2018/01/Hannah-Yeoh-Becoming-Malaysias-First-Woman-Speaker.jpg
613
1024
Janice Tai
https://ymi.today/wp-content/uploads/2017/05/ymi-logo-black-3.png
Janice Tai
2018-01-18 10:00:33
2020-09-10 10:02:56
Hannah Yeoh: Becoming Malaysia's First Woman Speaker