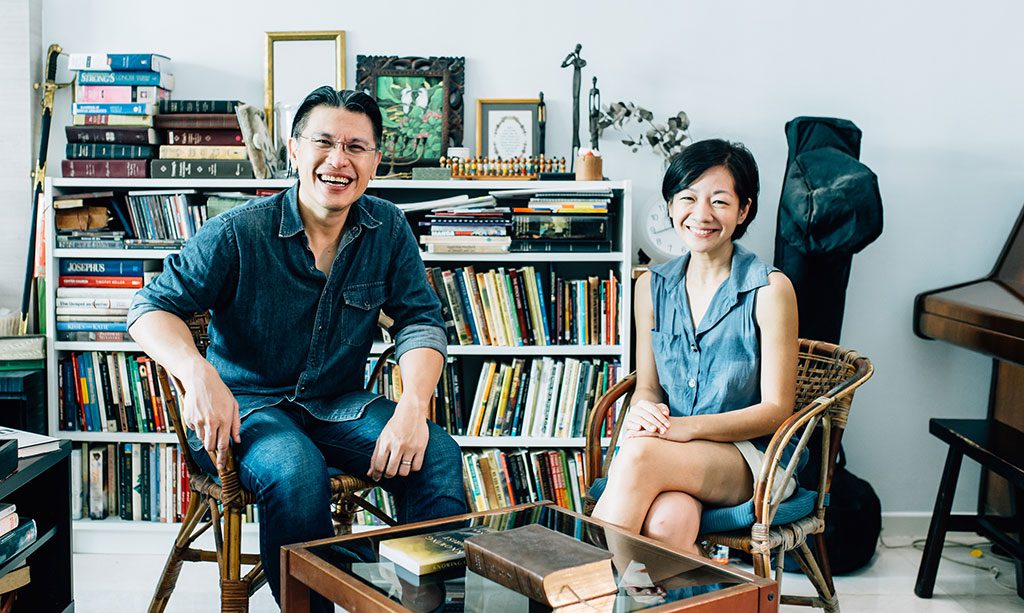 Photography By Ian Tan
Standing outside the four-storied terrace house, it's easy to get lost in awe. In land-scarce Singapore, it's huge. It towers over you, its modern concrete exterior—a combination of clean, sleek lines with glass railings and a high varnished wood gate—showing you what luxury looks like.
Stepping inside, you're greeted by a huge living area with marbled floors and an overly enthusiastic black toy poodle practicing sprints around an imaginary circuit under and between the furniture. On the dining table is an impressive array of local foods: curries, pratas (flat bread), pancakes, and curry puffs.
Upstairs, the bedrooms are cozily furnished—each with a bed or two, desks, toys, books, and the odd musical instrument. They evoke a feeling that's best described as homely, as the cat taking a nap on one of the desks can attest to.
Back downstairs, 47-year-old Kenneth Thong is hard at work preparing more food in the kitchen and laying it out on the table. Ken, as everyone calls him, is soft-spoken and self-deprecating in a charming way. His sentences tend to trail off as his voice gets softer, before breaking out in laughter over a joke he's made—often at his own expense. His wife, Adeline (just call her Addy), 39, is giving a tour of the house—all four stories plus basement, both balconies, and six rooms. Like her husband, she sports a permanent warm smile and a cheerful, gentle demeanor.
Today, most of the occupants of the house are out except for a young man who's helping Ken out in the kitchen.
Perhaps the only giveaway that this isn't just another upper-middle class dream is a large sign made from Lego bricks, hanging amid the packed bookshelves in the living room. It reads: "The Last Resort, welcome".
What Is The Last Resort
Ask Ken and Addy what this sign means, and they have a ready answer. "The Last Resort is a place for young people, with young people, by older people," says Addy. Ken chips in: "We want young people to know that if there is really nowhere else to go, there is a place for you."
This is what The Last Resort is all about: Since they got married in 2007, the Thongs have opened their home to a wide range of young people seeking a refuge, especially from abusive families or unlivable conditions. In general, their guests are welcome to stay for free, though they can choose to help out with the living expenses if they can. For the past 10 years or so, Ken and Addy have been living with "strangers".
"They're invited as part of family," says Ken. "We want them to have the experience of what a normal, safe, functional family looks like. And that means they're free to have whatever we have here."
Indeed, from doing the chores to going grocery shopping to cooking and eating together, the couple tries to create a sense of belonging and community for their guests. "That's something that many of them have never experienced," says Addy.
Some would call this radical hospitality—going beyond what most people would be willing to do—but Ken and Addy see it far more modestly. "Being radical doesn't mean doing things that nobody has done before," says Ken. "Being radical is simply to do what needs to be done."
The couple also invites other Christians to come and share in their ministry, mobilizing them to serve at The Last Resort.
How the Idea Began
The idea for The Last Resort had come even before Ken and Addy were married. After spending four years as missionaries overseas—Ken in South Africa and Addy in South India—they connected in 2004 over a shared desire to make a difference in the lives of those from troubled backgrounds. On their first mission trip together in Hoedspruit, South Africa, Addy was struck by how close-knit Christian communities there were. They not only lived together, but shared everything with each other. It was a great example of loving both God and people, something they wanted to bring home.
Back in Singapore, they saw another need: to help young people whom existing social services couldn't fully support. It reminded Ken of Matthew 9:36, which describes Jesus' compassion for the helpless crowds. "That's the challenge to us," says Ken, "would we have the same compassion?"
The couple found their own answer to this challenge: offering themselves and their home as an example of what Christian community should look like—loving, compassionate, and nurturing. "Building communities was something that God had laid on our hearts, and when we got married, we knew we would want to open and share everything we had," explains Addy.
The opportunity to do this came shortly after their wedding, when they came to know of a young lady who needed a place to stay. She had just become a Christian, a decision that her family opposed. She had nowhere else to go, so Ken and Addy opened their home to her. At the time, all they had was a two-bedroom apartment.
Before long, word got out about this couple who was willing to house anyone who needed a safe place to stay. Some came through social workers, while others found their way through friends. "We didn't set out to look for people," says Addy. "We just made space for those who had nowhere else to go, when we came to know of them."
Since then, Ken and Addy have hosted missionaries from overseas, Christians needing a retreat, and young people needing a safe place. Some stay for a few weeks, while others have stayed for more than a year. Right now, The Last Resort is a refuge for a 25-year-old mother, her newborn child, as well as a 19-year-old girl needing an alternative place to stay. Also staying with them are two Christian young adults wanting to live out radical hospitality in a Christ-centered community.
Overcoming the Challenges
This ministry, however, has not come without its own set of challenges. For one, the couple has found that providing refuge for people often means having to deal with some aspects of people's troubles. Once, loan sharks came looking for one of their guests. It eventually led to someone breaking in to steal some of their family heirlooms.
There's also the not-insignificant detail of paying the rent and providing for the people staying with them. This is made all the more challenging by the fact that neither Ken nor Addy currently have a paid job—Ken left his director role at a non-profit organization some months ago, and Addy stopped having an income since 2014. Both saw the need to be fully devoted to this ministry, in availing their time to be present with people.
When asked about such challenges, Ken and Addy say it's all about responding to what God has laid on their hearts and believing Him, even when their ministry may not seem pragmatic.
Their housing has been a testament to this truth. Not wanting to be weighed down by a housing loan, the couple decided, early on in their marriage, to rent a three-room flat. They moved to a larger flat later. Throughout this time, God was sending them people in need—while expanding their capacity to serve others. "We were being taught along the way how to avail ourselves, no matter how much we had," says Ken.
God honored their obedience, providing support in the form of fellow brothers and sisters in Christ who chipped in for the ministry needs and provided practical help.
In early 2018, the couple felt directed by God to look into moving to a bigger place. The search led them to a four-storied house that seemed perfect.
There was just one problem—the rent. "At that point, it felt like we had no business to be here," Addy recalls her thoughts when they first viewed the house. "But we felt that if God was showing us that this was the place, then we would go ahead with it."
Despite not knowing how the provision was going to come, the Thongs took the step of obedience and moved in. True enough, God provided them with enough to pay the first month's rent. It was just one of the many examples of God's provision that they had seen in their ministry.
"It's been a journey of walking with God and seeing how He provides, and how He takes care of every single detail," says Addy. Whether it's much-needed food items, money, furniture or even appliances—mostly shared by friends and acquaintances—the Thongs readily attest to how God has come through for them on a daily basis.
It's About Christ
It's hard not to be inspired by the Thongs' spirit of sacrifice and generosity. In a world where godly, philanthropic dreams are often derailed by cold, hard pragmatism, Ken and Addy seem to have succeeded in escaping the things that many of us chase.
"All of us pursue what we deem as important to us. It is in discovering what matters much more that we shift our priorities. We're not telling people to not pursue their dreams, we're simply inviting people to experience for themselves this great joy of pursuing what truly brings delight," explains Ken.
But the couple is quick to dispel any notion that they are in any way special. "We're not saying to people, 'Oh, come and look to us'," says Addy. "No, not at all—come and look to Christ!"
"If there's anything that our experiences have taught us, it's that we're all broken because of the effects of sin in our lives, even in a so-called stable family," she continues. "We are not a perfect family. And we are not trying to create a perfect family. But we are forming a community who looks to Him."
Ken adds: "We want to build communities. We want to be near people, to be involved in the daily lives of people by caring for them, as well as to be very clear in our proclamation of where our hope really lies."
In many ways, that's the simplicity of their ministry: modeling godly living while walking alongside young people and encouraging them to ask bigger questions about God.
And this, he hopes, will have a knock-on effect on other Christian couples. "Our crazy idea is for two or three newly married couples to dedicate their first year of marriage to living together in community, while creating room in the shared space for someone else in need of refuge," he says.
Call it a utopian dream. But Ken believes that if every church has a community home like that, it would put the church in a good position to foster the next generation.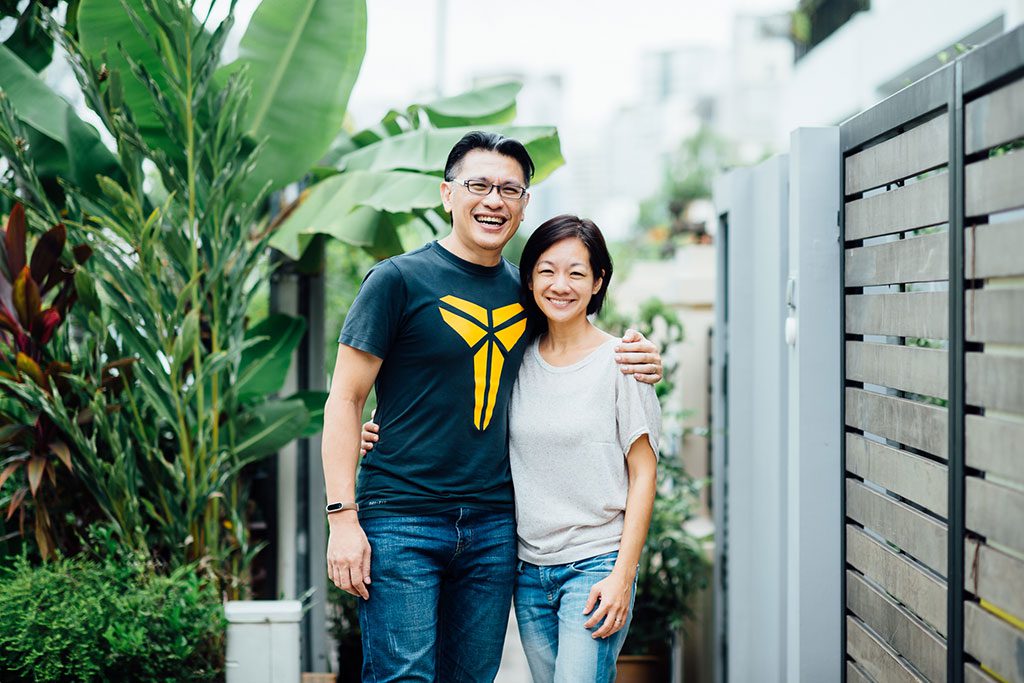 https://ymi.today/wp-content/uploads/2018/07/01-Ken-and-Addy.jpg
613
1024
Andrew Koay
https://ymi.today/wp-content/uploads/2017/05/ymi-logo-black-3.png
Andrew Koay
2018-07-27 10:00:11
2020-09-10 09:43:49
Ken and Addy: Sharing Home with Complete Strangers