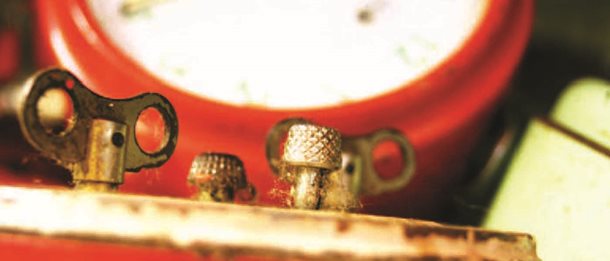 November 23, 2014
READ: 1 Peter 5:6-11
So after you have suffered a little while, he will restore, support and strengthen you, and he will place you on a firm foundation (v.10).
The alarm clock rang promptly at 7 in the morning. Sophie woke up with a bad headache, but she thought nothing of it. She pushed away the covers and got out of bed. Suddenly, as a stroke devastated her brain, darkness descended and she collapsed to the floor. Sadly, situations like this one have been a reality for many people over the years.

Suffering often strikes us at the most unexpected hour and—for some people—it's a constant companion. In times of pain and difficulty, we're prone to doubt two things: that God is in control and that He will care for us. We wonder: how can I trust God? It seems too hard when I'm in the middle of a crisis.

The apostle Peter offers some counsel. First of all he tells us to humble ourselves before God (1 Peter 5:6). God is God and we are not. He has a higher purpose, a clearer perspective and better timing for all things. So it's vital that we submit ourselves to His control and His care, giving all our worries to Him, for He cares about us (v.7).

Secondly, resist the devil (vv.8-9). During trials we're especially vulnerable to the enemy of our souls. He'll try to make us doubt God's goodness, accuse our conscience and cause us to believe that our suffering is unique. "Be strong in your faith. Remember that your Christian brothers and sisters all over the world are going through the same kind of suffering you are" (v.9).

Finally, hold on to God's promises (vv.10-11). He intends for you to share in His eternal glory. So He "will restore, support and strengthen you, and he will place you on a firm foundation" (v.10).

The God of all grace is also all powerful. He will do it! —Poh Fang Chia
365-day plan› Romans 12:1-21
MORE
Read Job 38:1-41 and reflect on God's power.
NEXT
How does Peter's counsel encourage you in your suffering? Use 1 Peter 5:6-11 this week as a prayer guide for you and others who are suffering.
https://ymi.today/wp-content/uploads/2014/11/ODJ_231114.jpg
261
610
YMI
https://ymi.today/wp-content/uploads/2017/05/ymi-logo-black-3.png
YMI
2014-11-23 00:00:00
2014-10-30 16:44:38
ODJ: He will restore