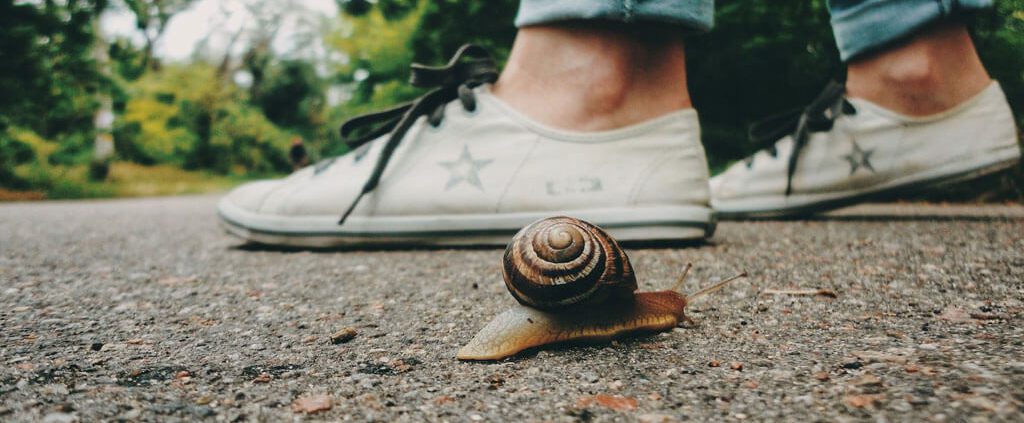 Written by Cassie Watson, Australia
"I did it again."
Perhaps you've beaten yourself up with those words after giving in to the same sinful temptation once again. You repented, but it didn't seem to stick.
I recently talked with my mentor about how frustratingly slow my sanctification can be. Even when I know in my head that something is true, it doesn't always shape my heart or steer my hands. I read the Bible and I'm amazed by God's power, faithfulness, and unfailing care for me. I'm encouraged to turn to Him with my worries, instead of to hollow comforts—like food, in my case. 
But then when anxious thoughts swirl again, I tear open a packet of biscuits instead of casting my cares on my loving Creator (1 Peter 5:7). 
Back in the seventeenth century, Richard Baxter expressed a similar frustration in his book Dying Thoughts: [1]
All men know that the world is vanity, that man must die, that riches cannot then profit, that time is precious, and that we have but little time to prepare for eternity; but how little do men seem to have of the real knowledge of these plain truths![2] 
Baxter clearly sees that there are two different kinds of knowing: mere intellectual assent, and "real knowledge" which affects us at our core. Discouragement and frustration spring up in the gap between these two types of knowledge. When we don't see improvements quickly, we may think we'll never change.
To complicate things, learning and applying truth about God requires unlearning the lies we've absorbed from the world. Society tells us to pursue our desires and not let anything get in the way—Jesus says we must die to ourselves (Luke 9:23). Movies and television shows preach that our value depends on our outward beauty—the Bible instead extols a "gentle and quiet spirit" (1 Peter 3:3–4).
This isn't a speedy process. As Tim Chester writes in his book You Can Change: "The habits and thought processes of sin are not easily unlearned. There are few quick fixes."[3]
With this in mind, I've got three truths and three action steps for when your spiritual growth seems painfully slow:
1. Jesus has paid the full penalty for our sin
This is the truth we need to remember above any other. The Bible makes it crystal clear that our sins are forgiven because Jesus died for us:
God shows His love for us in that while we were still sinners, Christ died for us. (Romans 5:8)
The saying is trustworthy and deserving of full acceptance, that Christ Jesus came into the world to save sinners, of whom I am the foremost. (1 Timothy 1:15)
Without this rock-solid truth underneath our feet, we will easily fall to discouragement. With our eyes on ourselves, we think our spiritual growth depends on whether we're strong enough to say no to the next temptation. We think it's all on us. 
But instead, we have to keep looking at the cross, knowing that our standing before God is solely dependent on belonging to Jesus Christ. We can boldly come to God's throne of grace (Hebrews 4:16) because Jesus has made us right before God. This is something we must believe before we can make any real change in our sinful habits.
This is a great comfort when, in the aftermath of sin, I often feel as if I can't pray and repent—like I'd forsaken that right when I refused to come to God in the first place. But Jesus has already paid the price for my sin. Nothing can take that away from me.
2. God brings the growth, not you
God is the source of our justification (right standing before Him) as well as our sanctification (continual growth towards holiness). He has given us his Holy Spirit to transform us from the heart.
As Paul writes to the church in Philippi: "Therefore, my beloved, as you have always obeyed, so now, not only as in my presence but much more in my absence, work out your own salvation with fear and trembling, for it is God who works in you, both to will and to work for His good pleasure." (Philippians 2:12–13, emphasis mine)
We must trust Him for that growth, no matter how long it takes, and keep asking Him to help us.
I don't know why God changes us so slowly, though perhaps one reason is that it's necessary for our humility. If killing sin was easy, we would end up taking the credit. By our slow growth, we become more dependent on God as our source of grace.
This year, I began fasting as one of my weapons against sin. Most weeks, I spend one morning fasting and then dedicate half an hour to specifically pray about my sinful eating patterns. It's an ongoing battle, but I've been amazed at how God has been growing me. My weakness without food shows that I'm not responsible for this change. The repeated, humbling practices of fasting and prayer make me realise that only God's work in me will bring lasting transformation. 
3. God will complete your sanctification
We know that in eternity, all sin will be done away with, but it's so hard to imagine that from the trenches. We're covered in filth, deafened by the enemy's gunfire, and scared out of our wits.
But God gives us hope in His Word: "He who began a good work in you will bring it to completion at the day of Jesus Christ" (Philippians 1:6).
Take heart—the war will end. We will be changed on that final day when we see Jesus clearly and fully (1 John 3:2). Perfect knowledge of our Saviour will finally captivate our hearts. We will trade our ragged and filthy garments for Jesus's robe of righteousness. We won't even want to sin anymore.
When Jesus finally brings me into the new heavens and new earth, my relationship with food will be transformed. I will feast abundantly with my Bridegroom (Isaiah 25:6; Revelation 19:9), enjoying food more than I ever have in this life—all without a hint of idolatry or sin, because I'll never want anything more than I want the Lord.
As we ruminate on these three truths, here are three action steps we can take: 
1. Be active in killing sin
That God is the author of our sanctification is not a licence to sit back and do nothing. In the same passage that says that God works in us, remember that Paul also exhorts believers to "work out [our] own salvation with fear and trembling" (Philippians 2:12).
We can't expect to grow in holiness without actively taking up His proffered grace. Other passages show us that we must be active in our growth:
Resist the devil, and he will flee from you. (James 4:7)
Flee from sexual immorality. (1 Corinthians 6:18)
Be diligent in searching your heart for sin, repenting, and implementing strategies to help you change. If you struggle with lust, don't keep watching movies with explicit scenes. If food is a battleground for you too, don't keep lots of junk in your pantry. For me, simply having that distance between myself and food makes it far more likely that I'll turn to the Lord in prayer with my anxious thoughts.
2. Read the Bible
As Paul wrote to the Corinthian church: "I planted, Apollos watered, but God gave the growth" (1 Corinthians 3:6–7). God brings sanctification through human action, even when it's not the human action itself that causes growth. Paul had to plant, Apollos had to water—referring to how both preached the gospel from the Scriptures. 
God has ordained Scriptures as one of the primary means by which we grow into maturity (Psalm 1:2-3, Psalm 119:9-11). We need the Bible desperately. A cursory reading every now and then isn't enough. We need to saturate our lives with the truth, so it sinks into our hearts by the power of the Spirit. 
I've found various strategies helpful throughout my life: writing Scripture verses on index cards and sticking them up around my house, memorising passages, and reading the Bible regularly alongside close friends. Each reminder of truth strengthens me against the next temptation.
3. Keep praying
Reading a passage in the Bible once doesn't usually bring immediate life change. We need the Spirit to apply those truths to our hearts. David exhorts us in Psalm 34 to "taste and see that the Lord is good" (v. 8). I can read about the Lord's goodness, but it's a different thing to taste and see—to experience His goodness.
With this in mind, we need to earnestly pray over the truth we learn in the Bible, asking God to press it into our hearts and hands. Richard Baxter writes:
When I have thought and thought a thousand times, I must beg thy blessing, Lord, upon my thoughts. The eye of my understanding will be useless or vexatious to me, without thy illuminating beams. O shine the soul of thy servant into a clearer knowledge of thyself and kingdom, and love him into more divine and heavenly love, and he will then willingly come to thee![4]
This isn't something I can will myself into. I need the Spirit's help to change my appetites and desires so that I see the Lord as more good and satisfying than chocolate or anything else I could turn to.
Never stop asking God to shine His "illuminating beams" upon your soul.
Our fight for spiritual growth will often be slow and painful. Whenever you fail—as you often will—remember that even Paul, the renowned apostle, fought this long and hard battle:
So, I find it to be a law that when I want to do right, evil lies close at hand. For I delight in the law of God, in my inner being, but I see in my members another law waging war against the law of my mind and making me captive to the law of sin that dwells in my members. Wretched man that I am! Who will deliver me from this body of death? (Romans 7:21–24)
Yet God is at work: "Thanks be to God through Jesus Christ our Lord!" (Romans 7:25).
God has given weapons to keep the fight, and He will complete the work He has started in us.
Be patient, for He is faithful.
Notes:
[1] R Baxter, Dying Thoughts, Banner of Truth Trust, Edinburgh, 2009.
[2] Dying Thoughts, p. 92.
[3] T Chester, You Can Change: God's Transforming Power for Our Sinful Behaviour and Negative Emotions, Inter-Varsity Press, Nottingham, 2008, p. 184.
[4] Dying Thoughts, p. 92–93.
This article is originally published on the author's blog here. This version has been edited by YMI. 
https://ymi.today/wp-content/uploads/2023/08/Be-Patient-with-Your-Slow-Spiritual-Growth.jpg
613
1024
Contributor
https://ymi.today/wp-content/uploads/2017/05/ymi-logo-black-3.png
Contributor
2023-08-18 10:00:36
2023-08-21 09:41:05
Be Patient with Your Slow Spiritual Growth