I am no bird; and no net ensnares me: I am a free human being with an independent will – Charlotte Bronte
Look at the birds of the air; they do not sow or reap or store away in barns, and yet your heavenly Father feeds them. Are you not much more valuable than they? (Matthew 6:26)
What is freedom? The dictionary defines it as "The power or right to act, speak, or think as one wants." So we think, if we have just enough power, assert enough of our rights, and clarify our wants, freedom will come.
But in reality, being free to do whatever we like, whenever we like, rarely makes us feel truly free. Contrary to popular belief, there is freedom, more than we can truly grasp, when we live our lives in accordance with God's Word.
Itching to live a truly free life? Come with us as we break down the myths of freedom!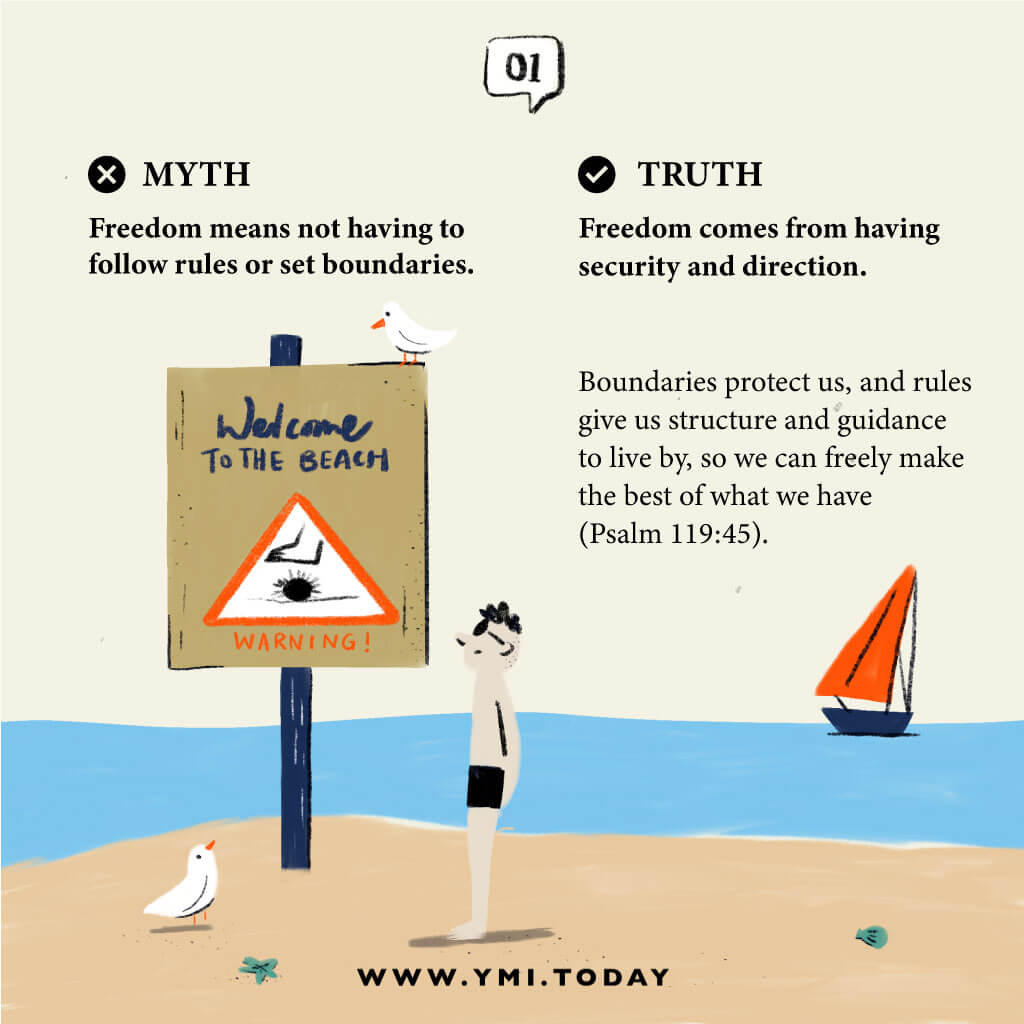 Myth: Freedom means not having to follow rules or set boundaries.
Truth: Freedom comes from having security and direction.
Imagine not having traffic lights/rules. Are you free to cross at any time? Sure. 
Will you feel free to cross any time? No (because you might die or kill someone).
What about being told at work or school that you can do whatever you want–with no set goal or direction. Would that make sense? 
Not having any kind of guidelines isn't freeing in the long run. Deep down we know that boundaries protect us, and rules give us structure and guidance to live by. See the confidence of the psalmist who says, "I will walk about in freedom, for I have sought out your precepts" (Psalm 119:45).
We experience freedom when we're able to enjoy what's been given to us within bounds.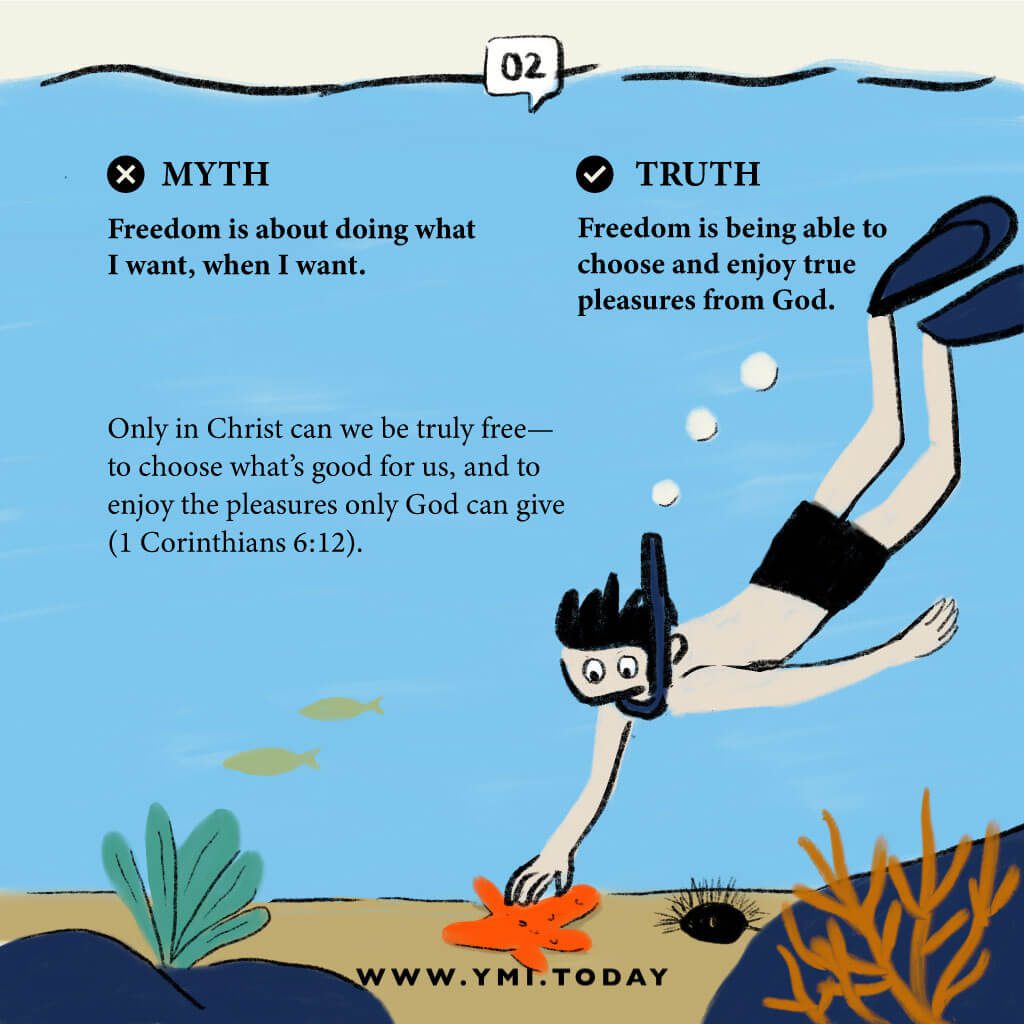 Myth: Freedom is doing what I want, when I want.
Truth: Freedom is being able to choose and enjoy true pleasures from God.
We think freedom should be all about us getting to do what we want—"You do you", "Go for it", we say. But in spite of our best efforts, we know we're not truly capable of making the best decisions for ourselves. Sometimes, far from empowering us, pursuing whatever we want often leads us to fall into self-destructive habits and patterns. 
This makes us realise that being able to do what we want doesn't really make us free. As the Apostle Paul puts it: "'I have the right to do anything,' you say—but not everything is beneficial. 'I have the right to do anything'—but I will not be mastered by anything." (1 Corinthians 6:12)
Even when we want what is good, we may not have the willpower to do it. One of the most human and relatable lines in the Bible says: "I do not understand what I do. For what I want to do I do not do, but what I hate I do" (Romans 7:15).
Yet—because we are in Christ, we have been set free from the bondage of our flesh. And with that freedom comes not just the ability to discern and choose what's good for us, but also the ability to truly enjoy the pleasures that only God can give—pleasures that lead to fulfillment and satisfaction.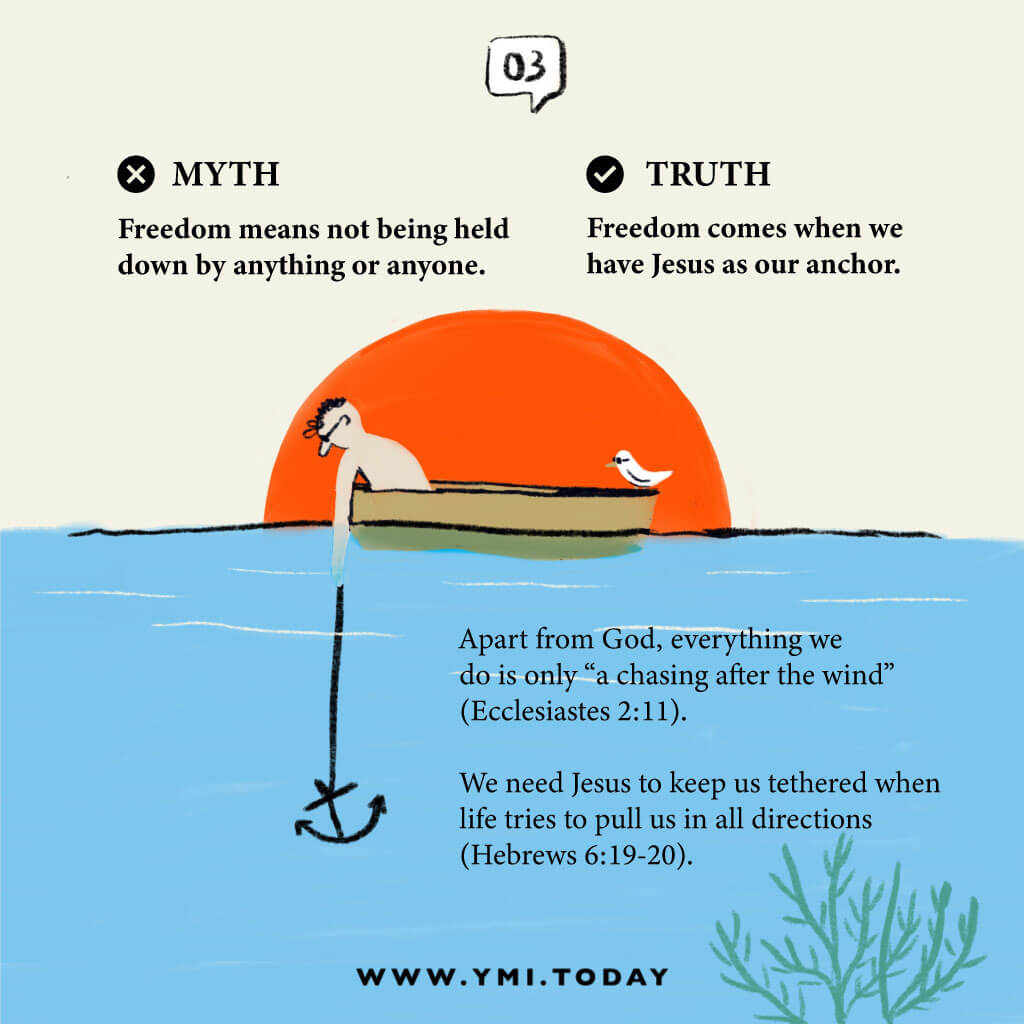 Myth: Freedom means not being held down by anything or anyone.
Truth: Freedom comes when we have Jesus as our anchor. 
When we feel tied down with obligations and commitment, it's easy to daydream about leaving them behind so we can be unburdened. So we move from job to job, place to place, relationship to relationship, thinking that life should be about keeping options open so we don't miss out on the best. 
But as the Teacher reminds us, without the One who gives purpose and meaning, all of this is "a chasing after the wind" (Ecclesiastes 2:11). The more we think new is always better, the less meaning and satisfaction we find. 
Having Jesus as our anchor (Hebrews 6:19-20) keeps us safely tethered when life tries to pull us in all directions. When obligations weigh us down, He asks us to trade our yoke for His (Matthew 11:29-30). And when our chasing wears us out, He reminds us that only He can satisfy (John 6:35).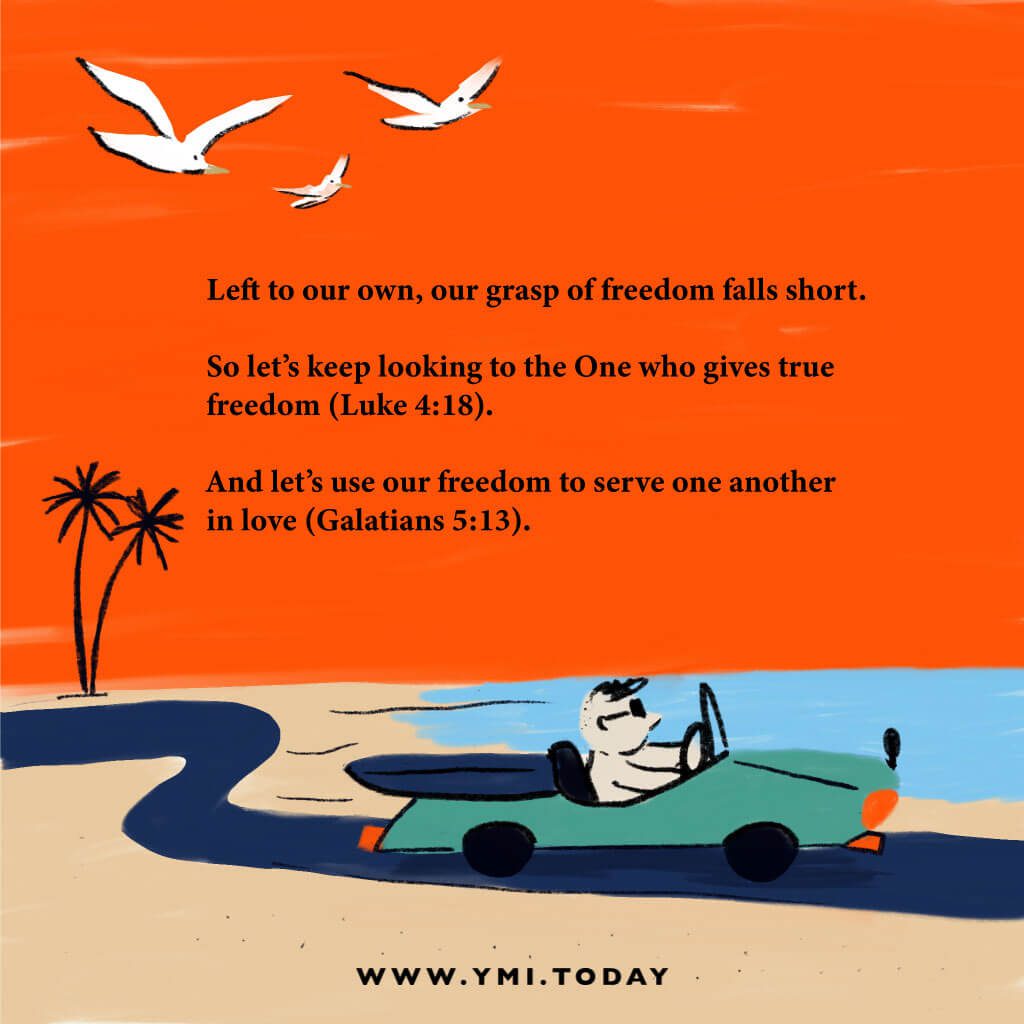 Left to our own devices, our grasp of freedom often falls short. Which is why we need to look to the One who gives true freedom:
The Spirit of the Lord is upon me
He has sent me to proclaim liberty to the captives
and recovering of sight to the blind,
to set at liberty those who are oppressed. (Luke 4:18)
It is for freedom that Christ has set us free. Stand firm, then, and do not let yourselves be burdened again by a yoke of slavery.

You, my brothers and sisters, were called to be free. But do not use your freedom to indulge the flesh; rather, serve one another humbly in love. (Galatians 5:1, 13)
As the late reverend Peter Marshall once said, "May we think of freedom not as the right to do as we please, but as the opportunity to do what is right." 
May we embrace and live by God's freedom, so we can experience the abundant life that He offers.
https://ymi.today/wp-content/uploads/2021/11/3-Myths-about-Freedom-feature-image-1.jpg
613
1024
YMI
https://ymi.today/wp-content/uploads/2017/05/ymi-logo-black-3.png
YMI
2021-11-30 18:00:01
2022-04-26 10:14:24
3 Myths About Freedom