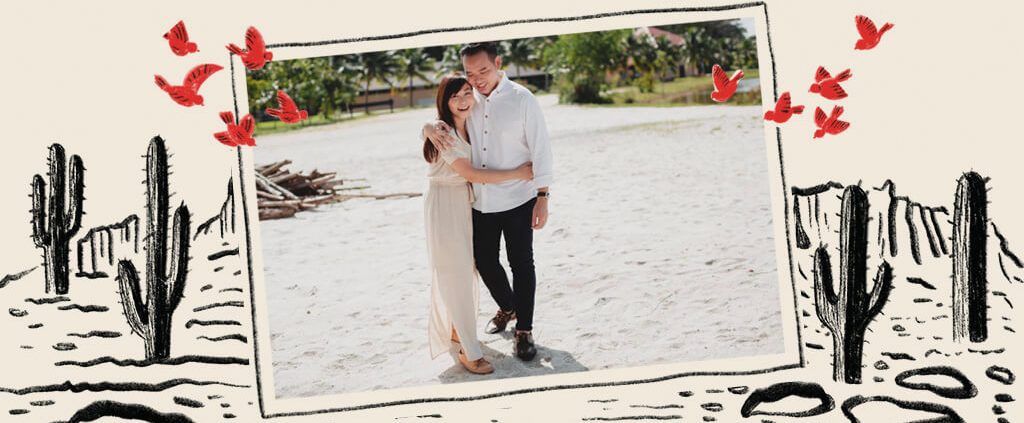 Written by Ng Jing Yng
Photos courtesy of Jacob & Jaclyn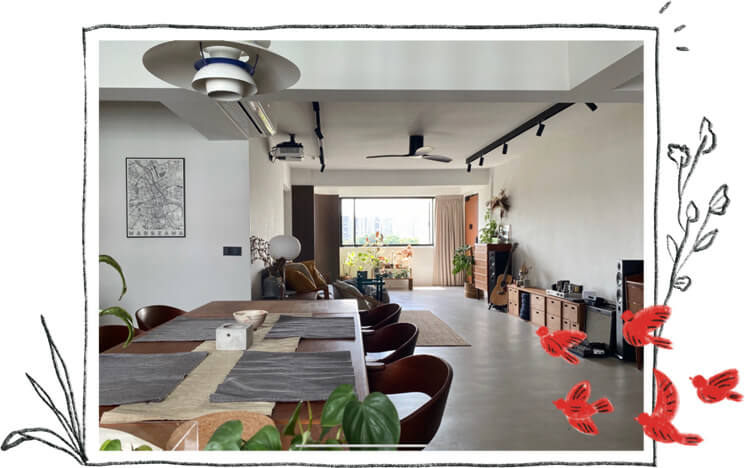 It was two weeks before the wedding and everything was running like clockwork— just as how Jacob and Jaclyn Lau had expected. Renovations for their new home were underway. Jaclyn's elder sister, who was a missionary based in Chiang Mai, Thailand, was also en route home.
Jaclyn, 29, was waiting excitedly outside the arrival gates of Changi Airport when her phone rang. It was Jacob. He had been admitted to the A&E after experiencing a lack of coordination on his legs, an obvious sign of relapse for Multiple Sclerosis—an autoimmune disease which can cause damages to nerves found in the brain stem and spinal cord area.
"I was crying outside the A&E," said Jaclyn, as she recalled the harrowing incident. "My heart kept crumbling and I just kept thinking 'what if we cannot go through with the wedding?'"
Jacob, 34, was himself anguished at the sudden turn of events. After all, even though he had been diagnosed with Multiple Sclerosis since 2013, the prognosis was still good. He had even completed full marathons in recent years.
But now, his condition had worsened and he faced the prospect of living with complications such as numbness, cramps, and damaged urology functions, including lack of bowel irregularities, damage to core strength and muscle control, and stiffness to hands.
A decision had to be made on whether to go ahead with the wedding. The couple prayed and decided to stick with the plan and go through the ceremony.
Jaclyn knew that she was in for the long ride ahead. She recounted her dad asking out of concern if she was prepared to go ahead with the wedding.
But the third of five siblings said: "I've never thought of not marrying [Jacob] when we're faced with an adversity such as this."
Going Through the Fire
Jacob and Jaclyn met during a mission trip to Chiang Mai in 2016—where the foundations of their relationship were forged through a shared love for reaching God's people.
Jacob, who was raised in a Christian family, went on this mission trip "without any expectations". Jaclyn, on the other hand, had only come to faith a year ago, but decided to go on the trip to Chiang Mai, where she had a sister who was a missionary there, in search for more answers to her newfound faith.
Jacob was attracted by Jaclyn's childlike faith but decided to surrender any potential romance to God instead of taking things into his hands, as he would have usually done. Jaclyn, too, admired Jacob's frankness and sincerity. So with prayer, careful consideration, and the counsel of their leaders, they decided to start a relationship. Marriage was on the cards after two years of courtship.
The Laus, who got married in May 2019, acknowledged marriage life was an uphill struggle initially. Besides learning to live with each other in a brand-new setting, their lives had also taken a 180-degree turn with Jacob's condition.
One huge change was their usual social outings with friends, as these seemingly innocuous events now required advance planning—ensuring that there were restrooms nearby or not walking for overly long distances as exhaustion will set in.
On the home front, the couple also had to learn to be vulnerable and communicate frankly with one another. For instance, instead of helping at every opportunity, such as fetching water for Jacob, Jaclyn had to hold back and watch what Jacob would prefer. Jacob, who had been redesignated in his sales job along with a pay cut, and give up some of his hobbies like photography, also had to constantly surrender his emotions and work them through openly with Jaclyn.
"There was a lot of questioning of my identity…I did not realise how much we had come to define who we were by what we were able to do," said Jacob, who had shared with Jaclyn about his condition and associated symptoms before starting their courtship. But now that the rubber had hit the road, their imagined fears became more apparent. "I was worried that we would never be able to live normally as a couple, even the basics like going out for a meal, a walk in the park, or having children. There were also worries about whether I would be able to financially provide for her given my condition."
Added Jaclyn: "I see my friends going about their daily lives as per normal and I had asked God: 'Why do I have to start my marriage like this?'".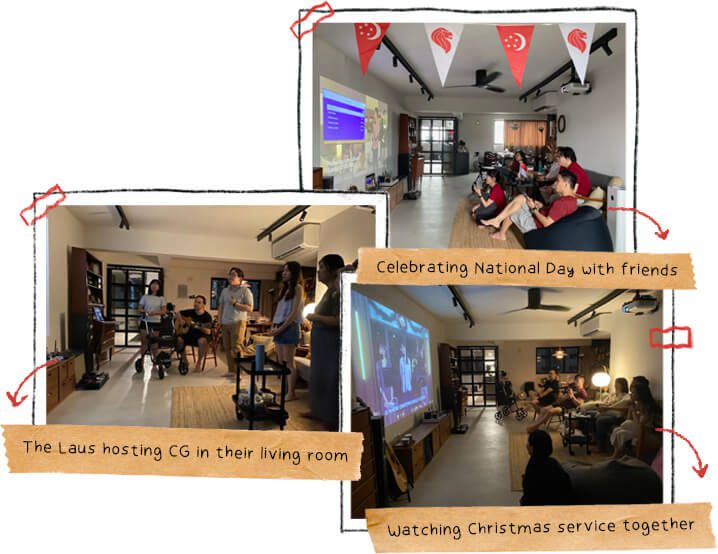 Rising Through the Ashes
Still, amidst their pain, God did not forget the dream that he had given them as a couple. Jacob, who is a natural extrovert, has always envisioned creating a "third place"—outside of the home and office place—to provide an avenue for people to have a simple catch-up or spiritual nourishment.
Jaclyn, on the other hand, was an introvert but was bestowed with skills of an interior designer. Hence, early on in their courtship days, the couple had thought of designing their new home in a way that would allow for fellowships and gatherings to take place.
"We had visions of our new home becoming the birthland of a future church or Christian movement," added Jacob, who shared that the living room and dining area were deliberately designed to be large empty spaces for people to congregate and chat.
The Laus, however, struggled with pressing on with this dream, due to their worries about finances and being too tired to host.
But God gently and slowly unlocked these mental barriers to show them what hospitality truly means.
From wanting to get everything right and doing it all on their own, God opened the couple's hearts to receive help from others. This meant having cell members dropping by earlier to prepare the place and food for the cell group sessions. With their hands less full and lives less frantic from preparations, this in turn allowed space for more conversations to take place among the Laus and their visitors.
More importantly, God was inadvertently using their humble home to build up a community of believers who would faithfully gather to pray and worship every week—just as how they had originally envisioned.
"I started to see that God did not take the dream away just because of Jacob's condition. Rather, it is about reframing our own expectations according to God's expectations," said Jaclyn.
"God said to me, 'You just need to be you. I will help with the rest'. We also, in turn, learnt to be blessed by people and to receive help".
They also held onto the following quote by Dustin Wills and Brandon Clements to press on faithfully in being hosts for Christ: "The world could use more ordinary Christians opening their ordinary lives so others can see what life in light of the gospel looks like."
Walking with God Every Step of the Way
The Laus have now found a rhythm to their marriage life, being more familiar and aware of each other's needs. While going out in the past might be deemed as a hassle, they are now more attuned with the vagaries that might come with Jacob's condition.
Jaclyn also shared that she has made peace with God about Jacob's situation. While she expresses hope for God to heal Jacob in His own miraculous ways, it is no longer about wishing that Jacob will be totally fine tomorrow.
"Rather, I am assured that God is always with me and I see God's hand in this marriage."
"Whatever Jacob and I are facing is something very special that God wants us to go through together," she added.
Jacob conceded that he is still wrangling with God about his illness, where frequent bouts of sharp pains and weakening body functions still make him go to God each day with his "why"s and "how"s.
The dark days are not over but he is trying to take each day at a time to seek God for His purpose in this current season, he added. The verse that he continues to meditate on for hope is found in 2 Corinthians 4:16, "Therefore we do not lose heart. Though outwardly we are wasting away, yet inwardly we are being renewed day by day."
Nonetheless, amidst the struggles, God has continued to use Jacob's heart for people for His purposes. With the ongoing pandemic and reduced travel, Jacob's cousins from Malaysia who are currently based in Singapore have been dropping by more frequently for a chat. This has provided an opportunity for Jacob to extend hospitality and communal worship with them—even on days when he might not feel up to it.
"It is difficult," said Jacob. "But God has also gifted me with Jaclyn, her patience, her ability to design spaces. There is no other more ideal person than her to do this together with me".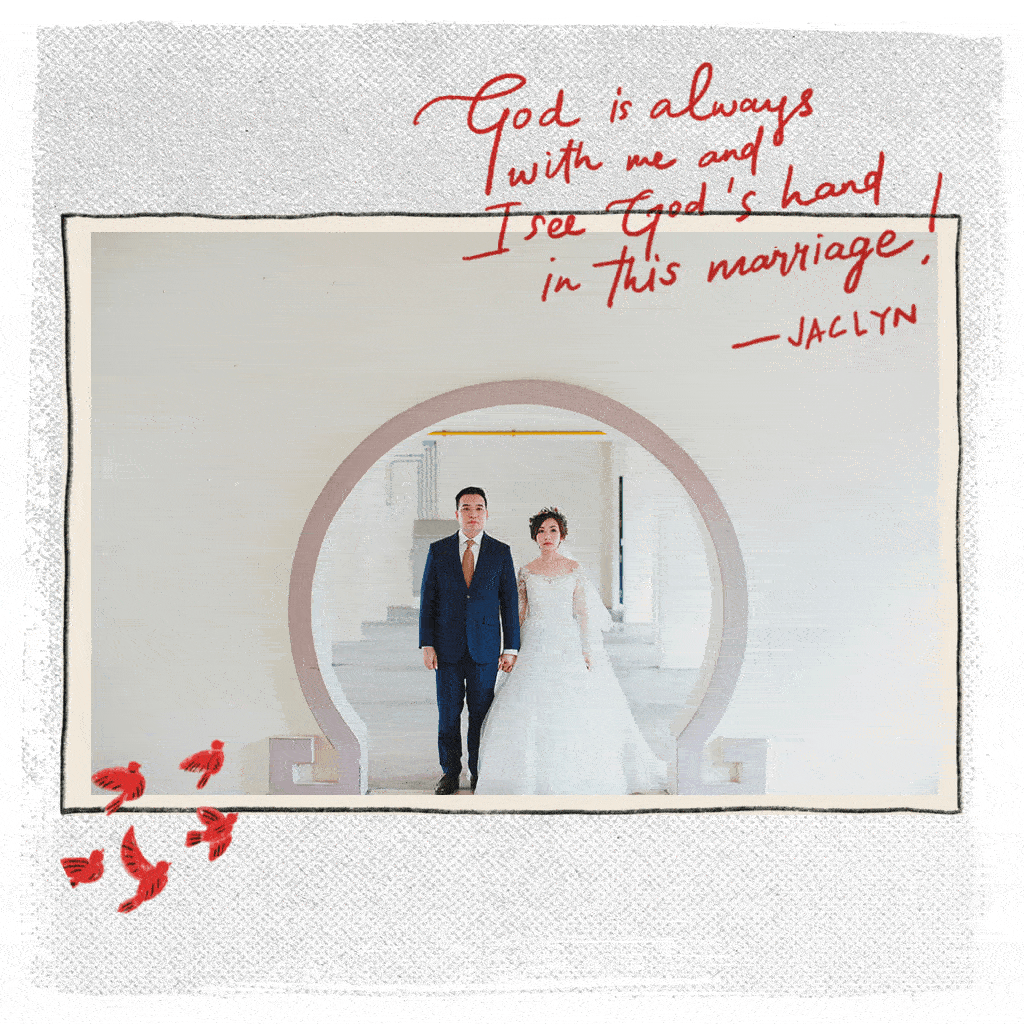 https://ymi.today/wp-content/uploads/2021/07/Jacob-and-Jaclyn-1a.jpg
613
1024
Contributor
https://ymi.today/wp-content/uploads/2017/05/ymi-logo-black-3.png
Contributor
2021-07-26 14:00:35
2021-08-15 01:13:25
Jacob and Jaclyn: Extending Hospitality Amidst Pain