Title: 5 Lessons You Need (But Weren't in Your Textbooks)
Artwork by: YMI x Chike Tania
Description: It's easy to think that good grades are all one needs to succeed in life, but we need more than just knowing that the area of a circle is  π r², or F = M A.
There are many things in our life that textbooks can't teach us, so how do we navigate life in those instances?? How do we figure out what's the best behaviour to bring to work or in our social settings? Or how do we relate to that tricky classmate or workmate? Or how do we respond to a situation of injustice?
Fortunately, we have God as  our all-knowing  teacher, and we can learn from His instruction manual, the Bible, on how to respond to life's challenges (spoiler alert: it has nothing to do with how academically smart we are or how much we earn).
We have listed 5 life tips from the Bible that'll help us as we go about our daily activities.
Lesson #1
And if anyone wants to sue you and take your shirt, hand over your coat as well. If anyone forces you to go one mile, go with them two miles. Give to the one who asks you, and do not turn away from the one who wants to borrow from you. (Matthew 5:40-42)
Doing the bare minimum sounds tantalising. After all, it's not like we'd get extra credits for going above and beyond our duty, right? 
But Jesus has a different take on this. In fact, He's all about going the extra mile for others, whether it's in our work or in our relationships. And he didn't just tell us to do it, he modelled it for us. 
So, whether it's in our school, work, or in our relationships, let's give everything we do our all–and even more. 
Lesson #2
So in everything, do to others what you would have them do to you. (Matthew 7:12)
We tend to focus on the needs of the rich and popularl, while ignoring the average joe. It's easy to pass judgment on others, especially those of a different socio-economic or cultural background. 
But God is no respecter of persons, and everyone is equal in His eyes. Therefore, He expects us to treat everyone the same, whether they're the top student or the annoying colleague.
Consider how Christ showed compassion and grace to the outcasts in society–even us, while we were so undeserving of His love. Just as Christ forgave us and welcomed us into His family, shouldn't we do the same to others?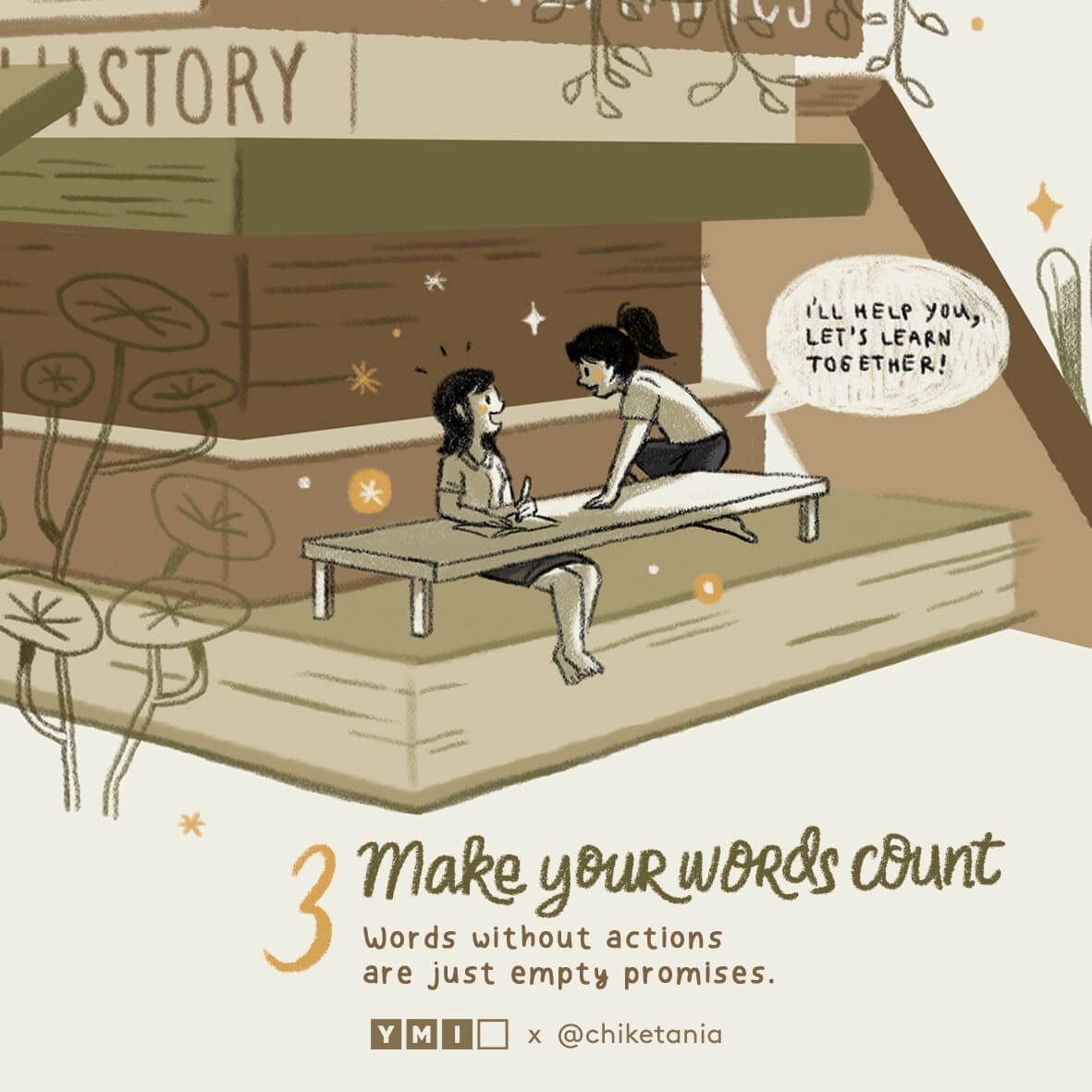 Lesson #3
Little children, let us not love in word or talk but in deed and in truth. (1 John 3:18)
How often do we casually say we'll "catch-up soon" with someone, without carrying through with it? Or  do we make a big show of saying we'll help our classmates or colleagues with their tasks, only to stay silent on the matter when they come to us for help?
The thing is, our actions speak louder than our words. The genuine outworking of our actions reveals whether we mean what we say and whether we are  trustworthy.
Lesson #4
Lying lips are an abomination to the Lord, but those who act faithfully are his delight (Proverbs 12:22)
Oops, we oversold our skills to nail that scholarship, and we're now feeling a little guilty. Or, we've told our bosses   that we had put in our best effort in our proposal, when we only started prepping it the night before. Telling the truth is one of the most valuable treasures in this world, and by speaking the truth, we reflect the source of all truth: Jesus, and speaking truth delights God. 
Lesson #5
Do nothing out of selfish ambition or vain conceit. Rather, in humility value others above yourselves. (Philippians 2:3-4)
Most of us are hardwired by society telling us that success is all about making it to the top, and we're to get there using whatever it takes. But Jesus has a different take on this.
Leadership and success in Jesus's eyes isn't about being the top dog. In fact, if anything, it's about humbly serving those around us. Jesus showed us what serving others looked like, He washed His disciples' feet as an example of how we could be serving one another (John 13:1-17).
We may not be physically washing our classmates' or workmates' feet, but for us, it's about serving them in practical ways. Maybe it's offering to help buy lunch for a busy friend, or picking them up for work if we know they're having car issues. 
https://ymi.today/wp-content/uploads/2021/05/YMI-National-Education-Day-feature-img.jpg
613
1024
YMI
https://ymi.today/wp-content/uploads/2017/05/ymi-logo-black-3.png
YMI
2021-05-02 07:00:17
2021-08-26 01:39:02
5 Lessons You Need (But Weren't in Your Textbooks)