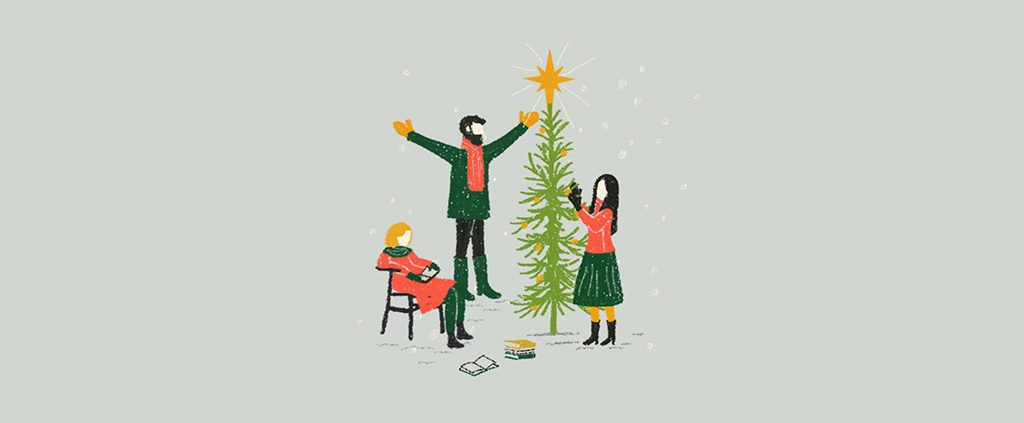 I can't believe that the holiday season is already upon us. It felt like just a few short months ago that l pulled down the mistletoe, swept up the last remaining pine needles, and boxed up my Christmas decorations.
And yet, overnight, the world has set its alarm clock for the holiday countdown. In response, I find myself getting caught up in the frantic pace of getting the house holiday ready, planning festive meals, and buying and wrapping presents.
Years of experience have made us adept at preparing ourselves physically for the Yuletide period, but how much attention have we paid to preparing our hearts to celebrate the birth of our Savior, Jesus Christ?
If you too are getting swept up in the madness of the holiday countdown, here are five pointers to help you take a step back and prepare your heart this season.
1. Remember the reason we prepare
It's easy to get tunnel vision from the commercial enticement and the societal expectations of the holiday season. Every wreath-festooned street and festively dressed shop window feels like an ongoing call for me to start formulating a to-do list of all the things l need to prepare for the holidays.
And although it's lovely to participate in holiday traditions, we need to remember that this season is about more than a beautifully decorated Christmas tree, expensive presents, and a sumptuous Christmas Day banquet.
We can take a breath and re-set our minds to what should be our most important priority—commemorating the birth of our Savior Jesus Christ, celebrating His ministry here on earth, and the relationship we have with God through Him. This relationship provides us with life, peace, and all our needs not just during the holidays, but every day. Jesus is Immanuel—God with us (Matthew 1:23). He is the reason why we celebrate, prepare and decorate.
2. Rediscover the gift of Christ through the Word
Regular routines go out the window during the holiday season, and sometimes that includes spending regular time with God. However, seeking God's presence is exactly the thing that can keep our eyes on Him amidst the flurry of social engagements and holiday planning.
For that reason, let's make it a priority to allocate time every day for God. During this time, we can pray, worship, and give thanks—even sing some Christmas songs! Additionally, in your quiet time, delve into scriptures that will encourage you to have peace (John 14:27), feel joy (Proverbs 17:22), and inspire you to love others (Romans 12:10). Visit passages that herald the coming of Jesus (Matthew 1:23), declare His glory (John 1:14), and speak of God's promise of Salvation through Jesus (John 3:16).
This time with God will keep you focused on building the very relationship we're celebrating during this season, and on remembering God's gift of eternal righteousness to us.
3. Foster an attitude of gratitude
The holiday season is a time for many of us to enjoy the fruits of what we have achieved during the year. We have our homes and our families, we have a bulging fridge full of food to eat on Christmas Day, and we have financial resources to buy presents for our loved ones.
However, some experience the holidays differently. Many spend Christmas alone feeling abandoned and neglected. Families who have hit hard financial times have difficulty providing their children with a happy Christmas experience. Some are even living on the streets without the opportunity to enjoy a hot Christmas meal and a stable roof over their heads.
As we enter the holiday season, let us take a moment to cultivate a heart of gratitude; whatever our circumstances, let us thank God for the ways He has blessed us and our family this year, and say a prayer for those who are struggling during this period (1 Thessalonians 5:18).
4. Let your hope overflow into the lives of others
Our priority during the holiday season is to look after our families and provide them with the ultimate Christmas experience. But in God's kingdom, everyone is invited to be a part of His family, yet many people are unaware of this Good News.
Therefore, reach out to someone who needs to know about the message of hope, love, and salvation that Jesus came to share with us. Ask your neighbor over for a holiday cup of candy cane coffee and Christmas cookies, or ring up a friend whom you haven't heard from in a while and ask them how they're doing. Invite someone who is alone to spend Christmas Day dinner with you and your family.
Sharing the gospel is not only done through biblical instruction, it is also conveyed when we share with others the love of Jesus that resides in us (1 John 3:18). It is the ultimate form of worship, especially during the holiday season.
5. Don't lose your wonder!
The holiday period brings with it an infectious atmosphere of fun, gaiety, and anticipation. It is the home stretch to a celebratory ending of an old year, and the anticipation of a promising and eventful new year.
Children can be our best teachers in embracing the frivolity of the season. When experiencing the abandoned delight with which children embrace holiday experiences, it is easy to see why Jesus says that we should become like little children in order to enter the Kingdom of Heaven (Matthew 18:3).
So, take a leaf out of your child's book and wear a cheeky Christmas tie to work or don a pair of Christmas bauble earrings (mine are pink). Crank up your favorite Christmas song and prance around the house like Dasher, Dancer, and the rest of Santa's reindeer. After all, 'tis the season to be jolly!
https://ymi.today/wp-content/uploads/2019/12/5-Ways-to-Prepare-Your-Heart-This-Christmas.jpg
613
1024
Madeline Kalu
https://ymi.today/wp-content/uploads/2017/05/ymi-logo-black-3.png
Madeline Kalu
2019-12-17 10:00:58
2020-03-16 11:14:05
5 Ways to Prepare Your Heart This Season