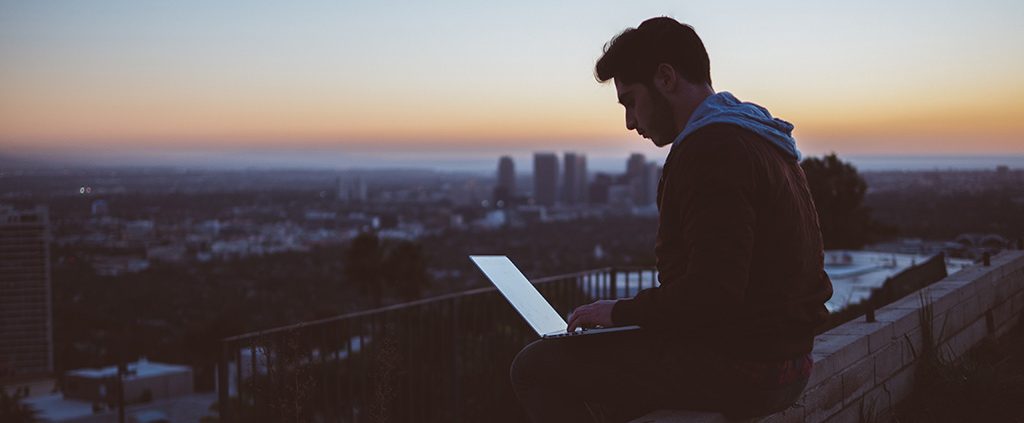 Written By Aryanto Wijaya, Indonesia, originally in Bahasa Indonesia
I have dreamed of becoming a journalist since entering college. My love for writing and travelling were my primary reasons for choosing the journalism course.
But as graduation drew near, I was torn between two choices: passion or salary? It was a tough decision, especially since the salary of a journalist in the city of Yogyakarta was average. After some thought, I chose the latter. To get a job with a high salary, I would have to work at a big company, I thought to myself.
In the first week after my thesis defence, I went to a job fair in the nearby city of Surakarta. Loaded with 30 copies of my resume, I rode my motorcycle from Yogyakarta in high spirits. But my optimism faded when I realized that none of the jobs offered interested me. Most of the companies at the job fair only offered marketing positions.
I wasn't going to give up yet. I joined a LINE chat group that consisted of hundreds of job-seekers; we got updates of job offers and job fairs every single day. Still, nothing piqued my interest.  A week after the first job fair, I went to another one. There were two national-scale companies that interested me this time. I sent my resume to both companies, hoping to pass the initial rounds of selection.
The first one was a cigarette company. Even though it was a large company, I was hesitant about working there because I did not smoke. But I went ahead to try for the job. Though I passed the initial administrative phase, I failed the next day during the personality test. Among 300 candidates, only 75 passed the personality test.
Still, I was not discouraged. I prepared myself for another personality test with the second company. But again, I failed. As some of my friends who had come along with me also failed, I was not overly disappointed.
When the job fairs didn't work out, I also tried applying for jobs online. Though I applied to five different companies, none of them got back to me.
Reconsidering my reason and purpose
Truth be told, these failures did not really disappoint me. Instead, they got me thinking hard about my reason and purpose for working. Do I just work for money? Is it pride that makes me look for big companies? Don't I want to develop all the journalism skills and knowledge that I acquired in college in my work?
Some weeks later, I saw a job posting for an editor of a website managed by a non-profit organization in Jakarta. I was interested because even though the position offered was not my dream job, it was still closely related to journalism. But I was a little hesitant because I was still hoping I could work in a big company that would give me a high salary. So, I applied to another famous company—even though the position that I applied for was not related to journalism. At the back of my mind, I really hoped that I would be accepted to work there.
But the thought of applying to the non-profit organization lingered in my mind. So I decided to take some time off to order my thoughts and visit a friend who lived a bit further out. I prayed, asking God to give me a clue about what should I do. Every time I prayed, my heart pushed me to apply for the position of editor in that non-profit organization. I asked my friend, and he told me to do it, since I had nothing to lose anyway.
Eventually, I applied to the non-profit organization and went through the recruitment process. A week later, I received two e-mails on the same day. To my surprise, both the famous company and the non-profit organization wanted me to go to Jakarta the next day for a follow-up interview.
Just a few months earlier, I had been worried that I would not get a job. Suddenly, I had two interviews and I was confused because I was going to have to pick one out of the two choices. Afraid of making a wrong decision, I prayed again and again, and also asked my friends for advice. Eventually, I decided that I would pick whoever accepted me first—as long as the salary was high enough to cover my necessary expenses.
I went to Jakarta the next morning. After the interview, the non-profit organization offered me the position of web editor and I accepted the job offer—just as I had decided on the previous day. I then sent an e-mail to the other company to cancel the interview and apologize.
Rejoicing in my role as an editor
After I accepted the job offer as an editor, I stopped looking for other jobs. I also left the LINE group chat. As the reality of starting work set in, I began to feel afraid. Would I be able to adjust to my new environment? Would I be able to do well in my job? But I remembered the verse, "Each day has enough trouble of its own" (Matthew 6:34b). I prayed that day after day, I would grow in my obedience to God.
The first month of working as an editor was challenging. Besides adapting to a new environment, I also needed to learn from scratch all that I knew about editing. The knowledge that I had acquired from college was not enough to help me fulfil all the aspects of my job which comprised editing, writing and networking with contributors.
As an editor, I receive articles by contributors from various parts of Indonesia every day. Each article is unique. Some are about the writer's opinions, and others are about their life experiences. Among the many writers, a few stood out. There was one who went through many accidents in life, but never gave up and was still able to say that God was good. There was another who shared the heart-breaking story of how her relationship ended without any clear reason. There was even a 71-year-old woman who shared her testimony about her physical condition and blurred vision.
Reading these articles brought me a lot of joy and motivation and convinced me that God is the one who prepared this job for me. It has been seven months since I first started my job and I really enjoy the experience so far.
I used to think that an ideal job was a job that paid well. I thought that a high salary could give me happiness because I could then buy anything I wanted and travel to new places that I haven't visited. But my current job as an editor has changed my perspective.
With my current salary, I can meet my daily needs, support my parents' life, and travel around Java Island. I am also able to save some of my money. But more than just working to earn money, I work so that I can glorify God, just as Paul said, "Whatever you do, work at it with all your heart, as working for the Lord, not for human masters" (Colossians 3: 23).
As a recent graduate, I still have hopes to continue my studies one day, but I believe that my current task is to give my all for God through this job. When I place God above all else in my life, I believe that He will provide for all my needs. "Do not worry about your life, what you will eat or drink; or about your body, what you will wear. Is not life more than food, and the body more than clothes?" (Matthew 6:25)
Are you struggling to find a job? Don't give up and keep praying. Surrender all your worries to God and let Him work in your life so that one day, looking back on your life experiences, you can see His wonderful plan for your life.
"I know that You can do all things; no purpose of Yours can be thwarted" (Job 42: 2).
https://ymi.today/wp-content/uploads/2017/07/Gods-Unexpected-Plan-in-My-Failed-Job-Hunt.jpg
613
1024
Contributor
https://ymi.today/wp-content/uploads/2017/05/ymi-logo-black-3.png
Contributor
2017-07-17 10:00:40
2017-07-13 15:47:14
God's Unexpected Plan in My Failed Job-Hunt