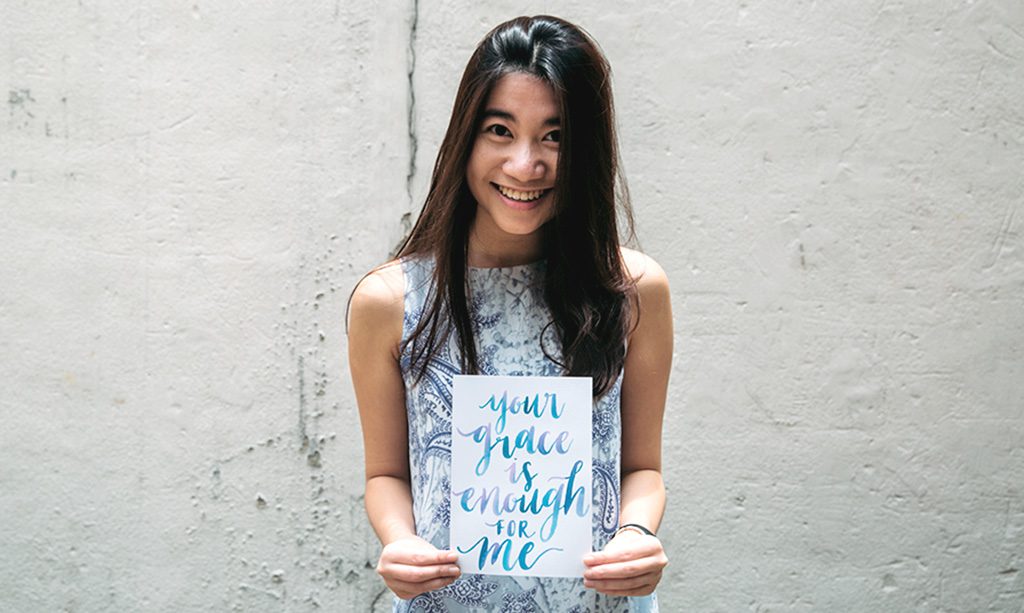 Written By Jasmine Koh, Singapore
Maybe it's the warm and ready smile that is always on Janelle's* face. Or perhaps, it's her kind personality that makes everyone warm up to her. It's hard to imagine that behind the smile and gentle demeanor lies a debilitating illness.
There are no days without pain for the 23-year-old, who has been battling an auto-immune skin disease since the age of six. It began with a fever that lasted a few weeks, and slowly, itchy red and white patches appeared on her skin. A visit to the dermatologist revealed her condition. The news came as a shock to her family. Even at that tender age, Janelle was aware that pain and sleepless nights would accompany her for the rest of her life.
Ever since, the accountancy graduate's life has revolved around steroid creams, tar products, phototherapy, and other medication.
Things hit rock bottom in October 2014. After a routine jog, she experienced sore and prolonged muscle aches in her calves for several days. A trip to the doctor confirmed her worst fears; in addition to her existing health issues, she had developed a form of arthritis in her legs, a condition that gradually destroys the joints. On average, Janelle consumes more than 180 pills of painkillers and immunosuppressant a month; when an infection strikes, she has to take even more.
Janelle recalled breaking down in disbelief at the news. The weight of it all was just too much to bear, even as the doctor advised her that her lifestyle would now revolve around the condition.
As time went by, the pain grew. There came a point where Janelle knew that she could not rely on her human emotions any longer. She had a choice: drown in self-pity or cling to God.
Picking up the pen
After a two-month wait for the right painkillers, Janelle's condition improved. Her faith also began to mature as she overcame her worst fears in surrender to the Lord and discovered a new outlet: hand and brush lettering. This involves drawing letters using multiple strokes and writing the letters out in single strokes, like in calligraphy, respectively. Janelle began lettering worship lyrics and Bible verses.
The supernatural joy she received far surpassed the increasing pain of the treatment, which involved medication and regular injections.
In mid-2015, she set up The Hope Letter, a hand-lettering account on Instagram. Currently, her page has some 3,000 followers and features hand-lettered Bible verses and quotes.
"I do what I do because of God's grace in my life which fuels me," she says.
Janelle first realized that cards could be a means to share her faith while she was studying in secondary school. She spoke of the peace and hope she received in God's word through cards and encouragement letters to her friends. Their affirmation spurred her to continue designing cards for school-based fund-raising projects in university.
But over time, she realized that this could be a space for her to "spread hope to others" and inspire those with similar struggles. Without explicitly stating her own condition, Janelle would share encouraging Bible verses and quotes on the topic of suffering. "Most of my favorite and well-received pieces come from the darkest of times," she says.
It was thanks to Instagram that she got to know Heather Baker, an American woman in her 40s with stage 4 cancer, who chanced upon her posts. Intrigued by what she saw, Heather dropped Janelle a direct message on Instagram in July 2016, asking if Janelle was fighting an illness herself or merely encouraging others plagued with illnesses.
When Janelle revealed her condition, Heather volunteered to pray for her. The two built a firm friendship and started to exchange words of affirmation, thanksgiving, struggles and prayer items. And it was through this friendship that Janelle was affirmed of God's presence.
A constant struggle
Even as Janelle expressed her faith through hand-lettering, she was starting to develop ulcers on the tongue, tonsils, and throat. Consequently, the nausea, lack of appetite and a queasy stomach made her easily lethargic.
In 2016, the inflammation spread her ribs, neck, and spine. An ultrasound scan on her knees confirmed the need to switch her treatment routine. This meant higher dosages of medicine and treatment, including self-administered injections. The doctor also alerted her to the higher possibility of damaged joints.
Her first injection was unbearable. "I struggled a lot. It was a whole new level of pain."
One morning in September 2016, Janelle experienced a sudden loss of vision. Though she was conscious, everything appeared pitch black. She and her parents suspected it was more than just fainting spells when the spinning in her head persisted even after ample hydration and rest. She was sent to the Accident and Emergency department (A&E), where the initial diagnosis was vertigo.
A week after her discharge, her rheumatologist called. It might be more serious than just a headache, she said. They suspected that it was demyelination in the brain, a breakdown of the nervous system that impairs cognition, movement and sensation. A MRI scan was to be scheduled as soon as possible.
As she was wheeled into the scanning room four days later, she recalled a passage in Psalms that God had spoken in her quiet time, "Even though I walk through the darkest valley, I will fear no evil, for you are with me." (Psalm 23:4)
What Janelle didn't know at the time was that Heather had messaged a reflection on a book titled "A Shepherd Looks at Psalms 23", hoping that Janelle would be comforted, too. The timestamp on her phone revealed that the message was sent just before her MRI scan. Janelle was amazed by how God had affirmed His faithfulness to her through Heather.
More good news was to follow. In late October, the results of the MRI scan ascertained that the condition of her brain was stable. However, the rheumatologist concluded that due to the side effects on the brain, it was too risky to continue with treatment.
Living day by day
Today, Janelle consumes 450mg of painkillers and has two injections every month. But while the cycle of diagnosis, inflammation, damage, treatment, and infection has become a norm in her life, so has her attitude of clinging to God. Janelle believes that she can magnify God through her inadequacies. "I understood from young that each day is precious. . . so I want to live a life that glorifies my Creator," she says.
On her darkest days, she fights multiple enemies—herself, her emotions and her health.
But these challenges have only served to grow her confidence and trust in God. "If not for God, I would have quit school. He sustains me physically, emotionally and spiritually," she remarks.
"If anything, this whole journey has taught me to rely on God."
One of the ways she is reminded to fix her eyes on God is through the support of a close-knit group of friends. In 2016, she would send messages to six or seven friends regularly to update them about her health and seek prayer requests.
Janelle is currently taking a gap year to recuperate and seek the Lord's will. She attends a Bible school and continues her lettering as a testimony to the faithfulness of God in her life. In her free time, she also visits craft shops for her art supplies and meets with younger sisters in Christ for cell group.
"I can't predict my condition, so I always, always turn my eyes to Jesus," she says. "I am believing and claiming that Jesus will heal me. But more importantly, the ultimate victory was won when He died on the cross already. . . for me."
*Interviewee requested not to reveal her full name
https://ymi.today/wp-content/uploads/2017/06/Janelle-featurecover2.jpg
613
1024
Contributor
https://ymi.today/wp-content/uploads/2017/05/ymi-logo-black-3.png
Contributor
2017-06-09 10:00:05
2017-06-09 12:28:38
Janelle: Facing Pain with a Pen