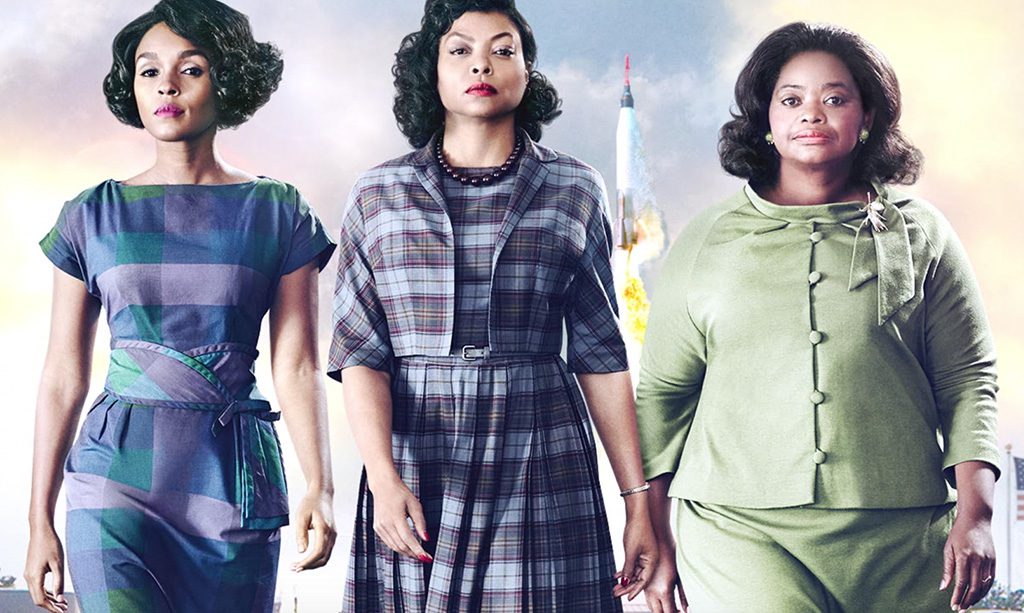 Photo taken from Official Trailer
Rating: 4 out of 5 Stars
Written By Chia Poh Fang, Singapore
Have you ever felt angry for your lack of opportunities? Perhaps, due to the color of your skin, your looks, your gender, or your not so well-connected family background.
We'd all like to believe that career success is strictly a result of talent, drive, and skill set, but experience may tell us otherwise. In reality, it seems as though hiring managers favor those who are better looking. And we know all too well that prejudice against a certain skin color and gender is still prevalent in this day and age. In environments where supply exceeds demand, we may even need people in high places to help us land any job—not just our dream job. I've heard that in China, many university undergraduates are fretting about their job prospects because of a lack of connections.
That's probably why Hidden Figures' message is especially poignant and relevant for us today. Based on the true life stories of three African-American female mathematicians, the inspirational movie portrays how these three women crossed gender, racial, and societal barriers, to help America chart a new frontier—send an astronaut into outer space and return safely.
In one of the noteworthy scenes in the movie, one of the key characters, Mary Jackson (played by Janelle Monáe), was challenged by a fellow colleague, Karl Zielinski (played by Olek Krupa) to dream big and not allow societal prejudice against females and colored people to hinder or deter her from achieving the "impossible", i.e. becoming an engineer.
Karl: Mary, a person with an engineer's mind should be an engineer. You can't be a computer the rest of your life.

Mary: Mr. Zielinski, I'm a negro woman. I'm not gonna entertain the impossible.

Karl: And I'm a Polish Jew whose parents died in a Nazi prison camp. Now I'm standing beneath a spaceship that's going to carry an astronaut to the stars. I think we can say we are living the impossible. Let me ask you, if you were a white male, would you wish to be an engineer?

Mary: I wouldn't have to. I'd already be one.
That conversation awakened Jackson to realize one thing: she didn't have to be a victim of low expectations. She later went on to win a court appeal to study in an all-white high school and became NASA's first black female engineer.
That's inspiring, you may say, but that's not me. I'm no trailblazer. I'd rather take the path of least resistance and be resigned to my fate, than go against the grain. You're probably not alone in that thinking.
However, let's consider this possibility: we may never reach our God-given potential if we don't try and give our very best. One author puts it this way: "If we never attempt things that would stretch, grow, and strengthen us, we may end up weak and unprepared for the amazing future that could have been."
It's the same message the Apostle James wrote in his letter to encourage the believers who were undergoing immense persecution: "Dear brothers and sisters, when troubles of any kind come your way, consider it an opportunity for great joy. For you know that when your faith is tested, your endurance has a chance to grow. So let it grow, for when your endurance is fully developed, you will be perfect and complete, needing nothing" (James 1:2-4, NLT, emphasis mine).
If not for anything, this should encourage us that difficulties and hardships can be for our good if we respond rightly. On top of that, we as believers have good reason to not let society define us. In the words of missionary William Carrey, we can "expect great things, attempt great things" for we serve a great God, who not only holds the universe in His hands, but also holds us close to His heart!
So what does it mean for those of us in a seemingly unending job search or for those of us stuck in a rut in our current job? Consider how God has made you. Use whatever He has bestowed on you—skills, intellect or disposition—to overcome all obstacles, by His strength, to reach your fullest potential! You are God's wonderful and unique creation (Psalm 139:14), and He has prepared a good work for you to do (Ephesians 2:10).
https://ymi.today/wp-content/uploads/2017/03/Career-Advice-from-Hidden-Figures.jpg
613
1024
Contributor
https://ymi.today/wp-content/uploads/2017/05/ymi-logo-black-3.png
Contributor
2017-03-07 10:00:26
2021-09-09 16:57:31
Career Advice from Hidden Figures