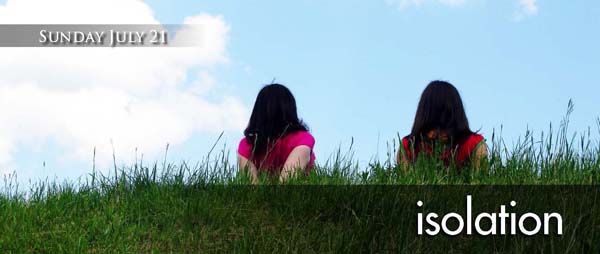 July 21, 2013
READ: Acts 2:42-47
What good fellowship we once enjoyed aswe walked together to the house of God(Psalm 55:14).
In a state of exhaustion and despair, at the 5th yearanniversary mark of serving in Uganda, I sent an email to friends and ministry partners pleading for prayer. In response to learning of my struggles, a small army of brothers and sisters in Christ lifted me up in prayer and helped me walk through a difficult time.

I'm glad that I didn't let my pride keep me from reaching out for help. Had I refrained from doing so, I would have entered into deeper isolation, and I could have fallen apart from the weight of the stress I was under.

In the Old Testament, we learn of many occasions when people were separated from community as a form of punishment for sins such as eating leavened bread, making incense for personal use, failing to observe the Sabbath or being ceremonially unclean (Exodus 12:14-15, 31:13-15; Leviticus 7:20-22).

Today, solitary confinement is reserved only for the worst criminals. Yet many of us inflict punishment on ourselves by choosing isolation over community. Whether we fear being vulnerable, are ashamed of something we've done or simply don't feel like talking, we sometimes believe it's easier to withdraw than to be real with other believers in Jesus.

Though we need periods of solitude and times alone with the Lord, withdrawing from Christian fellowship is unhealthy. That's why the believers in Acts set the precedent of biblical community. "All the believers devoted themselves to the apostles' teaching, and to fellowship, and to sharing in meals (including the Lord's Supper), and to prayer" (Acts 2:42).

By coming together as believers, we're obeying a command of Jesus that's also a beautiful gift from Him to us (vv.46-47).—Roxanne Robbins
MORE
Read Philippians 2:1-2 and note what it says about the characteristics of true Christian fellowship.
NEXT
When have you experienced the awe of the Lord as you've joined with others in Christian fellowship? What can you do to experience richer fellowship with other believers?
https://ymi.today/wp-content/uploads/2013/07/ODJ_210713.jpg
254
600
YMI
https://ymi.today/wp-content/uploads/2017/05/ymi-logo-black-3.png
YMI
2013-07-21 00:00:00
2014-12-12 15:19:33
ODJ: isolation