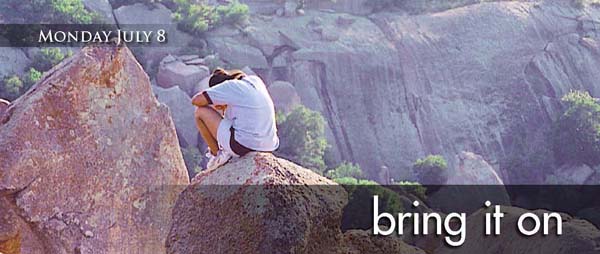 July 8, 2013
READ: 2 Corinthians 12:5-10
Three different timesI begged the Lordto take it away (v.8).
Australian-born evangelist Nick Vujicic entered theworld without arms or legs. Throughout his life he's had a deep desire for God to make him whole. Nick has even prayed that he would grow appendages. Once, he and some Christian friends fashioned arms and legs out of clay and prayed for the limbs to become flesh. Although it didn't happen, Nick still prays, "Please give me arms and legs. But if You don't . . . I trust You." He says his commitment to Jesus is simply to "want His plan".

Like Nick, Paul suffered with an affliction that God didn't take way. He described it as a thorn in the flesh—a messenger of Satan (2 Corinthians 12:7). Some think Paul endured epilepsy, migraines or even eye problems. The apostle said, "Three different times I begged the Lord to take it away" (v.8). He pleaded, and it wasn't a one-off request.

Although God didn't give Paul what he wanted, He did give him something else—grace. In response to Paul's prayers, He said, "My grace is all you need. My power works best in weakness" (v.9). God wasn't simply refusing to help. He was saying "no" to Paul's request so that He could use the apostle's limitations to reveal His limitlessness. Paul's frailty would showcase God's might.

When God says "no" to our requests, we might assume He doesn't care about us. The truth is the opposite. Even if we keep asking Him to fix the problem, we can also pray beyond that request.

Getting started might sound something like this: God, help me to rely on Your grace in this situation. I know Your strength can shine through my weakness—so Lord, bring it on. Unleash Your power in my life. Please use my pain for Your glory.

—Jennifer Benson Schuldt
› Matthew 12:22-50
MORE
Read Matthew 26:42-45 to see how Jesus responded to God the Father's answer of "no." See Acts 28:7-9 for abit of irony regarding Paul's situation.
NEXT
Why is it difficult to accept a "no" from God? How might you encourage someone who is prayerfully struggling with a persistent problem?
https://ymi.today/wp-content/uploads/2013/07/ODJ_080713.jpg
254
600
YMI
https://ymi.today/wp-content/uploads/2017/05/ymi-logo-black-3.png
YMI
2013-07-08 00:00:00
2014-12-12 15:31:44
ODJ: bring it on