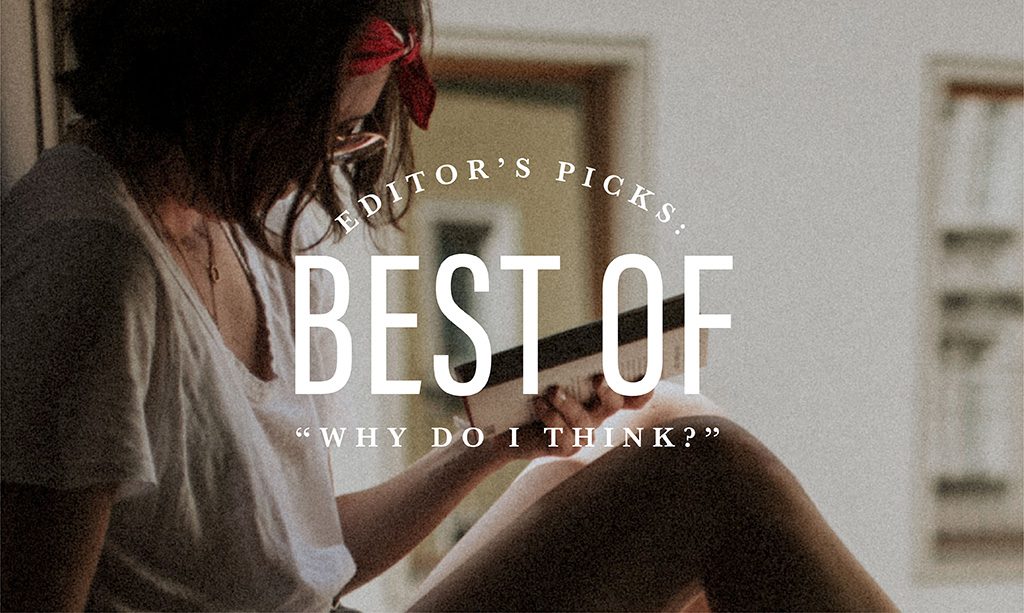 Editor's Picks: Best of
"

Why Do I Think?

"
As we've spent the last three months looking at what it looks like to love God with all of our minds—we've been asking the question, "Why Do I Think?". Our contributors wrestled with how to honor God with our minds and the way we order our thought lives—in our decision-making, and how we think about faith.
Check out our best articles and artspace projects below!
Help! I Can't Stop Overthinking
Hands shaking, I clung to my iPhone as I searched the Internet. WebMD. Got it.
A few seconds later, I found myself reading through symptoms of a brain tumor. Headaches? Check. Vision problems? Check.
See, you've got two of the main symptoms.
Handing in My Self-Degrading Thoughts
My views of who I was were low. Putting myself down was natural. And my feelings weren't me just being "modest." I truly did think very little of myself, to the point where I felt I had no purpose.
I insisted on holding on to my self-made mirror instead of looking at the one Jesus wanted to give me instead.
Dear Doubting Christian, God is Not Afraid of Your Questions
I am filled with grief when I see how Christians treat doubt and doubters.
For whatever my words are worth, I want to offer a profound apology for any time you've been written off easily by Christians in your circle—maybe even made to feel as though you're "not really one of us" because you struggle to believe what others claim comes so naturally to them.
When You Don't Hear From God
There wasn't a clear, booming, "Yes, go ahead with this plan", or "Yes, this is the will I have for you" from God when I packed my bags and said goodbye to family and friends for a job overseas.
In fact, the heavens were quite silent when I made the decision to leave my corporate role to work as a full-time writer for a Christian non-profit ministry.
When Things Don't Make Sense
"Seriously, God?" I was lying down face up on the floor at home, looking at the spinning blades of the ceiling fan. It was January 2014, and I was at a career crossroads in life.
I had just finished a three-month Bible school in New Zealand, and upon my return to Malaysia, was learning what being jobless felt like.
When You're Skeptical of God's Plan
Everything was quickly falling into place for this incredible resume-building and prestigious opportunity.
But all the while, I couldn't shake an unmistakable uneasiness that I felt about taking the internship.
10 Steps to a Rejuvenated You
But just as important as it is to look after our physical bodies, we must also look at nourishing our soul, mind, and heart.
With that in mind, we've put together 10 nourishing tips to rejuvenate ourselves!
5 Ways to Do Christ-Centered Friendship
Despite its costs, it is worth sowing into friendships that will last the mile.
How deep does your friendship go? Follow us as we look at what makes for a Christ-centered friendship.