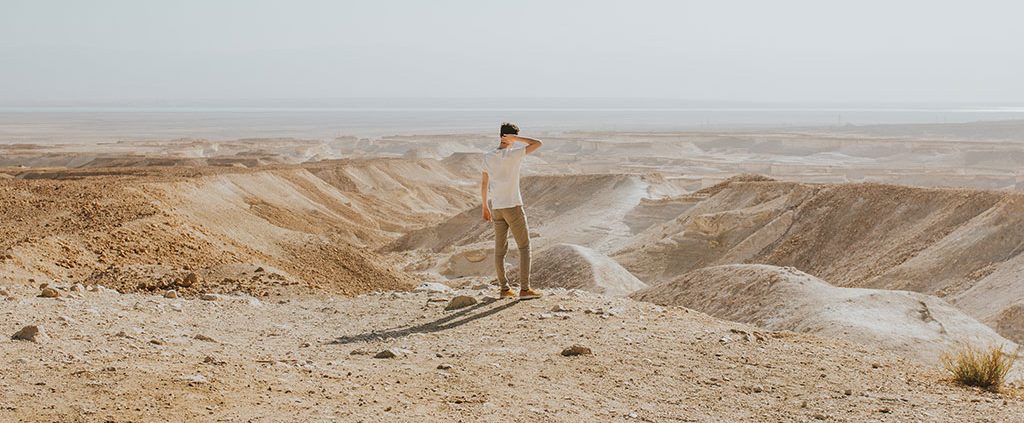 Written by Rachel Moreland, USAAs 2018 draws to a close, I want to look back on the past 12 months and examine the valuable lessons I've learned. Not just to give myself a pat on the back for making it this far but also to reflect on the things that God has taught me in the last year.
So here we go.
1. Learn to live beyond how you feel
Don't give your feelings the power to affect you. You can turn that dial down (for me it's called the crazy dial) and tune in to a different voice. Your feelings don't have to determine the path you take. Jeremiah, the Old Testament prophet, reveals this earth-shattering truth when he describes the heart as "deceitful above all else and beyond cure" (Jeremiah 17:9).
Sometimes how we feel doesn't always match up to reality; so it's important to learn how to differentiate between the two.
At my core, I am a feeler—so I'm still working on this. A while back, I realized how much air time I was giving to negative voices in my life instead of God's voice. Part of the battle is learning to dial down the negative voices and turn up the ones that bring you life.
Instead of focusing on our fears, worries, and problems, we need to remind them of where they stand in relation to God. Believe me, I know how easy it is to get hung up on all of the negatives but it's imperative in these moments that we hang onto the promises of God instead. Read His Word and pray through His promises over yourself and your situation. It may not transform your circumstances but it most surely will transform the way you think and feel about them.
Some verses that have helped me are:
I will never leave you nor forsake you. (Deuteronomy 31:6)

I have not given you a spirit of fear, but of power, love and a sound mind. (2 Timothy 1:7)

I have loved you with an everlasting love. (Jeremiah 31:3)
2. We need community
Life is full of ups and downs, so it's essential that you find your tribe.
The ones you turn to when it feels like the walls are closing in. The ones who stand by you when you feel like you're completely alone. The ones who hold you up when you can't hold on any longer. The ones who remind you of God's faithfulness in your life when you've lost all perspective. (Please tell me I'm not the only one who struggles to see the bigger picture?!)
We all need the help of community to keep us going during those times. The deepest part of me truly believes this is where the church comes in; but not everyone may have had the best experience with the religious community when it comes to divulging your inner demons.
It's important to remember that the church is made up of imperfect people who are trying to emulate the perfection of Christ; so at some point, you will most likely be disappointed. After all, not everyone is called to walk through this life with you.
The trick is not letting this dishearten you but to let it fuel your fiery desire to seek out real community—the people who listen when you ask the tough questions, the people who don't always have to fill the silence when they don't know what to say, the people who laugh with deep belly-laughs at life's many joys and cry with you when it's just too much to handle anymore. Find these people and you will be the richest person on earth.
3. Healing is a journey
Throughout my time at university and early 20s, I lived with a debilitating anxiety disorder. And yet during that painful season, God did not miraculously heal me from my anxiety disorder even though I frequently begged Him to.
I didn't automatically stop having panic attacks despite committing to daily quiet times with Him every morning before 8 a.m. lectures. I still had to catch my breath and count to 10 in the middle of a client meeting to avoid a potential breakdown. I still had to excuse myself from Political Theory lectures to prevent an impending panic attack. I still went to bed most nights with a racing heart and restless mind. It really is a miracle I got through those years at college. Praise Jesus.
In short, my healing journey wasn't an instantaneous jolt of supernatural peace. It wasn't a straightforward quick fix.
Managing my anxiety was a long, drawn-out, and emotionally painful process. It was the result of many months of intense counseling sessions, countless moments of trial and error practicing Cognitive Behavioral Therapy techniques, heaps of emotional energy I often didn't have to give, and endless support from "my people." It required the Church to get alongside me and cheer me on as I waded through the muddy waters of poor mental health. Thank God for those precious people.
4. God uses imperfect people for His perfect plans
I'm also grateful for all the people who genuinely wanted to help me loosen the chains of anxiety and live my life in all its fullness. People who offered an ear to listen and a shoulder to lean on when the anxiety was just too much. People who encouraged me to keep going despite me wanting to give up. People who identified my giftings and called them out in me, even when I could not see them myself.
This was perhaps the most redeeming truth—realizing that God still had a place for me in His Kingdom even though I didn't have my stuff all sorted. I was not perfect, and He wasn't expecting me to be. He just wanted me to come, exactly as I was, and work in me so He could work through me to help others.
I have discovered that is often the way with God. It's in the darkest places where we learn the most important lessons. And in order for God to use our lives for His glory, we must experience a little bit of what others have gone through to truly understand their journey and to be effective carriers of His peace and healing.
So as I'm sitting here reflecting on the past 12 months, I want to openly admit to you the truth that I do not have it all together. I do not have all the answers. I have not fully "arrived". (Do we ever really?)
Perhaps the most important truth I have discovered throughout my experience as a Christian with anxiety is simply this—God uses broken people to heal other broken people.
God uses weak people to demonstrate His strength.
God uses broken people to mend the wounds of brokenhearted people.
God uses anxious people to free up anxious people.
So in 2019, I just encourage you to go for it. Join the prayer team at church. Write that book. Start that Bible study group. Climb that mountain. Run that race. There is a part for you to play in God's big plan of calling His lost kids back to Him. You have a significant part to play in saving the world. Every one of us gets to play.
Every one of us gets a seat at the table.
A place to lead, to serve, to encourage, to inspire, to challenge, to heal.
Not in spite of our weakness, but because of them.
https://ymi.today/wp-content/uploads/2019/01/4-Truths-That-Kept-Me-Going-in-2018.jpg
613
1024
Contributor
https://ymi.today/wp-content/uploads/2017/05/ymi-logo-black-3.png
Contributor
2019-01-01 10:00:17
2019-01-01 12:03:32
4 Truths That Kept Me Going in 2018