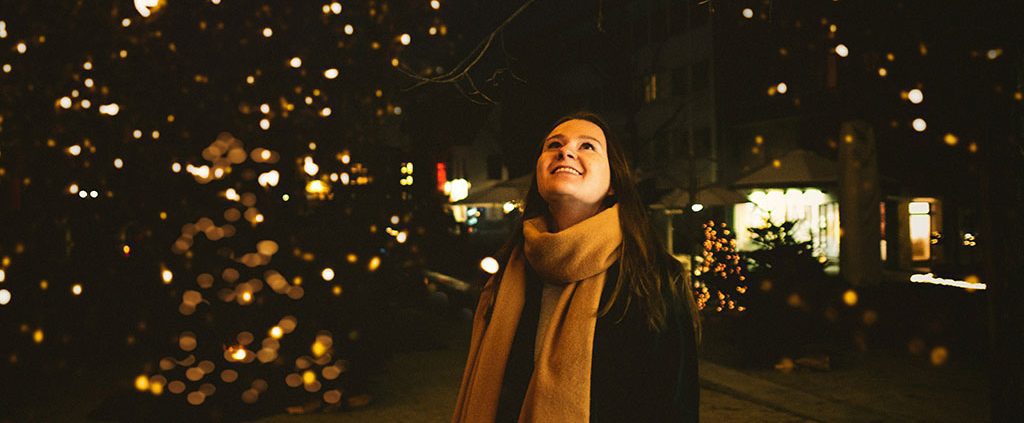 While remembering Christ's first coming during Advent and Christmas, we also anticipate and prepare for His second coming. Many people feel fearful when they think of Jesus' return, perhaps because there is so much unknown about it. But I would like to suggest that His return should be something that brings encouragement to our hearts and minds. Christ's return is the best news we have, because it promises fruition of His kingdom!
But how do we cling to this encouragement? What does it actually look like to anticipate and prepare for Christ's return during this Christmas season?
Here are three ways we can look to Jesus' return this December:
1. Examine Ourselves
First, I think one of the most important things we can do is to take some intentional, quiet time to examine ourselves. If we are truly preparing for Christ's return, then we have to ask ourselves some hard questions:
If He came back today, would I regret the way I had used my last moments and days? Would I have wasted them? Would there be something I wished I had done or said?
This is sometimes difficult to think about, and can make us feel sad or even morbid, but I think it is worth our attention. By examining our lives in light of our eventual end, for example, we might realize that we have been wasteful in how we spend some of our time. This self-reflection can help root out areas of concern or laziness, and re-energize us to steward our time well.
So I encourage you to carve out some time for yourself this December to examine your life. Maybe grab a coffee and write this out in your journal, or stay at home in your favorite chair. Go ahead and reserve a time and date in your calendar for this!
I've done this before in other circumstances, and this year I look forward to reflection as part of my Advent celebration. Here are some questions I will be considering, and perhaps you will find them helpful in your time of reflection:
Do I have any unresolved or unconfessed sin?
Am I aware of any area of disobedience? What am I going to do about it?
Is there anything God is calling me to do or say?
Do I have any relationships that need to be reconciled?
Ultimately, ask the Holy Spirit to lead and guide your time. My prayer as I begin my time of reflection will be from these words of the psalmist: "Search me, God, and know my heart; test me and know my anxious thoughts. See if there is any offensive way in me, and lead me in the way everlasting." (Psalm 139: 23-24)
2. Strengthen Our Faith
I've been studying the gospel of Matthew for a while now, and noticed almost right away how many Jewish prophets the author quotes. All these Jewish prophets spoke of a time when a Messiah would come. And just as the Old Testament prophets were waiting for the Messiah to come, so we wait for the Messiah's return. Just as His first coming was promised, so is His second (Acts 1:11, John 14:13, among others).
The Old Testament prophets knew what it was like to live in the midst of the waiting, and we can find strength and encouragement alongside them. Isaiah, for example, wrote his prophecies roughly 750 years before Jesus was born. This means the world had to wait 800 years between Isaiah's prophecy and Jesus' coming! But Jesus did come, and the prophets did not wait in vain.
Friends, even if we have 750 years left to wait before Jesus' return, we can wait with purpose and encouragement, knowing that He will come as He promised. Because of this, we know that we are not just wandering aimlessly through this life; we are building and waiting for a Kingdom that will come to fruition. We are kingdom builders.
I don't know about you, but this purpose emboldens and energizes me. When I see how the original prophecies were fulfilled, my faith is stirred. I've seen God stay true to His word; I have evidence of it, and I have no reason to doubt He won't stay true to it again.
3. Encourage Each Other
Paul talks of Christ's return in 1 Thessalonians 4. It seems that some in the church of Thessalonica had some questions about what happens when people die, and so Paul sought to alleviate their concerns.
In verse 16, he gives a description of what will happen when Jesus returns: "For the Lord himself will come down from heaven, with a loud command, with the voice of the archangel and with the trumpet call of God, and the dead in Christ will rise first." He then concludes with these words: "Therefore encourage one another with these words" (1 Thessalonians 4:18).
These words offer us hope: that in the midst of a world where everything has gone wrong, one day Christ will come, and all will be set right.
Recently, a family member passed away after battling cancer. We prayed that he would be victorious in Jesus over this cancer. And though he ended up dying a physical death, I realize he was victorious over the cancer—because the physical death is not the end of his story. Because he knows Jesus, he will rise again one day, in a resurrected body to live in a resurrected world (1 Corinthians 15:42-44).
Friends, encourage one another with these words this Advent and Christmas season. We hurt and grieve when we lose someone or when something is cut short, because we are made in the image of God: we're hardwired to long for the eternal. So when your spirit is restless with grief or the effects of sin, rest assured and encourage one another: this is not the end of the story.
John says in the book of Revelation, "Look! God's dwelling place is now among the people, and he will dwell with them. They will be his people, and God himself will be with them and be their God. 'He will wipe every tear from their eyes. There will be no more death' or mourning or crying or pain, for the old order of things has passed away" (Revelation 21:3-4).
Be encouraged, friends. Go forth and celebrate—remember Christ's first coming, but look ahead too! Anticipate and prepare for His return. The Messiah is coming!
https://ymi.today/wp-content/uploads/2018/12/Looking-to-Christs-Return-This-Christmas2.jpg
613
1024
Ashley Ashcraft
https://ymi.today/wp-content/uploads/2017/05/ymi-logo-black-3.png
Ashley Ashcraft
2018-12-26 10:00:31
2021-03-10 13:05:35
How Can We Look to Christ's Return This Christmas?