Title: Moses on Mount Sinai
Artwork by: Edward Rowan (@edward_rowan)
Description: Have you ever felt the presence of God? Did it feel like a comforting fatherly hug or a sense of peace within you?
These depictions of God's revelation to Moses on Mount Sinai vary from the assuring presence we often experience of God. He does not always reveal Himself in a manner we expect to experience Him.
Moses and God's glory
15 When Moses went up on the mountain, the cloud covered it, 16 and the glory of the Lord settled on Mount Sinai. For six days the cloud covered the mountain, and on the seventh day the Lord called to Moses from within the cloud. 17 To the Israelites the glory of the Lord looked like a consuming fire on top of the mountain. 18 Then Moses entered the cloud as he went on up the mountain. And he stayed on the mountain forty days and forty nights. (Exodus 24:15-18)
With his eyes closed and staff by his side, Moses sits alone waiting expectantly on God.
Why does God seem silent?
But what Moses didn't realize is that God has been present all along, as manifested in the elaborate clouds behind him.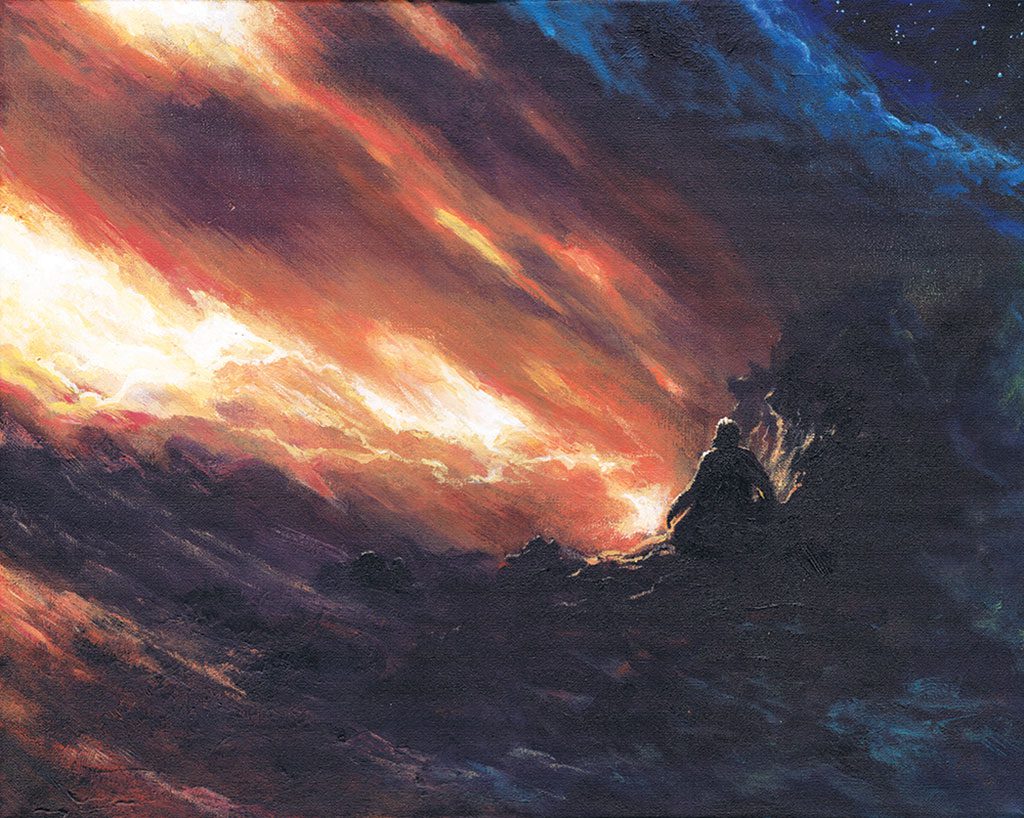 Moses and cloud of fire
18 Mount Sinai was covered with smoke, because the Lord descended on it in fire.The smoke billowed up from it like smoke from a furnace, and the whole mountain trembled violently. 19 As the sound of the trumpet grew louder and louder, Moses spoke and the voice of God answered him. (Exodus 19:18-19)      
Facing the glowing clouds of fire, Moses kneeled before God in awe as his small frame was enveloped in God's power and grandeur.
Sometimes God also makes His presence known in a powerful and evident way that compels us to respond to Him.
How does this change your perspective about God? You might be afraid if God reveals Himself to you in such a manner, but let it be an assurance of the mighty God we serve.
https://ymi.today/wp-content/uploads/2018/08/cold-moses-web.jpg
816
1024
Contributor
https://ymi.today/wp-content/uploads/2017/05/ymi-logo-black-3.png
Contributor
2018-08-21 09:00:51
2018-10-26 10:34:19
Moses on Mount Sinai