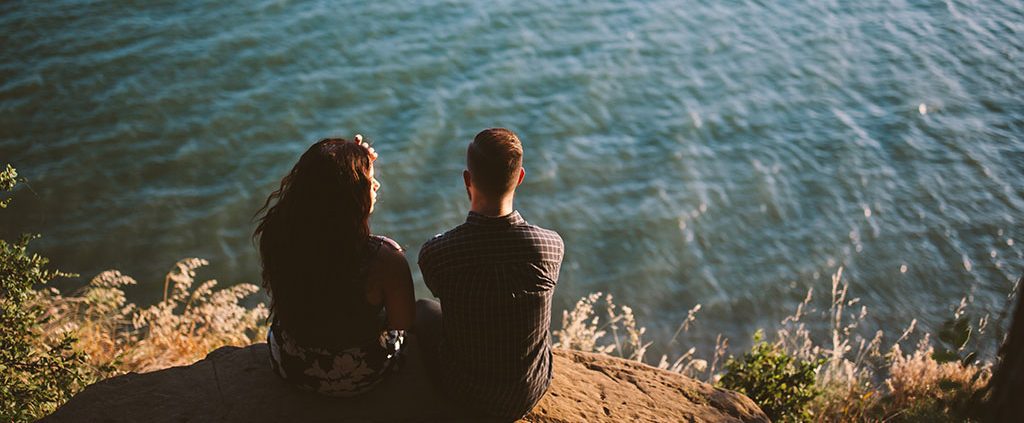 It didn't happen immediately, but so gradually and subtly that we were completely oblivious to it. We became so blinded in our love for each other that we didn't see it coming.
It didn't start out this way, of course. Even before we started dating, we intentionally sought the Lord's will on whether we were right for each other. We prayed earnestly as we grew closer, as friends first and then later, tentatively, as partners. We encouraged one another with God's Word, and prayed together regularly.
But over time, things changed. We became more emotionally intimate as we shared our innermost thoughts and secrets, our hopes and dreams, our fears and memories. We began meeting more often, and for longer stretches—from a weekly Sunday afternoon to the entire Sunday. The importance of the day slowly shifted away from Sabbath rest in our Savior, to outings and meals with our significant other.
And we started trying to find every possible opportunity to spend more time together, such as by staying out later and later on Sundays—which was the only time we could meet for a full day due to my irregular work hours. We couldn't bear to be apart from each other; and when we separated, we'd long for the time in which we could next see the other.
This led us to spend more time with each other, and less time with the Lord and other loved ones. Our once-quiet evenings spent in prayer, worship, and reading God's Word, were replaced by nights talking with, texting, or video calling each other. Dates together even began to take precedence over meet-ups with friends and meals with family. Slowly and almost imperceptibly, our love for each other had started to eclipse that for the Lord and those around us.
The most frightening part of it all was that we weren't even aware of it happening. We were doing all the "right" things: we prayed together, sent each other Bible verses and prayer requests, attended church service together, and even had an older accountability couple to mentor us. Yet our hearts were not right with the Lord.
We really didn't think we were spending all that much time together—after all, there were couples who met each other daily. Yet it wasn't so much the amount of time we spent with each other, but the level of priority we had begun placing on each other.
While we often spoke of putting God first, our affections and actions showed otherwise. We no longer loved the Lord with all our heart and all our soul and all our might (Deuteronomy 6:4-15). We started to stray away from Him, instead choosing to turn to one another for love, joy and comfort. We began placing ourselves in precarious situations that presented overwhelming temptations to sin.
Though we had intended for God to be the centerpiece and cornerstone of our relationship, our actions pushed Him to the very corner. We had fallen deeper and deeper in love with each other, leaving God out of the picture. Our hearts were so deceitful—we were barely aware of how we slowly but surely drifted away from the Lord and towards idolatry, innocently clothed in relational love.
Yet God isn't a footnote in our love story. He's the Author and the Perfecter of our friendship, courtship and ultimately, if He wills, marriage. Through a series of incidents, God revealed how we had strayed away from Him.
This included one particularly painful episode, after which my boyfriend and I spent a month apart to repent and reflect before God, under the guidance and counsel of our accountability couple.
Even though it was painful to be separated, our time apart forced us to remember who we were before there was a "we". It gave us a breathing space to hear God's voice again—to remember that our first and foremost identity was not merely a girlfriend or boyfriend, but a redeemed child of our Heavenly Father, saved by His grace through faith in Jesus Christ.
As I sought the Lord, I realized I had come to love God's gift more than the Giver Himself. I learned to ask myself:
Who do I yearn to spend time with?
Where do my thoughts wander to when I have nothing to do?
To whom do I turn to for love, satisfaction and pleasure?
And if the Lord were to take my boyfriend away one day, how would I respond to Him?
In short, I was confronted with the question: If all of life is meant to worship God, who was I worshipping in my relationship: God or my partner?
God showed me that I had traded Him for him, and that I was seeking and deriving love, joy and fulfilment from my boyfriend. I quickly learned that these are gifts only our Maker can give in all His fullness, and which no man can give in all his limitations.
When my boyfriend failed to live up to my expectations, I saw how I had placed him on a pedestal above the King of kings. When he inadvertently hurt me, I realized how much hope I had placed in him, rather than in the Shepherd of my soul. And when we came apart—physically, emotionally and spiritually—I realized how much I had come to adore and even worship him, instead of the one and only true God.
After the month was up, my boyfriend and I came together to reconcile and pray with one another. Since then, God has been teaching us, through every victory and struggle, to turn our gaze on Him. We're still learning how to love God first before each other, and to gently point one another back to the Lord when tempted to idolatry.
Although our story is far from over, I know that our Author is writing every word, every letter lined with grace upon grace. And this gives me a peace and assurance that He is ever-present even—and especially–in the midst of our struggles and sinfulness. More importantly, God has promised us that just as He has saved us, He too will sanctify us completely in His faithfulness (1 Thessalonians 5:23-24).
https://ymi.today/wp-content/uploads/2018/06/When-I-Traded-God-for-My-Partner.jpg
613
1024
Wendy Wong
https://ymi.today/wp-content/uploads/2017/05/ymi-logo-black-3.png
Wendy Wong
2018-06-28 10:00:13
2018-06-28 10:18:17
When I Traded God for My Boyfriend