Title: There's A Page For That
Materials: Bullet Journaling
 Artworks in collaboration with: Lynn Tran (@hwangmyeons)
Description: It seems like almost everyone is keeping a bullet journal these days. Are you?
Instead of turning to our smartphones and an endless system of organization apps, thousands have returned to a blank notebook as the perfect catch-all for organizing, capturing, and tracking life.
There are no rules to bullet journaling. The goal is to find your style and best practices for keeping track of what matters to you. Not sure what to include in your bullet journal? A quick search on Pinterest or YouTube can provide inspiration but this same search can also lead you to feelings of uncertainty. Should I be doing that too? Am I not doing enough? Do I need that notebook, those pens, and all that washi tape? Am I not creative, artistic, or organized enough to even keep a bullet journal?
Pretty soon what seemed like a simple and fun system of organization can turn into an obsession. More and more time is spent creating the perfect Instagram-worthy spread and less time is spent actually living and engaging with the items listed on the pages. It isn't difficult to become devoted to this little book and find that we spend more time with it than we do God's book — the Bible.
Organization is a noble goal but as Christians, we need to remember that we are called to live our lives centered around the Bible…and not our bullet journals. After all, God calls the one who delights in and meditates on his law "blessed". (Psalm 1:1-2)
How can we stay organized without neglecting God's Word? A bullet journal can be used as a great tool for developing spiritual accountability. Whether you track a daily Bible reading plan, reflect on passages of Scripture, or keep a list of prayer requests, a bullet journal can be used to direct you back to God and His Word.
Here are a few ideas of ways you can incorporate bullet journaling into your time with God.
Include verses that you have been encouraged by from your time with God or want to memorize and etched on your heart.

Make a page with verses that can help you deal with a sin or an attitude.

Draw up a log that tracks your time spent on devotion.

Keep a list of monthly prayer requests and journal the outcomes as God reveals His answers.

Create a spread of photos that remind you of God's blessings throughout a particular month.

Dedicate pages for sermon notes that you can refer back to for specific lessons.
Remember: Glorify God in everything that you do (1 Corinthians 10:31), including bullet journalling.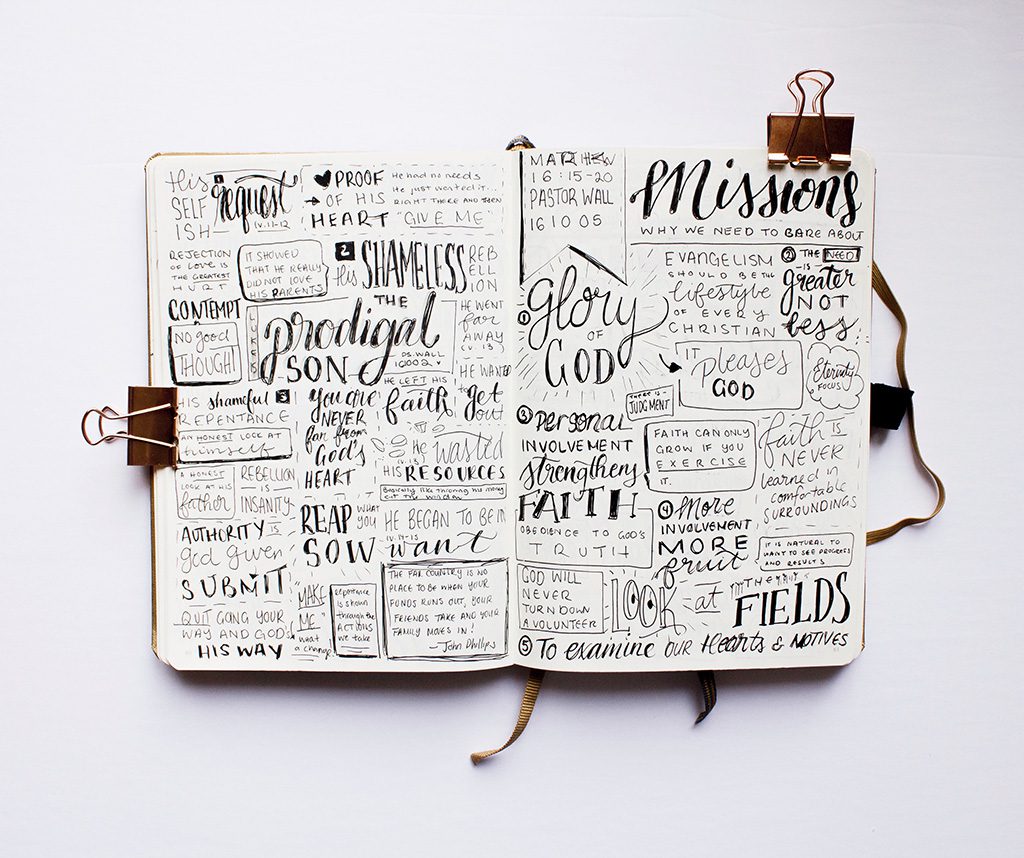 Instagram image within journal by @designbyveco
https://ymi.today/wp-content/uploads/2017/06/3-Theres-a-page-for-that.jpg
1024
1024
Contributor
https://ymi.today/wp-content/uploads/2017/05/ymi-logo-black-3.png
Contributor
2017-06-30 09:00:24
2018-10-30 13:11:39
There's A Page For That