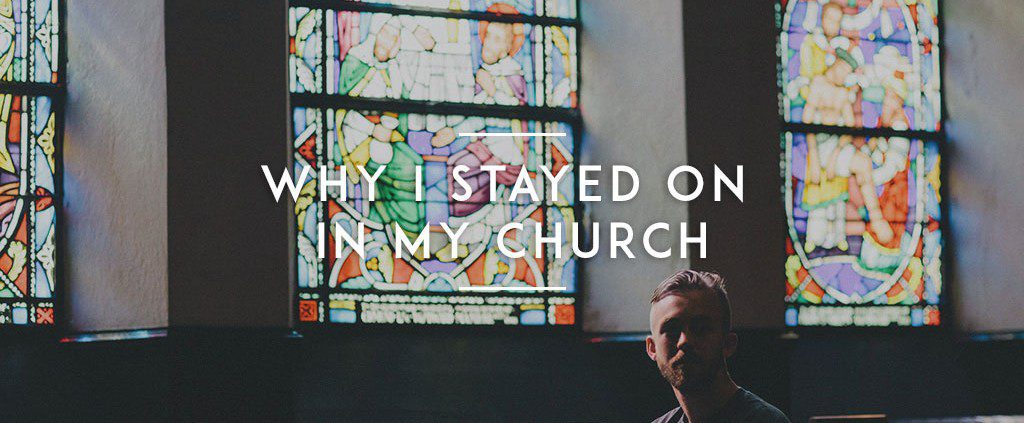 Written By Lim Chien Chong
Chien Chong joined Singapore Youth For Christ (SYFC) full-time in 1998 after a six-year teaching career in a local junior college. In 2005, he became SYFC's National Director. Since Jan 2021, he has taken the role of the Teaching & Resource Director. He currently serves in the pulpit, Bible class and children ministry in church, and also preaches, trains, and teaches in different churches and youth groups in Singapore. He has been married for 19 years and has two teenage boys.
"You mean you are still attending your church after so many years?" This was a question someone asked me about two years ago.
He shared that he was very disappointed with his own church and was trying to find reasons why he should stay. The question set me thinking about why I'm still attending the church that I have been going to since I was a teenager, some 35 years ago.
To give you a rough picture of my church, it has had an average attendance of about a hundred people through the years. Along the way, new people have joined us and others have left, some to start new churches.
Like many others, I face the same struggles and issues that many do in their churches, such as differences in opinions and priorities, disappointments with leaders and fellow members and disagreements about how the word of God should be taught.
Friends have invited me on several occasions to join them at their churches, but I have always declined their invitations. It's not that I don't have my fair share of frustrations—I do feel that the church can be better organized and members should be more interested and involved in the work of God. But despite the moments of frustration I sometimes face in my church, I have decided to remain where I am.
It has made me wonder sometimes: What is my motivation to stay? Am I staying on just because of inertia to change? Shouldn't I have an expectation of what a church should be like? If my church is not meeting the mark, why shouldn't I move?
Paul's depiction of a church in Ephesians 2:19-22 has helped me understand what a church is and what it does. Although the passage refers to the universal community of all believers in Christ, it has also shaped my view of my own church.
1. The church is a kingdom and a family
"[you are] fellow citizens with God's people and also members of his household" (v.19)
While we are fellow subjects of God our King, we are also fellow brothers and sisters with God as our Father. I can choose who I want to be friends with, but I can't choose who I want as my family members. As such, I am committed to accommodate, relate to, and work through issues with people at church as I would with my family members.
It is not easy most of the time, but I know that I need to put in the effort to understand and communicate with people—and in some instances to mediate between them—because we are part of the same family. Not everyone may share the same values, but that does not mean that any of us is any less of a family member.
2. The church is founded on the word of God
". . . built on the foundation of the apostles and prophets" (v.20a)
The word of God is central to a community of God's people. It is no wonder that in some churches, the pulpit is placed at the center to remind us of this important truth. Many people have left their church because they felt they were not being fed properly with the Word of God.
I understand the struggle. I may not be spiritually refreshed every Sunday at church, but I need to be refreshed by His Word in my daily walk with Him. The weekly sermon cannot replace my daily meditation on His Word. Even if I may not receive as much spiritual input as I would love to (that's not to say that I am not learning at church), I can still think of ways to share constructively with others what I have learned from God's word in informal or formal settings.
3. The church is also founded on Jesus Christ Himself
". . . with Christ Jesus himself as the chief cornerstone" (v.20b)
As Christians, we are followers of Jesus Christ. Our lives, whether communally or individually, must be grounded not only in God's Word but also in the work of Christ as well as our relationship with Him.
It will be ironical if I claim to follow Jesus but my life does not portray His character in the way I live and in the way I relate to and resolve differences with others. Besides, Jesus, by His death on the cross, has granted me peace with God and with men; I have every reason to be harmonious and peaceable.
4. The church is joined, grown, and built by the Lord Himself
"In him the whole building is joined together and rises to become a holy temple in the Lord. And in him you too are being built together to become a dwelling in which God lives by his Spirit." (v.21-22)
As much as I would love to see my church grow in strength and number, I constantly remind myself that it is the Lord who grows His church. This does not mean that we can simply ignore factors that are causing people to move out of church. We should take a good and honest look at how our church life is affecting everyone. There may be many areas that we need to work on so that we are truly living as God's people.
Nonetheless, I know that I need to be patient because people do not change overnight. Besides, any change in people's hearts is a result of God's work. It means that I should learn to pray more for my church.
And so my answer to the question, "You mean you are still attending your church after so many years?" is: Yes, and why not? There are still many things that I need to work through in my own life as well as among fellow members at church. My church is not perfect, but neither am I. In fact, this is why we come together as a community of God's people.
https://ymi.today/wp-content/uploads/2016/05/Why-I-Stayed-On-In-My-Church.jpg
613
1024
Contributor
https://ymi.today/wp-content/uploads/2017/05/ymi-logo-black-3.png
Contributor
2016-05-27 10:00:12
2021-03-19 12:39:37
Why I Stayed On In My Church