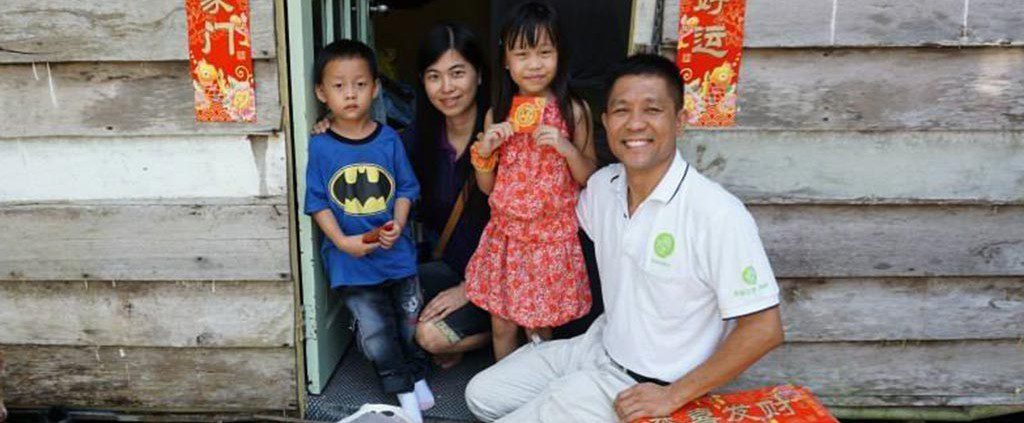 Written By Edna Ho, Malaysia
Browse through the newspapers in Malaysia, you're likely to read news about Kelvin Wan and his team distributing food, medicine and other forms of aid to poor villagers or victims of a flood or fire.
The founder of Hope Place, a welfare group in Kuching, is well known in this part of East Malaysia for helping needy families.
It often makes the headlines for reaching out to isolated villages in Sarawak to distribute food to poor families, especially those with disabled children. Kelvin works full-time as a salesman in a T-shirt manufacturing company, but somehow, still manages to find time to collect items for the needy. Last year, he received an award for voluntary work from the Sarawak government—just one of the five among hundreds of NGOs to receive the award.
And it all started because a young man felt that Christians weren't doing enough.
Born into a non-Christian family, Kelvin came to know the Lord in his early 20s when his boss brought him to church. As he grew in his faith, Kelvin started to notice that the front pages of the local newspapers often featured the good deeds that other religious organisations did whenever disasters such as floods or fires occurred. He couldn't help wondering, "Would there be a day when Christians would be featured in the news for our good work? Then more people would come to know about our faith and ultimately, come to know our God, the source of love."
A few years after becoming a Christian, he felt led by the Lord to volunteer with the Red Crescent Society, Malaysia's version of the Red Cross. Whenever fires or floods broke out, Kelvin would help out at disaster relief centres. It was a role he would carry out faithfully for more than 20 years—until a surprise encounter took him down a new journey of faith.
Sometime between 2007 and 2008, a pastor who was invited by Kelvin's church to speak told him, "God will open a new door for you and bless you."
Soon after that encounter, a rural village in Kuching, Sarawak, was hit by floods, and a Red Crescent disaster relief centre was set up nearby to raise funds to help its residents. One day, while Kelvin was on duty, an old villager came up to him and asked for help. The man, who was more than 70 years old, was getting RM200 (around US$53) every month from the welfare department, but it was not enough for him to support his wife and two adult daughters with Down Syndrome.
The Red Crescent Centre provided cooked food and water to the man on that one occasion, but Kelvin wanted to do more. Filled with compassion for the old man, he then decided follow up by buying food for him and his family every month. News of this spread through the village, and soon, more families were coming to him for help. Within a month, Kelvin found himself supporting five families—all on his own monthly salary of just RM2,000. In three months, the number of families grew to 15. By this time, Kelvin knew he had to find other people to help with his food donations. So he sought support from his customers, church members and friends. His pastor advised him to register his activities as a ministry, and in 2013, Hope Place was born.
Today, Hope Place distributes some RM20,000 worth of food and household supplies—from rice and milk powder to diapers and cooking oil—to more than 110 families throughout Kuching. In the early days of the ministry, Kelvin had to use his own car to drive from home to home to distribute the food, but donors who heard about his ministry chipped in to add three more vehicles to his "fleet". This has enabled his ministry to transport more food to more families.
Kelvin praises God for His provision that has helped him help others. "I'm just a normal salesman. How can I personally support more than a hundred families? I need RM20,000 every month for the food supply. Everything we have comes from God."
Despite having made numerous trips to villages, Kelvin still feels the glory of God every time he distributes food. "Every time I am behind the wheel heading to a home, I can sense God's presence," he says. "And I am reminded that just as the families are receiving food for free, the salvation and grace God has given us is for free."
https://ymi.today/wp-content/uploads/2015/05/One-Mans-Quest-to-Bring-Hope-1024x423-1.jpg
423
1024
Contributor
https://ymi.today/wp-content/uploads/2017/05/ymi-logo-black-3.png
Contributor
2015-05-26 10:00:21
2022-10-14 11:35:41
One Man's Quest to Bring Hope