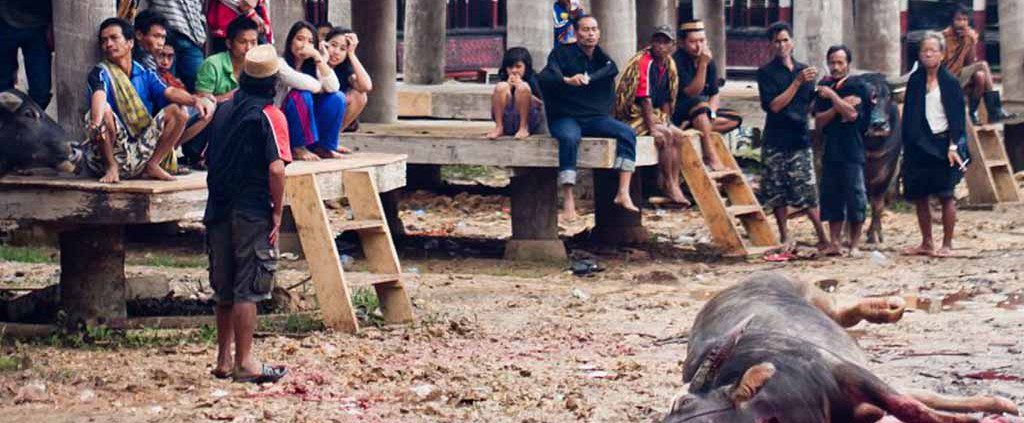 Photo Credit: Wang Yixin
I was hesitant to watch initially. But missing it would mean missing the complete Toraja* experience, so I relented.
It was traumatizing.
Over a mere 15 minutes, I witnessed how five buffalos were killed, as part of a funeral ceremony unlike any other I had experienced before. A total of 20 buffaloes were slaughtered that morning alone. The number killed correlated with how wealthy the family was.
Most of the buffalos were taken by surprise. They staggered back in shock when their throats were slit. Blood gushed from the open wounds. Due to their sizes, it took a while for them to bleed out and die so the executioner hacked at their throats several times to expedite the dying process. Some of them turned violent and tried to run away, but ended up falling on the ground. One buffalo charged towards us; it was our turn to flee.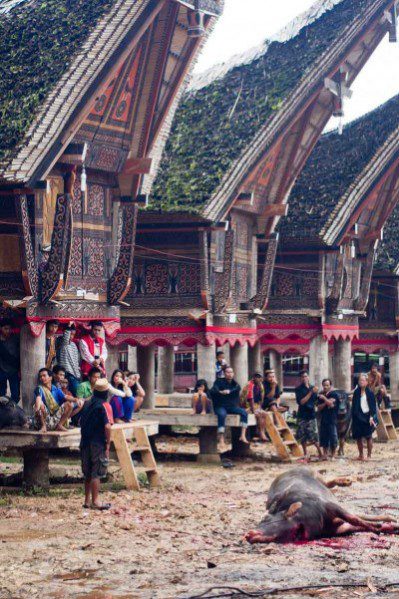 Photo Credit: Wang Yixin
Some of the locals laughed when they watched the struggling animals but I was sick to the stomach. I kept praying, "God, please put the poor animal out of its misery. Please." The gruesome sight of death brought to mind that death was imminent to all of us, whether human or animal, as a consequence of sin.
While most of them struggled, I noticed one buffalo which was completely calm. It stood still while blood poured out of its throat. The rest which struggled bled out and became motionless within 10 minutes. This buffalo was still alive when I left. I couldn't stay on to watch the proceeding any further.
That buffalo's reaction to death was akin to the Bible's description of Christ in Isaiah 53:7, "He was oppressed, and he was afflicted, yet he opened not his mouth; like a lamb that is led to the slaughter, and like a sheep that before its shearers is silent, so he opened not his mouth" (ESV).
Jesus died a brutal, protracted, and painful death on the cross for our sins without a single murmur. His death was the ultimate and final sacrifice, removing for us the wages of sin, that is, eternal separation from God.
But more importantly, His death and resurrection reconciled us to God, as Romans 5:10 says, "For if while we were enemies we were reconciled to God by the death of his Son, much more, now that we are reconciled, shall we be saved by his life."
The image of death lingered in my mind days after I witnessed the killings. But because of Christ's work on the cross, I am assured and comforted that regardless of how I die, I know where I'm headed.
* The Toraja are an ethnic group indigenous to a mountainous region of South Sulawesi, Indonesia. The word toraja comes from the Bugis Buginese language term to riaja, meaning "people of the uplands. " (Source: Wikipedia)
Written by Wang Yixin for YMI
https://ymi.today/wp-content/uploads/2014/08/It-was-traumatizing_v3.jpg
613
1024
Contributor
https://ymi.today/wp-content/uploads/2017/05/ymi-logo-black-3.png
Contributor
2014-08-27 10:00:06
2014-12-31 10:00:45
The Day I Stared Death in the Face