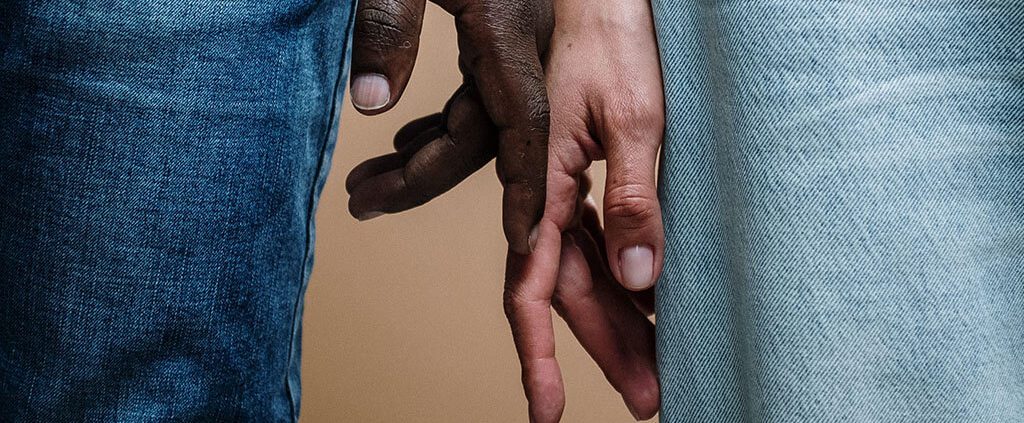 Dear Younger Self,
You have just said "yes", however reluctantly and fearfully, to a relationship with someone. You're wondering whether you made the right choice in committing yourself to know him. There's still so much you don't know about him, and your future together hangs above your head like a giant question mark.
Rest assured: this man you just said yes to will eventually be your husband and father of your child (gasp, yes, you—a mother!). And yes—he's "the one" !
Being in a relationship is going to be a rollercoaster ride—you'll experience the adrenaline rush, the butterflies in your stomach, the giddy infatuation of falling in love, the late nights texting and talking, the dates where you coyly get to know each other.
But there's one thing I need to warn you about.
In a few months' time, you're going to struggle with lust, and it's going to be a messy, exhausting, tearful, long-drawn battle up till the day you say "I do". And I'm sad to say that a lot of it will stem from these three lies that you will—or already—believe about sex and intimacy:
1. A hug is just a hug
You've just held hands with your boyfriend for the very first time earlier today, your palms all sweaty from nervousness.
It seems like a lot, but as the both of you get to know each other, you'll begin to wonder: Is a hug okay? What about cuddling? Or kissing?
I hate to break it to you, but there's going to be so much confusion and compromise in the next few months because both of you didn't clearly commit to the physical boundaries that you both are convicted by.
While you agree that physical boundaries are helpful in theory, they become much harder to put into practice when both of you view physical touch differently. For example, one of you will enjoy hugs and holding hands because that's your love language, but the other will be more cautious because of the emotional implications and physical temptations that touch can arouse within them.
This isn't helped by the fact that many couples around us are openly affectionate—so if others can do it without slipping down the slippery slope of temptation, why can't we?
Song of Solomon 8:4, however, advises: "Do not arouse or awaken love until it so desires." What this means is that we don't go too fast in being physically (and emotionally) intimate in our relationship, such that we stir up passions that consume us before the time is right.
From the get-go, discuss appropriate physical boundaries that can guide both of you till your wedding day. Hear from one another about your past relationships and experiences with physical intimacy, what physical touch as a love language means to you, and how you can show love to each other—even without physical affection in the picture. You can then better understand each other's needs and agree on your relationship's rules on physical intimacy.
While you might feel shy about broaching the topic because you don't want to be seen as too "extreme" so early on, doing so will only do good in bringing clarity to your relationship. And he will be more than happy to listen to what you have to say—he isn't into you just for the physical affection . . . which brings me to the next lie.
2. He doesn't love you if he doesn't sexually desire you
The day will come, pretty soon in the future, when you'll begin to wonder whether your boyfriend really loves you if he's not "making any moves".
All this will be linked to your misconceptions about love and sexual desire that are partly influenced by a past relationship, a non-believer friend who'll share intimate details about her relationship (and her astonishment when she learns that your boyfriend hasn't made his move on you), and a lot of it just by living in this world and being shaped by its culture that spells love as sex and vice versa.
Because of this, you're going to feel pangs of insecurity that perhaps your boyfriend doesn't really love you because he hasn't been physically intimate with you.
This couldn't be further from the truth.
Your boyfriend hasn't tried to be intimate with you because he loves you. You already know what 1 Corinthians 13:4-7 (emphasis added) says:
Love is patient, love is kind . . . It does not dishonour others, it is not self-seeking . . . Love does not delight in evil but rejoices with the truth. It always protects, always trusts, always hopes, always perseveres.
What does a God-fearing, God-honouring love really look like? It patiently waits for sexual intimacy in the covenantal relationship of marriage. It doesn't selfishly satisfy one's carnal desires, dishonouring the other in the process. It doesn't find delight in doing what is sinful. And, it always promises to protect the other person sacrificially and selflessly.
Your boyfriend will show that he doesn't merely lust after you, but he truly loves you with his love shaped and motivated by God's holy Word. You'll see this in how he is "quick to listen, slow to speak and slow to become angry" (James 1:19)—even when you're the exact opposite. He will go out of his way to serve, protect, and care for you, like travelling long distances to send you home, and waking up at 3 a.m. to pray with you when you work morning shifts (Ephesians 5:25-29). He will be faithful to you as his girlfriend, and later on his wife, by not looking lustfully at other women (Job 31:1; Matthew 5:28).
So don't be deceived: love is way more than lust.
3. It's too hard to wait
My dear younger self, this is probably the biggest lie that you and your boyfriend will be ensnared by: waiting to consummate your marriage is too hard.
It's only natural that the more time you spend together, the more you'll want to grow closer together in every aspect of intimacy. After all, God designed man and woman to be united in marriage to "become one flesh" (Genesis 2:24).
But in the leadup to your wedding day, the both of you will unfortunately struggle with desire for one another, no thanks to the two other lies you believe about intimacy. It certainly doesn't help when you see your unbelieving (and even some believing!) couple friends go on staycations and travel overseas together. Eventually, thoughts like these will pop up uninvited in your mind:
"You're already getting married soon, anyway! What's the harm?"
"If they can do it, why can't we?"
"It's so hard to part from one another. I wish we could just stay together all the time."
Because you think it's too hard to wait, there will be a part of you that doesn't quite want to wait. The more we believe these lies, the more we will slowly but surely be led astray by them, inevitably leading us to cave to our sinful cravings.
As James 1:14-15 warns: "Each person is tempted when they are dragged away by their own evil desire and enticed. Then, after desire has conceived, it gives birth to sin; and sin, when it is full-grown, gives birth to death."
Don't believe and live out a lie. Romans 12:1-2 exhorts:
Therefore, I urge you, brothers and sisters, in view of God's mercy, to offer your bodies as a living sacrifice, holy and pleasing to God—this is your true and proper worship. Do not conform to the pattern of this world, but be transformed by the renewing of your mind. Then you will be able to test and approve what God's will is—His good, pleasing, and perfect will.
Let that sink in. Recall the costly sacrifice Christ paid on our behalf, and reflect on God's mercy. Our response to that should be one of repentance, gratitude, and worship—to live each day in holiness and do what will please our heavenly Father. This is also why we ought to seek to renew our minds "in knowledge in the image of [our] Creator" (Colossians 3:10), by reading and meditating on Scripture.
To ward off these lies fed to us by the world, we want to hold on to what God's living Word says.
It tells us that His will for us is to control our own body and to live in purity and holiness (1 Thessalonians 4:3-5). It tells us to honour marriage and keep the marriage bed pure, and that God will judge the sexually immoral (Hebrews 13:4). And it tells us that God is faithful, and will provide us the way out when we face temptations so that we can endure them (1 Corinthians 10:13).
When we let these truths take root in us, then we'll come to see that it's not hard to wait. When you finally get married, you will cleave to one another as one flesh, with neither guilt, shame, nor fear. And you will look back and wonder why you spent so much time—and tears—thinking that you couldn't wait.
What will keep your marriage going
During your courtship, an older sister in Christ will remark: "Sex can be a great bonding experience in marriage. But it's not the only thing that will keep your marriage going."
Marriage will be hard. Some days, sexual intimacy will be hard. You will get mad at him, and he at you. There will be differences, disagreements, and disappointments.
What will enable you and your husband to get through these hard knocks will not be the sexual desire you feel for one another—it will be the spiritual intimacy the both of you have with, and share in, Christ.
So, as you mark this major milestone at the dawn of your relationship, remember to fight these lies on lust. Draw God-glorifying physical boundaries in your courtship, ground yourself in the definition of godly love, and ask the Lord for the endurance to wait for marriage—so that in time to come, you can look back on this season of courtship with relief and gratitude, knowing that by His grace, the both of you have won this battle over lust.
Love,
Your Older Self
https://ymi.today/wp-content/uploads/2023/03/What-I-Wish-My-Younger-Self-Knew-About-Lust.jpg
613
1024
Wendy Wong
https://ymi.today/wp-content/uploads/2017/05/ymi-logo-black-3.png
Wendy Wong
2023-03-21 10:00:09
2023-03-28 12:10:37
What I Wish My Younger Self Knew About Lust