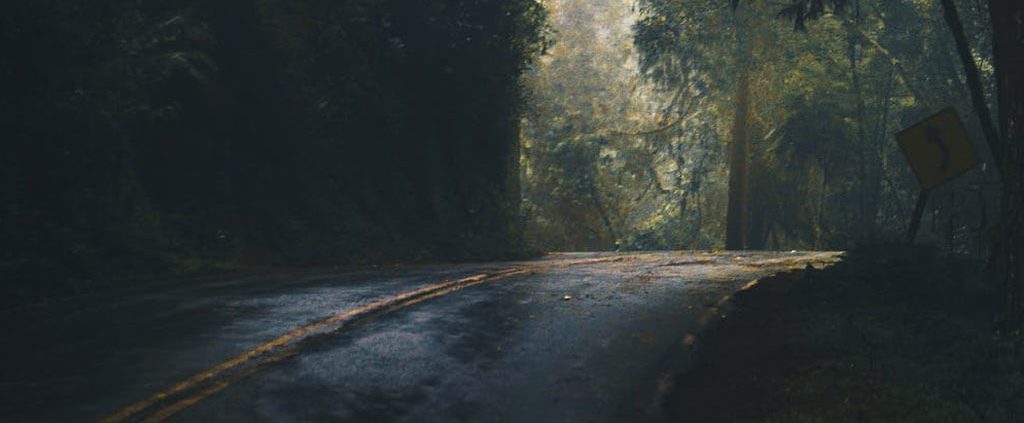 Written by Weng Shu-wen, Singapore
I found myself inwardly nodding in recognition when our pastor described how some people might be walking through a dark cave with no idea where the exit was. At that time, I felt like my season at my job was ending, and not having received any clear answers from God about my future direction, I felt like I was indeed walking in the "darkness" he described.
This is not the darkness of sin and evil, but of not knowing what's ahead—the seeming silence of God, and perhaps the darkness of the emotions. It is a darkness I have experienced through times of extended uncertainty, periods of burnout and feeling depressed, and inexplicable spiritual dryness.
Through my years of walking in the gloom in its different forms, God has encouraged me with three images, which I hope will be helpful for those on a similar journey.
He's the guide lights in our murky pool
During an especially desperate period of seeking, God gave me an object lesson—by using a pool's strip-lights!
On a night swim at a friend's place a few years ago, I realised that my old and scratched goggles had lost their anti-fog coating, which gave me a very murky view as I swam. Normally, I would have given up on the swim. But in that moment, I felt God prompting me to focus on the guiding lights at the bottom of the pool. These short, evenly spaced strips of light marked out the lanes, and as I passed one light and looked to the next, I was able to swim in a straight line for a good number of laps without veering.
Those lights reminded me of Jesus, described in the Bible as our true Light (John 1:9). Our view might be murky right now, and we might not know what lies ahead or what to do. But we can take comfort that if we focus on the person of Christ instead of our circumstances, we won't veer off-track.
Even when I don't see the big picture, I see how Jesus leads me through each day whenever I spend time with Him, which sometimes leads me to share His love with a friend or prompts me to accept a big task or challenge that would prove to be character-moulding.
He's our light switch in a dark room
Sometimes, however, our view might be so dark that we can't catch sight of Christ at all. We can't hear Him, we can't feel His presence, and the words of the Bible just seem to stay on the pages, not making much sense. In times like this, I remember the light switch in my dark bedroom.
I use shade-out curtains to help me sleep, but the downside is, whenever I wake up in the middle of the night, I have to make my way through the dark to reach the light switch at the far end of my room. And sometimes, I would bump into "obstacles" on the way.
However, as time went by, I learned exactly where to step and turn to avoid these obstacles. More importantly, I never doubted that I would eventually reach the switch, knowing that my "source" of light would always be there.
In the same way, even when faced with the "dark night of the soul", I know from His promises and my past experience that Jesus, my source of light, is always there, even when I don't sense or hear Him. And I am encouraged to continue doing the things I've always done—read the Word, pray, praise, fellowship with others—knowing that these will bring me closer to Him. By continuously exposing myself to His words and surrounding myself with His people, over time His voice eventually becomes familiar and intimate to me again.
God has promised He would never forsake us (Hebrews 13:5), and we have hope that, by His grace and in His time, darkness will be made light before us (Isaiah 42:16).
He gives treasures in the darkness
As a society, we focus so much on finding light that it was a surprise to me to encounter the idea that there were worthy things to be found and made in the darkness, which I learned when I read A.W. Tozer's book, The Knowledge of the Holy.
Tozer quotes Isaiah 45:3, where God tells the anointed king Cyrus, "I will give you hidden treasures, riches stored in secret places, so that you may know that I am the Lord, the God of Israel, who summons you by name."
Many of God's deeds, Tozer adds, from the creation of world to the resurrection of Christ, were done "in secret, away from the prying eyes of men or angels". This is a call for us to learn to trust in who He is without having to know how it is done.
While the treasures in Isaiah 45 are likely not the same as those in our darkness, the fact remains that God is the same God who knows exactly where the "treasures" and "hidden riches" are.
In hindsight, these periods of darkness have brought me a greater hunger to seek Christ, a deeper trust in His character, and greater maturity and patience. These treasures might not be immediately apparent to us, but what matters is the infinitely wise and good God gives these treasures to His chosen and beloved children.
The past few years have not all been pure darkness, thankfully. Sometimes, it's a grey murkiness, sometimes, there are faint glimmers of light, and sometimes, I come into flashes of brilliant sunshine. I'm still figuring out God's calling for my next season of life, and still struggle with dark emotions at times (though a lot less), but I am thankful that He still speaks to me in my day-to-day life.
Your light at the end of the tunnel might come soon, or you might have to wait a little longer. However long that may be, let us persevere, knowing that, as Romans 8:38-39 says, neither death nor life, neither the present nor the future, nor any powers, nor anything else in all creation, will be able to separate us from the love of God in Christ Jesus our Lord.
https://ymi.today/wp-content/uploads/2021/09/When-the-Way-Ahead-Seems-Dark.jpeg
613
1024
Contributor
https://ymi.today/wp-content/uploads/2017/05/ymi-logo-black-3.png
Contributor
2021-09-17 10:00:56
2021-09-17 14:07:43
When the Way Ahead Seems Dark