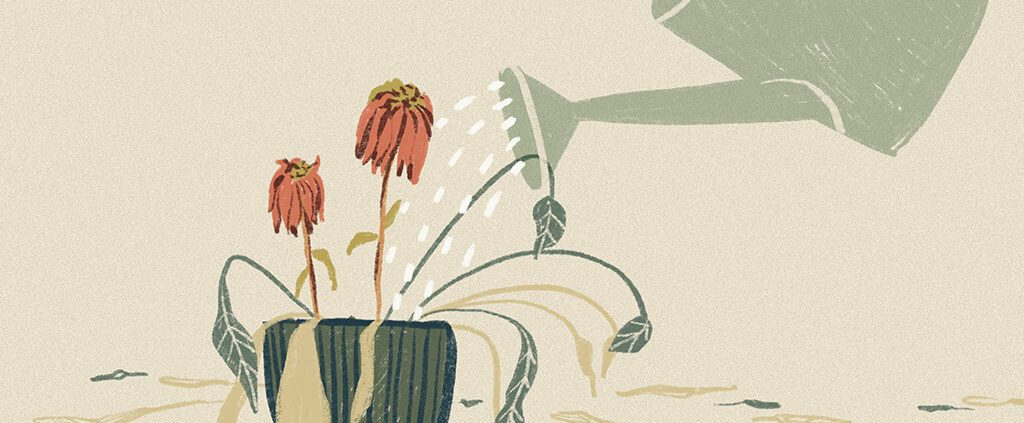 More than any other year, 2020 has been a year that has kept us on our toes. It started with COVID-19 forcing us to live the lockdown life and progressed into the summer months, when we were hit with travel restrictions, mandatory testing, and increased infection rates as a consequence of summer tourism.
Now, for those of us who live in Europe, rising COVID rates has seen many countries entering into a second lockdown. As the winter approaches, there is a growing trepidation that it might spread even more rapidly during the colder months.
After 10 months of living the COVID-19 life, l for one have become weary. I'm tired of feeling anxious for my health and that of my loved ones, l'm desperate for church fellowship, and l yearn for some semblance of normalcy again.
I need a refresher, a pick-me-up. I need to find rest and comfort. And the only One l know who can provide me with all of that is God.
If your soul, too, is feeling weary and downtrodden from all that's been happening this year, l hope that the following three prayers will rejuvenate you.
1. Lord, Give Us Rest from Our Weariness
"Come to me, all you who are weary and burdened, and I will give you rest." – Matthew 11:28 
 This familiar verse gives me so much comfort. It reminds me that when l'm tensed up about COVID regulations or worn down by anxiety about the future, l can take my burdens to God and He will give me rest.
If you, like me, are in dire need of rest, l hope that the following prayer encourages you to cast your burdens on God and rest in His presence:
Merciful Father,
The world as we know it has drastically changed since the beginning of this year. The impact and consequences of the COVID-19 virus have been immediate and dramatic, taking a toll on my mental health and the well-being of my soul. Trying to work my mind around the many COVID-19 regulations that are constantly changing, remembering to practise social distancing stresses me, and wondering if life will ever go back to what it used to be just 10 months ago have left me stressed out.
Lord, Thank You, that in such times, You call us to come to You, and lay our burdens and fears at Your feet. Thank You for reminding us that we need not be overwhelmed by the constant news updates, live in fear of becoming infected, or feel anxious about what's to come.
Thank You for taking up our troubles and carrying them for us, while offering us rest under the protective pinions of Your wings.
In Jesus' name,
Amen.
2. Lord, Refresh Our Tired Souls
"The Lord is my shepherd, I lack nothing.
He makes me lie down in green pastures,
He leads me beside quiet waters,
He refreshes my soul.
He guides me along the right paths
for His name's sake."
– Psalm 23:1-3
Whenever l read this Psalm, l feel like l've been cleansed with cool, refreshing water; all the tension, stress, and anxiety of everyday COVID living just washes away, and l feel rejuvenated and at peace.
God is indeed the good shepherd who will always prioritize our well-being as His sheep. He provides for us, establishes our path, and offers our souls rest and refreshment.
If you need God to guide you to rest in His presence and refresh your soul, l hope that the following prayer encourages you:
Beautiful Father,
Thank You for being my provider, my protector, and the One who lays me down in green pastures and makes all my paths straight.
You are my personal shepherd, who lays down His life to protect me. With You, l lack for nothing.
Lord, l am tired, stressed, and l need rest. Fear of another lockdown has me in a constant state of anxiety about my job and financial security. I worry about the fiscal repercussions that an ongoing pandemic will have on our economy.
I ask You to lead me beside the still and gentle waters, where You provide rest for my weary soul. Guide me with Your staff on the path of an unknown future, protect myself and my family with Your rod from infection.
Thank You that You lift my heavy head and refresh me with Your loving mercy and kindness.
In Jesus' name,
Amen.
3. Lord, Renew Our Strength to Keep Going
"But those who hope in the Lord
    will renew their strength.
They will soar on wings like eagles;
    they will run and not grow weary,
    they will walk and not be faint."
– Isaiah 40:31
I don't know why the world has been afflicted by the COVID-19 virus, but l do know that my hope lies in God to heal those infected, and to provide a vaccine and even a cure to end this pandemic.
How God will do this, l don't know, but just placing my hope in Him, and believing in His goodness and mercy renews my strength to keep dealing with the challenges we've been dealt, because l know that God is working in our current global situation.
I hope that the following prayer fills you with hope and that you experience a renewal of God's strength:
Wonderful Lord,
Thank You that You continue to reign sovereign over us no matter what trials and restrictions we are currently enduring.
My reserves of strength are finite, but l know that You are my eternal source of strength. When l put my hope in You, Lord, You infuse my weary soul with strength from within.
Grant me strength to go about my everyday life, and to keep my eyes on You as I navigate the different challenges of the day.
With Your strength soaring through my soul, l can continue to enjoy the good gifts You've given me while waiting for You to work amidst this adversity: quality time with my friends and loved ones, a roof over my head, a full and warm stomach. Thank You for filling me with Your peace and love.
In Jesus' name,
Amen
God sees the toll that this current pandemic is having upon us—and He wants us to draw near to Him so that He might comfort us, rest our weary souls in His loving embrace, and refresh and restore us by His mercy. While He sorts out this global situation in His perfect timing, let's heed His call and find rest in His presence.
https://ymi.today/wp-content/uploads/2020/11/3-Prayers-to-Refresh-Your-Weary-Soul.jpg
613
1024
Madeline Kalu
https://ymi.today/wp-content/uploads/2017/05/ymi-logo-black-3.png
Madeline Kalu
2020-11-09 16:00:30
2020-11-09 14:22:25
3 Prayers to Refresh Your Weary Soul