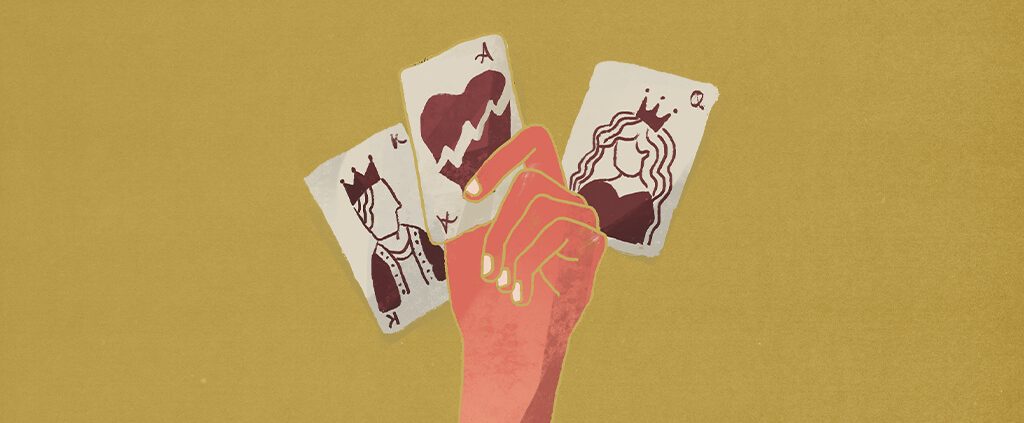 Written By Kara Yeo, Singapore
I've just turned 30, and I've always thought I would be married by now.
Over the last nine years, I've had two failed relationships, which came about through a mix of unforeseen circumstances and poor decisions. Though they may not be comparable to others' experiences, they were painful, took a toll on my mental health, and affected my view of love for a short time. But by God's grace, they have not completely shattered my view of love.
I'm currently in a relationship and still am an advocate for love.
Growing up, my ideas of love and romance were shaped by Christian books on dating, parental advice, as well as lessons from others' relationships. Seeing how my two older siblings handled their relationships shaped my view of love and gave me insights into what would make a relationship work. 
By the time I was to enter university, I felt I was ready (and excited) to enter into a relationship—having attended an all-girls school all throughout primary school to college. I wanted to invest in finding "the right person", and not simply marry into the idea of love.
My First Love: God Was There From the Start
For me, there was something about marrying "your first love". It probably stemmed from my idealistic thinking that as long as I applied all the "right rules", my relationship would turn out as I expected.
I was in my second year of university when I entered into a relationship with my best friend. We got to know each other through events at university and church. Soon, there wasn't a day when we did not chat with one another. I was drawn to his extroverted personality, and enjoyed the time we worked on planning an Easter conference together. Our rapport made it easy for us to connect on a deeper level and we hit it off easily.
Unfortunately, he was about to graduate and planned to return to his home country to find a job. That's when we decided to share our feelings with one another and make things official, launching ourselves straight into a long-distance relationship. With stars in our eyes, glows on our faces, and a spring in our steps, things were smooth-sailing . . . until it was time for me to graduate. 
Determined to make the relationship work, I made the big move halfway across the globe to be closer to him. Naturally, my family and friends weren't too pleased about the decision, but supported us nevertheless. 
Fast forward to a year later, things changed drastically. The foundation of commitment I thought we had was tested and shaken. He became reserved and wasn't interested in meeting my friends. He stopped attending church because he couldn't find one to settle in. He did not keep to his promise to visit me regularly where I was. I ended up making most of the trips, though friends and family around me kept discouraging me from doing so. 
By this time, I knew that things were no longer the same and that many of the red flags my parents and friends had raised in the past had surfaced. I was still determined to stick it out and work out our differences. But without me realizing it, I was slowly being replaced by someone else and soon, I was no longer in the picture. 
Though I was crushed, the experience taught me some invaluable lessons, including the need to better manage expectations and listen to wise advice. I was also comforted by the assurance that God walks with me, protects me, and has other good plans for me (Romans 8:28).
My Second Attempt: Learning to Surrender to God
I was single for a while after that—single and available to serve the Lord wholeheartedly. I plugged myself into my church choir, served in different ministries, and invested in many friendships, all the while remaining open to meeting people. However, the single guys at my church were depleting and I figured it was time to find other ways to "put myself out there". 
It was during this time that online dating was growing in popularity, so I jumped on the bandwagon and set up my dating profile. From there, I eagerly waited for guys to initiate conversations and shortly after, agreed to meet one of them. He ticked all the boxes on my mental checklist: He was a Christian, served in church, had a kind heart, and so on. Almost immediately, we hit it off. 
It didn't take me long to agree to be his girlfriend. For a while, the sun shone brightly, the flowers smelled nice, and the world seemed more colorful. But soon, things began to unravel; lies were unearthed, and disagreements occurred—all by reason "of protecting and loving me". Though I knew that his behavior went against the description of love in 1 Corinthians 13:4-7, I tried my best to hold on, even when he called off the relationship, not once but twice.
I was naïve, and determined to stay in the relationship. It was an emotionally trying time, as I battled feelings of guilt (for not being able to help in his situation), of emptiness, and of being out of love. Before we knew it, our relationship started becoming toxic: we were relating to each other in demanding ways, instead of giving to each other from a place of peace and love. It was my family's and friends' constant advice and prayer, and sitting at the foot of Jesus that got me to finally end the relationship for good. Through it all, God was beckoning me to draw near to Him (James 4:8). 
During this season, I knew I had to evaluate the decisions I had made in the past to make better ones in the future, to seek God and wait upon Him instead of rushing into my own plans, and to be clear about the purpose of marriage so I would know why I wanted to marry before finding who I'll marry. The only way forward was to surrender it all to God in prayer (Philippians 4:6), and trust that everything will be made beautiful in His time (Ecclesiastes 3:11).
From then on, my prayer was to find a life-long companion who could journey with me in three areas: to learn more about God's love and show His love the way He intended for us to, to serve together faithfully with the skills and spiritual gifts He has given us both, and to build a family (God-willing) to serve Him and His kingdom, so our lives would paint a beautiful picture of Christ and the Church. 
I entrusted my heart's desire to the Lord, while praying hard that He would protect me from wrong choices.
My Third's a Charm (Thus Far): Trusting God to Guide the Way
Just when I least expected it, a close friend of mine, together with her boyfriend, played matchmaker, and introduced me to my current boyfriend, Y. Having known my friend for 13 years, I trusted her recommendation. When my friend and her boyfriend shared with me about Y's heart for the Lord and his story of going through cancer, it left a deep impression on me. 
It has been more than a year since Y and I got together, and it's been a journey of experiencing God's goodness every step of the way. 
There's still much we have to learn about each other but thus far, Y has the character, qualities, and interests that I've been looking out for. We also have similar goals as well as a community of friends providing support and prayer—both of which were missing from my previous two relationships. The shared verse we both want to build our lives on is from Matthew 6:33, "But seek first his kingdom and his righteousness, and all these things will be given to you as well." 

Looking back on my journey so far, I'm thankful for the wise counsel I've received along the way, the example of godly couples, and the Bible's reminders that love is about hard work, sacrifice, and pruning.
Even though I've experienced failed relationships, I haven't given up on love because I know that God will be with me as long as I am devoted to Him and always seeking His Kingdom first. Looking back, I see that God had allowed me to go through so that I could know His love and truths more intimately. To experience firsthand how He comforts and mends, leads and guides, loves and keeps on loving. To know that my worth is never tagged to a relationship or someone other than Him. Or that the pursuit of my life is not about having a successful relationship, but knowing a God who holds my life together. 
Even if my current boyfriend doesn't end up being my future husband, or even if love within a marriage becomes difficult and fails to meet my expectations, I know I'm in the hands of a loving God—the one who knows what I need best.
https://ymi.today/wp-content/uploads/2020/10/What-my-failed-relationships-helped-me-see.jpg
613
1024
Contributor
https://ymi.today/wp-content/uploads/2017/05/ymi-logo-black-3.png
Contributor
2020-10-13 10:00:11
2020-10-13 10:18:58
What My Failed Relationships Helped Me See