Day 17 | Philippians 3:12-14
"What do you want to be when you grow up?"
This question has always bothered me. Throughout my adolescence, I kept waiting for that culminating moment when I had finally "grown up," only to realize that I still had a long way to go.
I am not the perfect woman I had conjured up in my imagination. I have not "arrived," and am not even close. I am still flawed, broken, sinful, and in desperate need of grace. I am—even to this day—on a journey.
But I draw comfort from the fact that even Paul did not see himself as having arrived at the Christian ideal, as having grown up. Instead, he encourages us to forget "what is behind" (v. 13) and fix our eyes on what God has set before us—a glorious eternity spent in relationship with Jesus.
We may be bruised and broken by mistakes from the past. We may be weighed down by demands of the present. We may even be anxious about what's unknown in the future. But these verses challenge us to broaden our vision and adopt a heavenly perspective.
Two years ago, I lost my job—an experience that shattered my ideals of what it looked like to be a "successful" grown-up. Through that painful experience, I realized that my identity was rooted in what I did, and not who I am.
Paul clearly empathizes with our human conundrum; but he knows that for us to well and truly grow up, we must learn to grow out of our past and grow into our future. And truly knowing Jesus—and what He has to offer us not just in this life but the life to come—is ultimately what gives us the freedom to leave the past behind and grow into our identity as "citizens of heaven" (Philippians 3:20).
I don't know what obstacles you have experienced along the way in your own race to the finish line. Maybe you have made some bad decisions in your dating life; maybe like me, your first "dream job" hasn't gone according to plan; or maybe you're searching for a sense of belonging in a culture of 24/7 interconnectivity.
What I do know is this: whatever our past mistakes or current anxieties, God loves us and desires us to know Him. God doesn't always take our struggles away. After all, knowing Christ involves knowing his death and the power of his resurrection (Philippians 3:10-11)—we will struggle and undergo hardship in this life. But those struggles help us to grow into the vision He has for who we can become.
If we desire to know Christ like Paul did, let us take our eyes off our temporary struggles and fix our gaze on the One who has already overcome every single one of them. Let us be strengthened by the fact that on the far side of our current struggles, there is a sweet eternity ahead of us, which we'll spend with the One who loves us and knows us like no other. And that's a prize worth aiming for.
Looking back at my faith journey, I can see where there has been a lot of disappointment and hurdles to overcome, but I can honestly say that God's plans for my life were so much better than my own. I only needed to trust Him. Instead of focusing all our attention on ourselves and the curveballs life throws our way, let us persevere by fixing our eyes on Jesus and the greater prize that is in heaven.
—By Rachel Moreland, USA

Questions for reflection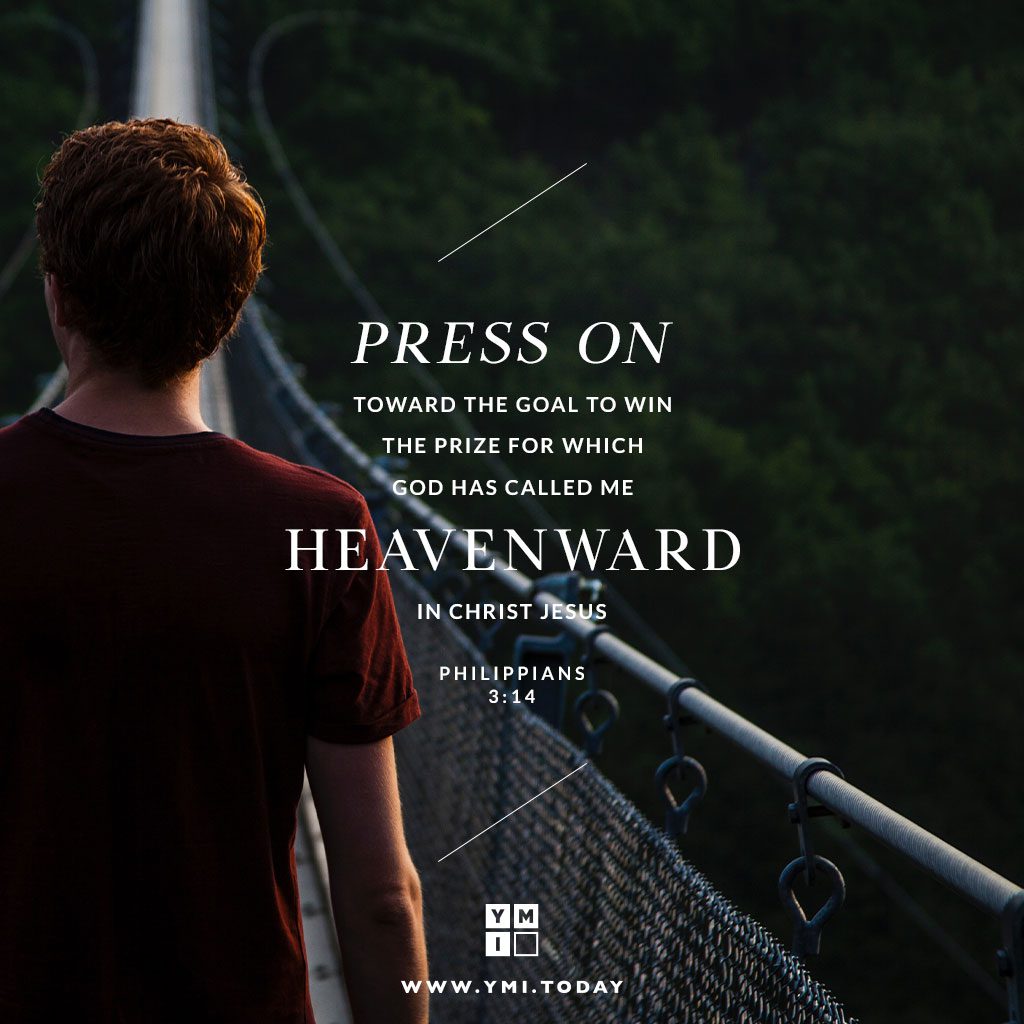 ---
Return to YMI Reading Philippians Homepage
https://ymi.today/wp-content/uploads/2019/04/YMI-Reading-Philippians-Header-Day-17.jpg
613
1024
YMI
https://ymi.today/wp-content/uploads/2017/05/ymi-logo-black-3.png
YMI
2019-04-23 00:00:11
2021-10-01 11:28:45
What Are You Setting Your Eyes On?