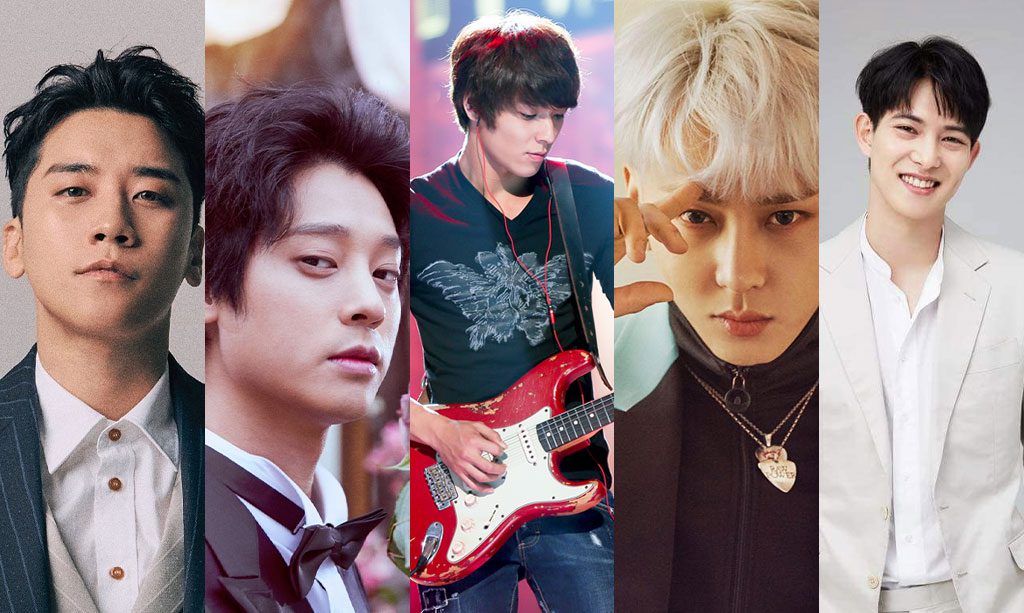 Photos taken from Facebook and Wikipedia
"I once idolized you and thought you were one of the coolest celebrities on earth. Yucks . . . you really can't judge one based on what he shows to the media. I'm utterly disgusted and disappointed," wrote a netizen commenting on the recent K-pop sex scandals.
Seung Ri, Jung Joon Young, Choi Jong Hoon, Yong Jun Hyung, Lee Jong Hyun. These are Korean idols whom many young girls all over the world look up to. They are good-looking, dress stylishly, and can sing and dance. Fans hang their posters all over their rooms, display their merchandise proudly, and gladly spend hundreds of dollars to watch them live.
No one could have predicted that their rise to fame would end in a fall from grace. As the full story unravels with each passing day, more and more Korean idols have been implicated in the scandal—and fans have found themselves shifting from adoration to disillusionment.
Seung Ri, a former member of K-pop group Big Bang was the first to be hit hard. His nightclub, The Burning Sun, is facing allegations of (among others) violence against customers, securing prostitutes for VIPs, rape, drug use, and drug trafficking. With that shocking reveal came news of Jung Joon Young, singer-songwriter and cast member of Korean variety show, 2 Days 1 Night (1N2D), being accused of circulating videos of his sexual endeavors with women.
Other K-pop idols who have been embroiled in this scandal are FT Island's Choi Jong Hoon, Highlight's Yong Jun Hyung, formerly known as Beast, and CN Blue's Lee Jong Hyun—they were all part of a chat group which Jung Joon Young used to circulate his videos. Following the exposé, some have announced their retirement from the industry while others have left their K-pop bands for fear of tarnishing the group's reputation.
This scandal seems especially ironic since K-pop agencies are known to be extremely careful with the artistes under their care. In their efforts to uphold a certain image for these artists, they often assert an excessive amount of control over these artistes: These idols are not allowed to date publicly (if at all), and even what they eat or wear is heavily controlled by the agencies. These are done in hopes of putting up a perfect persona to captivate their fans.
These idols' personas are painstakingly constructed from head to toe. They could be seen wearing the most fashionable clothes, with perfect figures and flawless, fair skin or even captured doing philanthropy work. However, this scandal has proved to us one fact: We can control how we look on the outside but alas, it doesn't hide what's truly on the inside of us.
A K-pop idol could be restricted to only having an apple, a sweet potato and a protein drink for the whole day. That still does not mean that she does not crave food like fried chicken. Forcing a change on the outside will not effect change on the inside.
Does this sound familiar? Very often, we are obsessed with sin management—changing our behavior on the outside. We want to "clean up" our actions, so we put on a show for others in church. We don't swear like we do when we're with our friends. We don't wear skimpy dresses like we do when we go out clubbing. We love to portray the "Good Christian Girl" or "Good Christian Boy" vibes.
We turn up to church every Sunday and proclaim "Lord, Lord!" when He has never been the Lord of our everyday lives. Even better, we serve God in different ministries and attend cell group or Bible Study regularly. And yet, His Word has zero impact on us and we leave the sermon with our hearts unchanged. We are merely mindlessly ticking off our "Good Christian" list.
Surely, doing these things are not bad in and of themselves. But unfortunately (or fortunately), these are not the things that our Heavenly Father looks at.
While the world looks and judges us based on what we "show" on the outside, our Father cares more about what's within. He sees our heart before anything else. If we truly think that only God's opinion of us matters, cleaning up on the inside has to be our main priority.
While it may sound like hard work, the first step is simple: "I have sinned against the LORD" (emphasis mine)—these were the very words that King David said when the Prophet Nathan confronted him on his sin (2 Samuel 12:13). Just like King David, each of us has to realize that we have first and foremost sinned against our Lord. The Lord of the Universe, our Creator and Master, our Father.
After King David recognized his sin, the Prophet Nathan declared that the Lord had taken away his sin, and that he was not going to die. He expressed true remorse and grief for his sin, which led to repentance and ultimately, salvation (2 Corinthians 7:10).
Now for those of us who harbor secret sins that we are too ashamed to bring before God, here's a mindblowing fact: Our Father is delighted and celebrates when a wayward son returns back to Him (Luke 15:32).
We are so valuable to Him that He rejoices more over us—the one repentant sinner— as compared to 99 unrepentant self-righteous persons (Luke 15:7). Our good Father delights in our broken and contrite hearts (Psalm 51:17). He delights in a heart that turns back to Him. When we confess our sins before Him, our Father is faithful to forgive and purify us (1 John 1:9). And the truth is—He's the only one who has the power to change us from the inside out.
When we read of news like the recent K-pop scandal, it's easy to point fingers at these fallen idols or react with disgust towards their sin. But let's also take a long, hard look at our own hearts and clean up the mess on the inside.
What we should fear isn't having our sins exposed to the world like it was for these K-pop idols, but when our unconfessed sins are exposed before the Great God on the Day of Judgment. Let's not wait for an exposé on the Day of Judgment to turn back to Christ. Let's repent and return to Him now.
https://ymi.today/wp-content/uploads/2019/03/What-the-K-Pop-Sex-Scandal-Reveals-About-Us-2.jpg
613
1024
Constance Goh
https://ymi.today/wp-content/uploads/2017/05/ymi-logo-black-3.png
Constance Goh
2019-03-19 11:00:31
2019-03-19 15:14:40
What the K-Pop Sex Scandal Reveals About Us