Ministering in a country where Christians are a minority can sound daunting even for an experienced missionary. However, for Amy Peterson—a 22-year-old fresh graduate at the time—the thought itself was exciting. "Going to a place unreached with the Gospel was exactly what I wanted to do," she says. The young hopeful did not expect that one day, she would be banished from the country she ministered in, unable to return.
Now 35, Amy is a writer, assistant director of honors programming at Taylor University in Indiana, USA, and mother of two children. She documented her experiences as a missionary in her first book, Dangerous Territory: My Misguided Quest to Save the World, which was published in February. "As I reflected on my experiences, I wanted to make sure that I had learned all God wanted me to learn from them," she says. "I wanted to make sure I was listening to my life."
Amy, who was raised in a Christian family, was drawn to the life of a missionary after reading biographies of famous missionaries like Amy Carmichael and Gladys Aylward as a child. "I wanted to serve God in the greatest way possible, and so I felt drawn to overseas missions," she tells YMI in an e-mail interview.
She took the unconventional route after graduating from University to explore what being a cross-cultural missionary was like. Although Amy's parents were nervous about her 10-month stint, they were supportive. Amy, on the other hand, "had no doubts" about her decision.
To prepare for her trip—which was organized by a Christian organization she was attached to—Amy attended two classes on intercultural studies from Wheaton College in Illinois and received another three weeks of specialized training from the organization.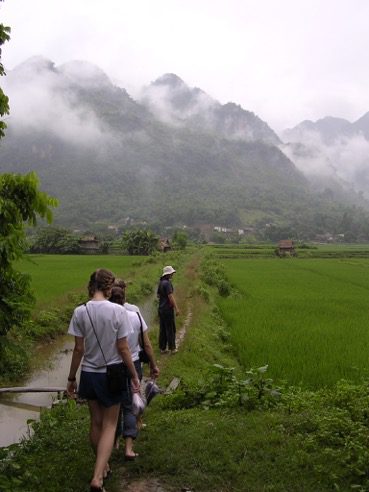 The training was especially crucial for Amy as she was not allowed to directly evangelize in the country. Due to the Southeast Asian country's political situation and cultural dynamics, she was only able to enter the country as an English teacher. Amy says: "I was simply living my life as a Christian in a foreign country."
Amy's efforts paid off when one of her students, *Veronica, started to visit her apartment with questions about Christianity. "I think she guessed I might be a Christian because I was American," Amy says. The 19-year-old had become interested in Christianity because one of her favorite American pop stars was a Christian.
Veronica's quest for more answers kept her visiting Amy. In the end, they started reading the Bible together and studying the book of Luke every Sunday night. They also watched Jesus, a 1979 film adapted from the Gospel of Luke, together with two of Veronica's friends. Veronica later borrowed it over the Lunar New Year break so that she could watch it again with her family members.
After several months of Bible study with Amy, Veronica started to understand how Jesus sacrificed Himself on the cross for sinners. She subsequently prayed to receive Christ.
Amy recalls receiving a letter from Veronica, in which she wrote: "The Bible let me understand that the Father comes to us not because we are good enough, but because we are forgiven." Reading the letter, Amy was astounded that Veronica could already recognize this truth, which Amy took years to grasp.
Over time, Amy witnessed how Veronica would eagerly share about her newfound faith with those around her, including her family members, classmates, and even friends studying at different colleges around the country. She even finished reading the whole of the New Testament by herself and did Bible study with her friends. By the end of the school year, four other friends of Veronica had come to know the Lord.
At one particular dinner with Amy's Christian friend and Veronica, Amy recalls how Veronica boldly declared: "If I have to choose between my country and God, I choose God." She also went on to talk about the power of the Word of God fearlessly, saying: "I have a more powerful weapon than my government does. I'm not afraid."
Unfortunately, after Amy returned to the United States for her summer break, the local police found the students having Bible study. They were repeatedly interrogated and threatened by the authorities, had their Bibles confiscated, and forbidden to talk about Jesus.
Cracking under pressure, one of the students revealed that they had received their Bibles from Amy. The police ordered the university to sack Amy. She was also not allowed to enter the country again. "I had no idea that I would never come back," she says. "The experience shook my faith." Although Amy kept in touch with Veronica for three years after she left, she soon realized that the police were still monitoring and checking on Veronica. Hence, for Veronica's safety, Amy decided to stop contacting her. (Because Amy's students are still being monitored by the police, Amy can't reveal which country she went to for their safety.)
The series of events made Amy feel guilty. "There were so many things I didn't know, so many things I took for granted, so many ways I wasn't cautious," she wrote in her book. Some of the things Amy wished she had not done include allowing Veronica to keep the Jesus film over the mid-semester break, conducting a Bible study session with her students in public, and not warning Veronica to be careful.
It took a year of struggling with the guilt before she was finally able to forgive herself. "I made mistakes. But obsessing over my mistakes elevates them as more powerful than the sovereignty of God." When asked if she regrets going to there, she answers with a firm "Never".
To the current writer and teacher in Indiana, her mission with God has not ended. Her role as a mother and a teacher gives her the opportunity to share about God with her children and help her students navigate their relationships and life circumstances. Amy says, "I think all of us are called to be on mission with God, putting love where love is not. I seek to use my words in ways that help make the deep, deep love of God clear to those around me. I believe that we can do small things with great love."
Ultimately, Amy hopes to encourage fellow Christians to keep serving God. "I believe firmly that God is working in exciting and meaningful ways through people in all vocations, not just through missionaries," she says. "God is at work everywhere, if we have eyes to see it . . . and God calls all of us to be on mission, wherever we are."
Read more about Amy's story in Dangerous Territory: My Misguided Quest to Save the World. Published in February this year by Discovery House, it is available at www.dhp.org for $13.99.
*Not her real name
https://ymi.today/wp-content/uploads/2017/04/Amy-Peterson-The-Banished-Missionary-1-e1493103472681.jpg
611
1024
Constance Goh
https://ymi.today/wp-content/uploads/2017/05/ymi-logo-black-3.png
Constance Goh
2017-04-25 10:00:20
2017-06-29 11:18:20
Amy Peterson: The Banished Missionary