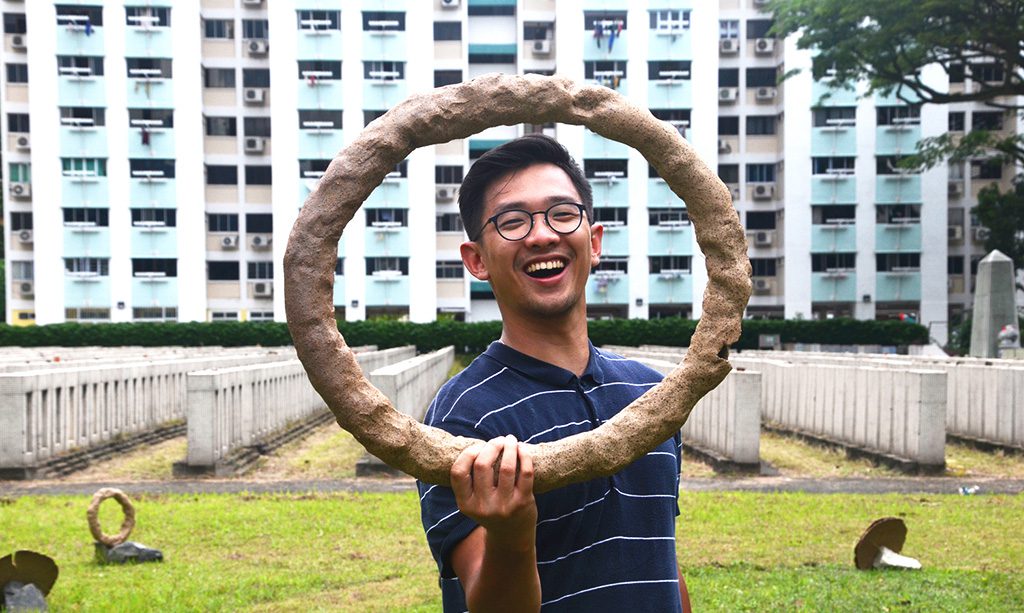 It was his first time on a plane. Flying 15,000 kilometers from his home in Singapore to the mid-Atlantic region in the United States, where he would spend the next four years, Ivan David Ng was excited about his newfound freedom and eager to embrace new experiences. But the young artist would soon find out that being a Christian in a foreign land—what more, in a fine arts university—would be one of the most challenging experiences in his life.
Today, Ivan is back in Singapore, as an up-and-coming artist who has exhibited his works both in the US and Singapore. He recently graduated with a Bachelor of Fine Arts in Painting from the Maryland Institute College of Art, where he was the commencement speaker for his cohort.
Throughout the two-hour long interview with YMI, the 26-year-old exudes joy and confidence when sharing about his art and faith. But things were not always this way, he tells us. In his freshman year, he was confronted with culture shock, personal challenges, and opposition to his faith.
In his first week of school, a faculty member openly ridiculed him for being a Christian. His philosophy professor had asked everyone to introduce themselves and to share what helped them make sense of the world. When it came to Ivan's turn, he explained that it was his faith, having become a Christian at the age of 17. His professor promptly responded that she thought religion was "very insensitive, illogical and intolerant".
This hostile reaction was a rude awakening. But Ivan soon found it becoming a weekly occurrence. Any mention of his faith, Jesus, and going to church on Sundays was met with patronizing smiles, awkward silences, and the occasional eye roll. "I felt like I was thrown into a furnace, it was extremely difficult for me," he adds.
Throughout his time in university, his close friends teased him frequently about his faith and the choices he made for his belief—especially when it came to his sexual conduct. One of the more memorable comments he received was, "Did you put on a chastity belt and throw the key away?"
He says, "When I first got there, I felt like Elijah . . . am I the only Christian here?" When Ivan tried to seek out other Christians in the college, he stumbled upon a small Christian fellowship on campus. They started to meet regularly.
"It was a time of ministering to one another, loving other people together, and supporting one another in prayer," he adds. "Once there was strength in numbers, I didn't feel alone anymore and we started serving the people in campus together. We became Jesus' covert hands and feet in a place where people didn't want anything to do with Him. The support of these Christian friends was how I stayed Christian."
Expressing love in a hostile environment
The hostile secular environment and several failed attempts to reach out to friends using traditional methods, however, made him rethink his approach to evangelism. "It's not so much about standing up for what you believe, but more of just loving people that God has placed around you," he says. "If I can love them so much and want their salvation so much, what more God? I've learned to be prepared for long-term gospel work and enjoy them genuinely as friends—that's evangelism in that context," he explains.
The key, he says, was to be emotionally invested in his non-Christian friends and learn to enjoy their friendship and company. He says, "Often, as Christians seeking to reach our friends, we feel the responsibility to give to our friends emotionally, spiritually and even materially. But how often do we allow these non-Christian friends to give to us? In a real friendship, this goes both ways. Otherwise, these friends we are trying to reach out to become 'projects'—and they feel it."
"These friends supported me when family members passed away while I was far away from home . . . if they sometimes want to tease me for my faith, so be it! I know they love me," Ivan says with wide grin. For him, the right to speak about the truth found in Jesus had to be earned through a long, faithful friendship, where love and mutual enjoyment has been consistently demonstrated.
Over time, some of these relationships bore fruit. When a friend who often laughed at Ivan for his faith faced a major personal problem in his life, he turned to Ivan and asked for prayer and counsel. The incident encouraged Ivan immensely.
Experiencing God through Art
Besides the shift in his perspective on evangelism, Ivan experienced another change. Though he was a painting major, Ivan discovered that he was more inclined towards material-based and tactile processes. Slowly, his work took on more three-dimensional forms. "I liked to do things with my hands. Sculpting gave me more satisfaction as compared to painting," he shares.
To Ivan, his art and his faith are intertwined. He says, "My art is essentially about my faith . . . If I were to talk about themes surrounding my art, it stems from a search and longing for God." He draws inspiration from landscapes, and enjoys working with natural materials such as stone, handmade paper and clay. Referring to them as "toys that God leaves behind for me to discover", he says, "In putting these materials through processes that transform them, I feel that it is God leading me on a journey of discovery and wonder."
His passion and joy in creating his art is evident as he excitedly explains and shows off pictures of his art pieces, one of which is a sculpture titled Are You In Love. Pointing to the grey stone, he says, "I cut open a quartzite stone I picked up from a construction site, only to discover that the stone was shiny and glittery on the inside, although its surface was dull."
To Ivan, using the materials that God created and designed in his art is a form of worship. "As I create, I am merely reflecting my Creator. As I work with these beautiful materials that He has in the first place created, I acknowledge God as Creator and I recognize myself as collaborating with Him," he says.
That said, he urges young Christian artists not to feel the pressure to always make their art a tool for presenting the Gospel. "I don't intentionally weave the cross into my work, although the work by nature bears witness to God in creation. Sometimes when artists use art as a direct, literal Gospel tool, it ends up being cheesy because people already know where it leads. They don't feel invited into a deeper conversation; instead, some may feel that the work is lecturing them. It closes up conversations instead of opening them up," he explains.
He hopes young Christian artists can learn to enjoy making their art and "find God's fingerprints in their making of art". "God is always involved—it's whether you're conscious of it or not," he says.
For Ivan himself, art is a springboard for relationships and for long-term Gospel work. He says, "Enjoy the people your pursuit of art takes you to and see those relationships as Gospel opportunities. Perhaps that's the way we can be witnesses for Jesus as artists."
https://ymi.today/wp-content/uploads/2017/07/Ivan-David-Ng-Displaying-Love-and-Art-Amid-Hostility.jpg
613
1024
Constance Goh
https://ymi.today/wp-content/uploads/2017/05/ymi-logo-black-3.png
Constance Goh
2017-07-07 10:00:59
2017-07-10 15:19:31
Ivan David Ng: Displaying Love and Art Amid Hostility