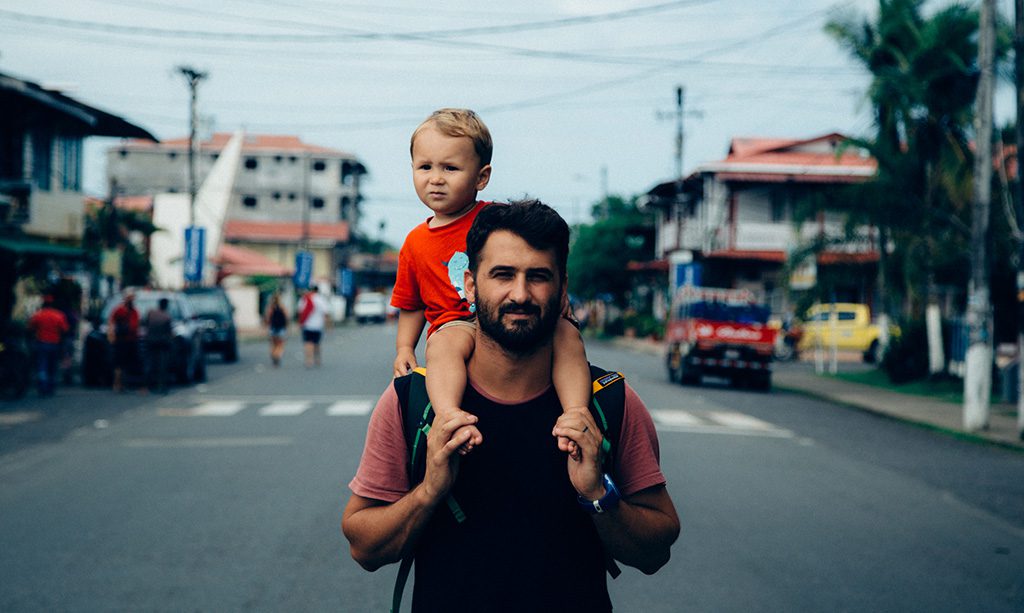 James Fazio knows what it's like to be at death's door, but he's not one to let a harrowing experience stop him from grabbing life by the reins. He's now using his love for surfing and filmmaking to help turn around the lives of troubled teenagers, giving them their own story of a second chance in life.
The 27-year-old American pro-surfer, filmmaker, and father of two, has just completed his first documentary, Time Well Spent, about four teenage boys from different parts of the world who each have a unique story of pain and hardship but are bound by a common love for surfing. He hopes to release the documentary in the boys' home countries, followed by the US.
In the 1½-hour long documentary, viewers follow Kross Brodersen from Hawaii, Henry McAlvany from Indonesia, Declan Bradley from Australia, and Yeferson Bellido from Peru on a surfing journey that culminates in a discovery of their value, worth, and place in life.
It's a project that has cost James heavily in terms of energy, money, and time—it took him close to three years to put this documentary together—but it's been worth every cent, second, and inch of effort. To James, this is simply his way of giving back to God after being given a second chance.
God's Plan for James
The documentary's tagline, "Your past does not define your future", reflects James's own life journey. The surfer almost died at the tender age of 13 after he contracted Kawasaki disease, a rare auto-immune disease that causes blood inflammation. For months, high fevers raged in his body, causing skin to peel away from his hands, feet, and around his mouth and throat. The last bit was the worst, as it left his throat sore and unable to eat. He needed 16 aspirin tablets every day just to keep his temperature down and the inflammation at bay.
"They had to shove Go-gert (yogurt in a tube) down my throat just to take the aspirins," he recalls. To make matters worse, he was resistant to every medical cure. The prognosis was grim: James was likely to die from the disease. "I was pretty bummed thinking I would die without really doing anything," he says.
And even if he did survive, he was told, he would suffer from heart problems for the rest of his life, making it impossible to lead an active lifestyle. That was heart-breaking news to the young boy, who loved surfing and soccer.
But God had plans for James. Through a prayer chain at church, his story came to the attention of a woman who had heard of a new experimental procedure. James was put on Remicade, a drug used to treat rheumatoid arthritis or severe plaque psoriasis. "My parents signed document after document, giving consent for me to take this medicine," he says.
Young James was only the second person to undergo this experimental procedure. To the surprise of the doctors, it worked. "They were shocked by my case—that I was one of the most resistant cases, yet walked away with no long-term side effects or heart troubles," he says. James's case was even reported in a medical journal.
Six months later, James was back playing sports and catching his first waves, doing nearly everything that seemed so impossible just months before. "It was truly a miracle," he says. "I should not have made it. I should have not ever been able to play sports again, and I most definitely should have had major heart problems for the rest of my life."
Convinced that divine intervention saved his life, James resolved to change his perspective towards life. "God saved my life at 13 years' old and I knew I wanted to live my second chance the best I possibly could. I wanted to know this amazing God who saved me and I wanted to live a life for Him," he shares.
 
Giving Back to God
From then on, James desired to give to others the way God had given to him.
As soon as he completed high school at the age of 19, he went to Chile to volunteer and eventually landed in an orphanage in Perú, Casa Generacion. There, he met Yeferson Bellido, a 17-year-old who was the oldest boy in the orphanage and also its longest resident. The duo became firm friends and would go surfing every day. Once James heard about Yeferson's life story, he was determined to share it with the world.
"He went from living on the streets and living with abuse of all sorts, to moving into an orphanage, and becoming one of the top surfers in Peru. And he was studying to be an architect at university," he says. "Most of the people I know from privileged life circumstances can't even accomplish half of what Yeferson did."
James was not a filmmaker at that point, but Yeferson's story gave him a strong desire to be one. "I had a dream one night," he says. "God spoke to me and said to use filmmaking to show people His love and character." This was confirmed by three people who told James he would be making movies one day.
James met the rest of the boys—Kross, Henry and Declan—through his travels, family members and colleagues. "We chose these boys because they had been through so much in their lives, and their common factor was that they turned to the ocean as their refuge," he says. The ocean, he explains, was a safe place for them to get away from their problems and frustrations. And despite having gone through abuse and homelessness—one also losing his parent through suicide—they still had "amazing hearts" and wanted to do more with their lives.
A Rocky Journey to the Waters
While God placed their hearts to bring the boys on an amazing trip, it was not all smooth sailing. Apart from finding the money to finish the documentary and facing disapproval from friends and acquaintances, James and his team also had to deal with the paperwork to get passports and visas for the boys.
With no official sponsors or backing, money was often tight. Friends could not understand why James wanted to devote so much time, energy, and money to the documentary. "We received a good amount of flak of taking this project on," he recalls. "But every time we were about to give up because we had no money, or something wasn't coming together, God worked it all out and provided for everything through incredibly generous people."
The team received funds through a small crowd-funding campaign and from friends and a non-profit sports organization, More Than Sport. But the backbone of the support was Kross' and Declan's communities back home—they came out in full force to support the boys' fund-raising.
Looking back, James says it's still impossible to comprehend how everything came together. "It was truly nothing special we did, but all Him," he says. "One huge undertaking was the boys' legal paperwork: we had to track down birth certificates, get social security cards, identification cards and finally passports. It was incredible it all came together on time."
And it was all worth it. James recalls a particularly touching moment where Kross handed the keys to a house he and the team had "worked their butts off" to build, under the blazing Panama sun, for a local family.
Kross had spent a large part of his childhood homeless or couch hopping, so the gesture was especially touching. It was also at that moment that Kross realized he was no longer just a homeless kid, but an "amazing young man" who had the ability to make a difference in someone else's life, James says. "He was crying, all the other boys were crying, and our whole crew was crying while trying to hold the camera steady. It was a special moment to be part of."
More Stories to Be Told
While James is relieved that the project is finally completed, he is slightly nervous about how the film might be received. "For me, this being my first big personal project, now comes the thought, 'What will people think about my work?' " James says. He plans to submit the documentary to various film festivals before looking for a proper distribution channel. "I am also very excited for the four boys, for their stories to be heard, for them to feel proud and even hopefully get discovered by companies for their incredible stories and surfing."
Ultimately, says James, the documentary is about inspiring people to see that they are "worth so much more than they choose to believe". "I want others that are in a similar situation to see hope in the boys' stories and choose not to give up," he adds.
As for his future plans, James is thinking of doing a few more documentaries. He plans to do a feature on Yeferson as well as document the story of the woman who started the Casa Generacion orphanage.
Ask James why he does what he does, and this is his reply: "God saved my life, changed my heart and gave me a purpose to live. I do what I do because I want the broken and the lost to feel the hope again. To feel they're worth something. To be inspired to live a fulfilling life. And to show them the gracious love that God has shown me and that they have a Father in Heaven who is there for them."
To find out more about the documentary, click here. 
https://ymi.today/wp-content/uploads/2017/08/Fazio.jpg
613
1024
Michele Ong
https://ymi.today/wp-content/uploads/2017/05/ymi-logo-black-3.png
Michele Ong
2017-08-25 10:00:41
2017-08-31 17:51:06
James Fazio: Changing Lives after a Near Death Experience