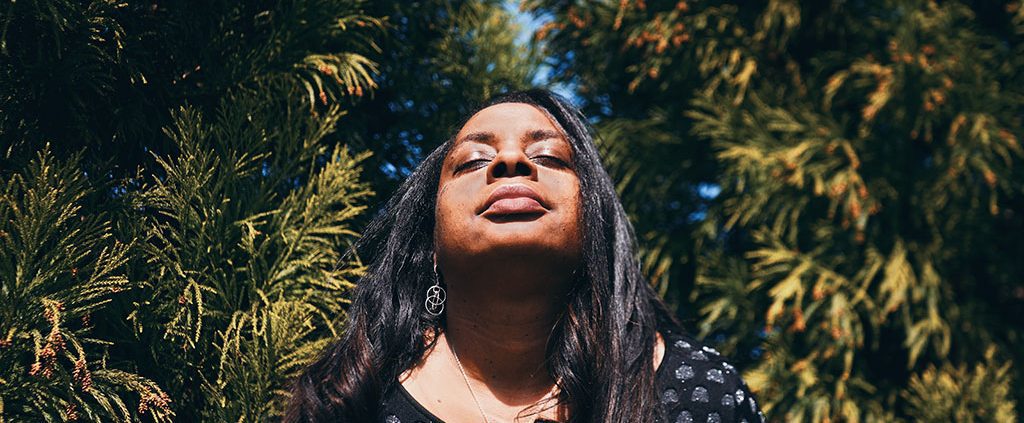 Written By Bree Rostic, USA
"Stay woke? Well, I must be awake, because I am talking with you."
That was my response to a friend when I first heard the term, stay woke*. We were discussing a news article about racial relations in America. The phrase stay woke implies the need to be conscious and alert to avoid being misled by propaganda. It also encourages people to do their own research and critical thinking.
Seems harmless right? I thought so too. When it came to things like advertisements, politics, racial relations, and even news stories, I was prepared to research those things. But what I didn't expect was someone telling me to stay woke—about my faith.
I was scrolling through Facebook when I came across an ancient Egyptian image with the words "You Still Believe in God. Stay Woke." It implied that the God I knew, loved, and believed in was a figment of my imagination. It was a subtle shift, a seed of doubt attempting to transform my thinking about God.
Although we know God is not just a figment of our imagination, or the imaginations of over two billion Christians worldwide, the challenge to my faith made me pause and ponder. How many people are being misled by the stay woke movement? At that moment, I was strong enough in my faith to identify and withstand a sneaky attack, but what about moments when we are weak? What happens when this deception comes from someone we love?
As believers, we understand that the enemy comes to steal, kill, and destroy (John 10:10), and we can spot the subtle tactics he uses. His manipulation, divisiveness, temptation, and suggestive nature, all sowing confusion in people, can be traced back to his fall from grace. So, if we know what the devil does and how he does it, what's different now? Why is it so easy for us to become victims of attacks such as stay woke?
We are living in the information age, and we have access to vast amounts of knowledge instantaneously. This isn't always bad. On one hand, we can give and receive vital information through our connections. However, we risk taking in content that is destructive and deceitful. The enemy uses this as a tool to attack our belief system.
So what are we supposed to do as believers? Stay woke! Let's take back what it means to "stay woke" and change the narrative.
When Paul wrote to the church of Ephesus, he talked about walking in light (that is, in righteousness and truth), and how light expels the darkness: "This is why it is said: "Wake up, sleeper, rise from the dead, and Christ will shine on you" (Ephesians 5:14). Light doesn't become darkness; it doesn't ask darkness permission to be the light. This is what I mean when I say we have to stay woke as Christians.
Below are five tips to stay woke as Christians with practical applications:
1. Get Clarity
My pastor, Dr. Jermone Glenn, teaches that the Bible is a constitution. Not only is it the living and breathing word of God, but it is also the foundation of our beliefs, rights, and privileges as ambassadors of the kingdom of heaven. Thinking about the Bible in those terms has given me clarity about its authority so I know how to respond when my faith is questioned.
Practical Application: Study the Bible in multiple translations, listen to trusted teachers, and research historical context to have a well-rounded understanding of the Word of God. (Romans 10:17, Joshua 1:8)
2. Have Consistency
Know that the God we serve is consistent and unchanging. While we can receive new revelations about God through prayer, fasting, and studying, His ways—higher and deeper than ours—are always consistent. When we are given new information, test it with the Bible. Does it match the principles found in Scripture? Testing whether information is true and consistent will help us grow in maturity. (Hebrews 13:8, Malachi 3:6, Romans 12:2)
Practical Application: Test new information against Scriptural principles. Use a concordance or other Bible study tools to expand your knowledge base.
3. Stay Connected
Being around like-minded people will help us in our efforts to "stay woke". If you are around others who believe in God and are living righteously, you will be more likely to do the same. It's easier for us to withstand deception when we are accountable to a community. Division, separation, and isolation all make us vulnerable. (Acts 2:40-47, 1 Corinthians 14:26)
Practical Application: Schedule time with family and friends in your faith community for expanding your faith, fellowship, feasting, and fun.
4. Be Conscious
We must always be aware of what we take in subconsciously. Let's tend to our spiritual diets (our intake through the mind) as we do our physical diets. Let's be aware of what's going on in the world, and not live in fear or try to ignore current events. Instead we should be in touch with what God's Word says about them. (Ecclesiastes 3:1, 2 Timothy 4:2, Ephesians 5:6)
Practical Application: For a balanced outlook, spend time in devotions and studying the Bible before engaging the news.
5. Live out your Creation
Remember that we are the creation chosen to give God glory. We are God's greatest witnesses on earth. As ambassadors of the kingdom of heaven, we must exemplify a life that glorifies God. The most effective and vital way to "stay woke" is to be a full expression of who God created us to be—by using our talents and gifts for Him. By focusing on living purposefully, we block out distractions. (Matthew 5:6, 16; 13:43, Hebrews 2:7)
Practical Application: Schedule time to perfect your craft. What has God called you to do? Spend time developing yourself in those areas.
Making these areas a focus in our lives will increase our spiritual growth and maturity. Tests and temptations will come, but if we "stay woke", we will be able to withstand them. The Bible tells us to be aware of false teachings and doctrines that try to draw us away from our faith, and one subtle way that happens is the suggestion that we have been deceived by our faith in God. But the next time someone tells us to stay woke, we will be able to confidently state—we are!
 *Woke is used as a byword for social awareness and justice. Stay woke became a watch word in parts of the black community for those who were self-aware, questioning the dominant paradigm and striving for better. The word signaled awareness of injustice, racial tension or oppression. This now includes the idea of false belief in the "white man's God."
https://ymi.today/wp-content/uploads/2017/08/5-Tips-to-Stay-Woke-as-a-Christian.jpg
613
1024
Contributor
https://ymi.today/wp-content/uploads/2017/05/ymi-logo-black-3.png
Contributor
2017-08-01 10:00:01
2020-05-29 21:53:56
5 Tips to Stay Woke as a Christian