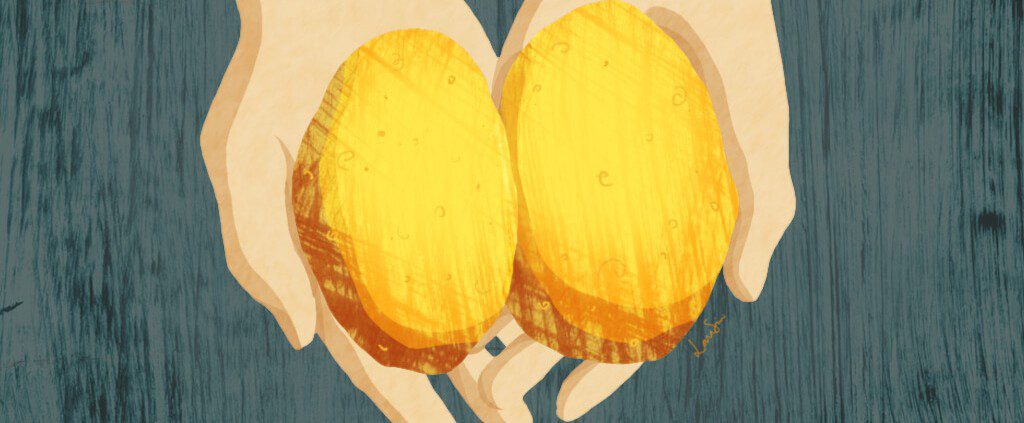 Illustration by Lara Sim
Written by Diana Yemima, Indonesia, originally in Bahasa Indonesia
Prayer can be answered in many small ways. For me, it came in the form of two precious potatoes.
I come from a relatively poor family. With my father's meagre salary as an administrative staff, we struggled to feed ourselves after paying the utility bills. To help with the finances, my mother sold snacks—plain sugar "doughnuts" made out of potatoes—around our neighborhood.
Because of my mother's weak constitution, she could not work every day. So, for three days each week, she would sell her doughnuts by the roadside. On the other days, she would do the household chores and visit the market to buy the ingredients for the doughnuts. Selling doughnuts only three days a week, my mother said, was her "strategy" to keep the demand high.
The Lord blessed my mother's business. Her customers would buy plenty—some more than five doughnuts at a time. The doughnuts would always be sold out by the end of the day, providing us enough money to buy food for the family.
On one occasion, however, we didn't have enough money to pay the electricity bill as my father had used some of his income to pay off some debts. Desperate, my father tried to take a loan, but he didn't succeed. To help, I decided to draw out all my savings. I was reminded of Luke 3:14, where John instructed the soldiers to be content with their pay. This verse reassured me that God would provide for all of our needs.
I remember holding the money in my palm and praying: "Oh Father, you know that this is all the money we have left and this money will be used to pay the electricity bill. I leave this money in Your almighty hands. With this money, we shall be able to afford all our needs until the end of the month. In Jesus' name I pray, amen."
With my savings and the money meant to buy the ingredients for my mother's doughnuts, we just had enough money to pay the electricity bill.
Then came Monday, the day my mother was supposed to make doughnuts for sale the next day. Knowing that we had used up the money to pay off the electricity bills, I asked my mum, "Are there no ingredients left in the kitchen?" There were two potatoes, she replied, but she needed two more to make the doughnuts. Not believing her, I rushed to the dimly-lit kitchen to check. She was right—there were only two potatoes left.
I knew that if my mother didn't sell any doughnuts the next day, we would not have enough money to buy food for the family. So I went to my room and prayed: "God, thank You for blessing us so that we could eventually pay the electricity bill without borrowing any money. But, God, my mother has run out of potatoes to make doughnuts, even though we need the money to buy our meals for tomorrow. Father, I believe that You will never neglect Your children or let them starve. You will have a solution to our problems. We leave everything in Your almighty hands. In Jesus' name I pray, Amen."
After I had prayed, I left my room and saw my mother approaching me with a big smile on her face. My father had found two more potatoes hidden underneath the stairs! At first, my mother was worried that those potatoes had rotted since they were left over from last week, but surprisingly, they were still in good condition.
I was moved to tears when I saw God's provision. I knew that the potatoes were from God. God had answered my prayer with two potatoes. I realized that God's help is never too early or too late—it is always on time.
When we face a difficult situation and it seems like there is no way out, God has the best solution for His children. My experience with God was proof that He will always provide.
Since then, God's promise in Luke 12:22-24 has always assured me greatly. He promises to care for us, His children, and to provide for our needs. The Lord Jesus told us that the ravens do not sow or reap and still, God cares for them. So if God cares for even the ravens, what more us, His children?
God will never renege on His promises, but we also need to do our part. "Cast all your anxiety on him because he cares for you" (1 Peter 5:7). No matter how big our problems are, the Lord Jesus is always walking alongside us, and He will even carry us when we feel weak. It is only when we admit our weaknesses and humble ourselves in front of Him, that we will feel His presence in our life.
No matter how unsolvable our problems might seem, do not give in to the situation—give in to God.
https://ymi.today/wp-content/uploads/2017/06/God-Answered-My-Prayers-with-2-PotatoesLara-Sim.jpg
613
1024
Contributor
https://ymi.today/wp-content/uploads/2017/05/ymi-logo-black-3.png
Contributor
2017-06-02 10:00:15
2017-06-01 13:44:59
God Answered My Prayers with 2 Potatoes