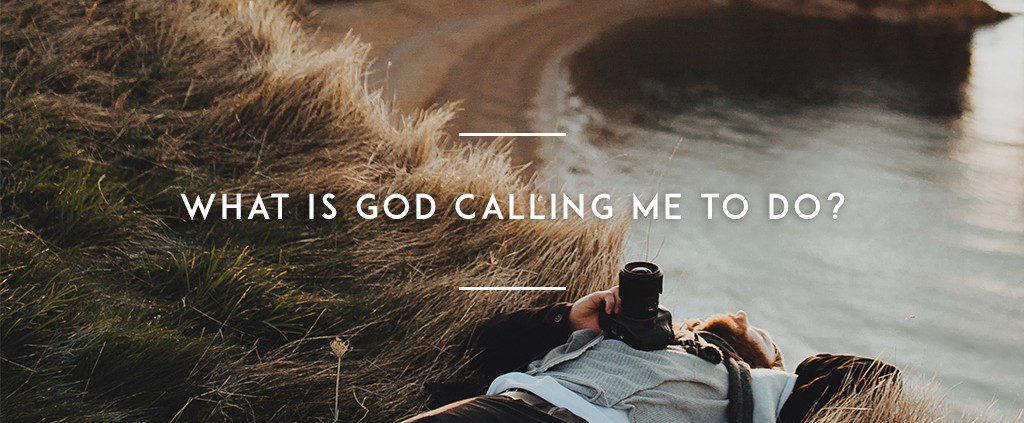 Written By Daniel Ryan Day, USA
Daniel is the author of two books: Ten Days Without and Intentional Christian. He is also the operations manager of a company that operates a family entertainment center, hotel and restaurant, as well as a blogger at intentionalchristianity.com. Daniel attempts to live out intentional Christianity in North Carolina, as a husband, father, and businessman.
There have been so many times in my life when I didn't know what to do. Sometimes, those moments were silly, and getting the answer wrong didn't have significant consequences. Like this past Christmas, when I got way too stressed out trying to figure out the perfect Christmas present for every person on my gift list. I mean, really. What's the worst that could happen?
But there have been other moments when I felt like the decision I faced was life-changing, and if I chose the wrong road, it could mean missing out on what I was supposed to do with my life.
I think my culture places a lot of pressure on young adults to figure out the rest of their lives when they are between the ages of 18 and 24—especially when it relates to choosing an occupation. As a result, we are left with over-stressed teenagers, degree-less college students, and young adults (some in their 30s and 40s even) who bounce from job to job trying to figure out the answer to the question: What am I supposed to do with my life?
For Christians, there's a deeper longing within us than just the desire for a purposeful and fulfilling occupation: Christians are also searching for God's will for their lives, because we believe that God should have something to say about our future. We think the choice of a job is not fully up to us.
But what if God never tells us what He wants us to do? What are we supposed to do if God seems eerily silent whenever we ask Him to tell us what He wants for our lives?
That's how it was for me. I begged God to tell me His will for my life. I was willing to do whatever He wanted me to do; I was willing to move wherever He wanted me to move. But He was quiet—too quiet. Just like the foreboding scene in a thriller movie that comes right before someone dies. Maybe I'm going to die. I hope not.
This is God's Will For Your Life
Because I couldn't find the answers to these questions, I became frustrated with God. Have you ever been frustrated with God before? Well, I was. In fact, I got so frustrated that I Googled it—yes, I actually Googled, "What is God's will for my life?"
I landed on a webpage with a list of Scripture passages. After reading the first verse on the list, I nearly threw my computer out of the window. It was Jeremiah 29:11, which said that God had a plan for my life.
"I know God has a plan!" I yelled out loud. "The problem is that He won't tell me what it is!"
I read the next verse listed, 1 Thessalonians 4:3. "For this is the will of God, your sanctification." What?! I had been searching for the will of God for I-don't-know-how-long, and it was right here in the Bible the entire time! It made me wonder what else I'd missed, and what other callings might exist. I started searching.
Later in that same book, 1 Thessalonians 5:16-18, I found this verse: "Rejoice always, pray without ceasing, give thanks in all circumstances; for this is the will of God in Christ Jesus for you." And then I noticed 1 Peter 2:15: "For this is the will of God, that by doing good you should put to silence the ignorance of foolish people."
The more I searched, the more I found, and I soon discovered that the description of God's will for our lives was quite long—super long. So long, in fact, that I started to feel overwhelmed by the call of God. How could I remember, much less do all of these things?
But then the Holy Spirit reminded me of a promise that Jesus made to all who would follow Him: "Come to me, all you who are weary and burdened, and I will give you rest. Take my yoke upon you and learn from me, for I am gentle and humble in heart, and you will find rest for your souls. For my yoke is easy and my burden is light" (Matthew 11:28-30).
During Jesus' time, a yoke was a wooden bar that was placed on the neck of an ox, allowing it to pull a heavy load. Often, two oxen were yoked together so they could pull twice as much.
I don't know about you, but I don't know anyone who still uses a yoke and oxen to pull heavy loads. So I like to think of this verse in light of the baggage tractors I see at airports. Have you ever looked out of a plane window—or watched a movie that takes place at an airport—and noticed the baggage trains? Usually there's a tractor followed by four or five baggage cars full of suitcases. Think of a yoke as one of those tractors. It's got to be a pretty heavy load, right?
As I was reading through Scripture and taking note of the many commandments, expectations, and callings that God had for me, it was like adding a new suitcase to the baggage train. By the time I was finished, I had a lot of baggage cars on my train, and they were all full of the specifics of God's will for my life. It was a heavy load.
But Jesus said that His yoke—all the responsibilities and expectations of what it means to follow Him—was supposed to be easy and light. So if I am burdened by what it means to follow God, something's wrong.
The Greatest Calling and the One Like It
The truth is that Jesus simplified our calling for us. He said, "You shall love the Lord your God with all your heart and with all your soul and with all your mind. This is the great and first commandment. And a second is like it: You shall love your neighbor as yourself. On these two commandments depend all the Law and the Prophets." (Matthew 22:37-40)
I think that Jesus not only gave us the greatest commandment, but in this passage, He also outlined what I call the greatest calling. First and foremost, you and I are called to walk in relationship with God. Instead of having to remember a long list of do's and don'ts—like a long train of baggage cars—Jesus removed the heavy burden of the law of Moses from our shoulders and gave us a simple summary of the purpose of our lives.
What is this purpose? It is simply this: Love God and love others. That is the greatest calling, and if you remember nothing else, I hope you remember this truth: God has called you—and that's His will for your life—to love Him with all of your heart, soul, mind, and strength, and to love your neighbor as yourself.
https://ymi.today/wp-content/uploads/2017/05/What-is-God-calling-me-to-do.jpg
613
1024
Contributor
https://ymi.today/wp-content/uploads/2017/05/ymi-logo-black-3.png
Contributor
2017-05-03 10:00:37
2017-04-27 10:04:38
What is God Calling Me To Do?