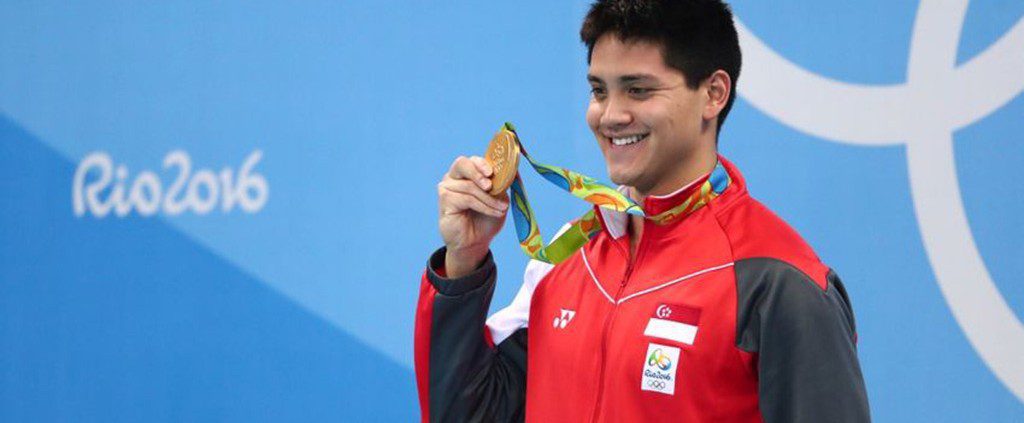 Written By Natalie Hanna Tan & Joanna Hor
Image taken from here.
Just before the crack of dawn on the tiny island of Singapore, a hero's welcome awaited 21-year-old Joseph Schooling, the country's first Olympic gold medallist, who had just touched down after a 24-hour flight from Rio de Janeiro.
It started with a water gun salute as the plane hit the tarmac. This was followed by hundreds of adoring fans adorned in red and white, screaming and chanting his name as he made his way into the arrival hall. The grand welcome was a fitting tribute to the tremendous success the young swimmer had attained in the pool at the ongoing Olympics: On Saturday morning (13 August), Schooling beat stiff competition in the 100 meters Butterfly finals to become the first Singaporean athlete to win an Olympic gold medal.
For Singapore, he had achieved the impossible by winning its first gold medal and setting a new Olympic record. For the rest of the world, he had achieved the impossible by beating the mighty Michael Phelps, the most decorated Olympian of all time, with a timing of 50.39 seconds.
As Singaporeans, we watched the nation rally together and bond as we celebrated Schooling's win. Since Saturday, numerous companies have been posting congratulatory messages on various media platforms or announcing deals and discounts to honor his achievement. One taxi company said it would be displaying a congratulatory message to Schooling on all 17,000 of its taxis' rooftop signs for a week, while one fast-food giant celebrated his victory by giving out free nuggets to the first 50 customers.
Schooling himself was also rewarded with a S$1 million prize from the government, 1 million miles and a Krisflyer elite gold card from Singapore Airlines, and free rides from ride-hailing platform Grab for an entire year. On Monday, he also made history by being the first sportsman to be formally congratulated in Parliament.
Needless to say, as fellow Singaporeans, we are very proud of Schooling's achievements. And like many others, we're fully supportive of every accolade he has received and will receive in the days ahead. But as we celebrate his win, perhaps it would be good to mull over some lessons we can learn from his journey.
1. Success is much sweeter when it's motivated by a larger cause
What was striking about the deluge of articles about Schooling was that his family and friends played a huge role in his motivation to win. At a press conference after his epic win, he said, "I think this race means more to my family and friends and those people who supported me. I did this for them – when you do that, when you race for people greater than yourself, it really means a lot once you've accomplished what you wanted to."
The close-knit tie that Schooling, an only child, shares with his parents is a beautiful one to behold. Right after his race, he was reported to have made a call home to his dad and told him, "I love you too, Dad". Upon his arrival at Changi Airport on Monday, father and son were photographed sharing a long hug. "My love for my son is nothing I can describe to you all," Colin Schooling was quoted by various media outlets as saying.
It is also noteworthy that Schooling has a deep passion for his country. During the conference, he shared that he hoped to pave the way for sports in Singapore, set a new precedent for the young, and show others that people from the smallest countries can do extraordinary things.
Let's constantly remind ourselves what or who we're achieving success for, and may that drive us to do our best in everything. When we strive for success for something or someone beyond ourselves—whether for God's glory or for our loved ones—it is always sweeter.  
2. Success comes at a hefty price
Although Schooling took just 50.39 seconds to make history, it was the result of decades of work. That meant many, many hours in the pool and the gym, and a little time for anything else. At the age of 16, the teen had already known the cost involved if he wanted success in the pool. "I'm sacrificing my childhood – my time with friends – but I want to look back after I've reached my goal and be able to say that I made it," he had said back then.
At the tender age of 14, Schooling had left his family to fly halfway across the world to US to be trained in the Bolles School in Florida. His parents had to take turns to fly to Florida to take care of their son, often for a few months at a time. This meant that the family had very little time together.
Besides physical separation and emotional strain, the family also had to deal with financial challenges. Schooling's mother, May, has shared that despite the money provided by the scholarship their son had received, the family has had to dig deep into their reserves and watch their spending to continue funding his education and training.
Let's remind ourselves that success requires plenty of sacrifices. But we also need to recognize that not every single one of us has what it takes to succeed at the highest level. Whatever happens, let's learn to be content with what God has given. And in the meantime, continue to celebrate the successes of those around us!  
3. Success is momentary
During an interview done while on his way back to Singapore, Schooling acknowledged that winning has now become the "new norm" in his life and that in order to maintain his position, he has to up his game. Perhaps he realized that the hype surrounding his historic win and achievement would eventually die down one day, and that he had to train harder if he wanted to stay on top.
When it comes to staying on top, the best person Schooling can take reference from is probably his childhood hero – the phenomenal Michael Phelps, the holder of 23 Olympic gold medals. For someone who seems to have it all in life, it will probably come as a surprise to many that being on top has not meant a smooth-sailing life for Phelps. Many articles have described the reigning Olympian's rocky journey over the past few years: A constant struggle to find peace in his heart had led him to drugs and alcohol, and even saw him entertaining thoughts of suicide at one point. Ultimately, it was the book, The Purpose Driven Life, that pointed him in the right direction – God. It had led him to believe that "there is a power greater than myself and there is a purpose for me on this planet".
Imagine that! If being the world's greatest Olympian is not enough, how can any one of us expect any form of success to satisfy us? In the end, Phelps saw where true joy and satisfaction could be found – not in gold medals, but in Someone greater. Whether we are aiming for victory in the pool, on the track, in school, or at work, it is a lesson we can benefit from.
https://ymi.today/wp-content/uploads/2016/08/3-Lessons-from-Schoolings-success-story.jpg
613
1024
Contributor
https://ymi.today/wp-content/uploads/2017/05/ymi-logo-black-3.png
Contributor
2016-08-15 20:39:58
2016-08-15 20:41:55
When Schooling beat Phelps: 3 lessons on success