It may be a new year already, but perhaps for some of us, life hasn't really changed much. We're still facing an endless stream of bad news, work is still as tiring as ever, people are still difficult, and it is just relentless. 
This is why Jesus said "each day has enough trouble of its own". And this is why He taught us to ask God the Father to give us this day our portion. Just for today.  
Similarly, clinging to hope is a daily exercise. Day by day, moment by moment, we must come and drink from His well, lean on Him and His gentle ways.  
For when you feel hopeless—here's how to keep going:
1. Converse with God through the Psalms
Sometimes, when we feel hopelessness, we lose words and don't know how to pray. 
When that happens, dive into the Psalms. Take the psalmists' words and fold them into your own prayers. Sit with God in the dark. Unload the weight in your heart, and plead with Him to heal and restore your soul. 
Here are some psalms that teach us how to utter hope when in despair:
How long must I wrestle with my thoughts
    and day after day have sorrow in my heart?
Look on me and answer, Lord my God.
    Give light to my eyes, or I will sleep in death
But I trust in your unfailing love;
    my heart rejoices in your salvation. (Psalm 13)
My tears have been my food day and night,
    while people say to me, "Where is your God?"
These things I remember as I pour out my soul:
    how I used to go to the house of God 
        under the protection of the Mighty One
    with shouts of joy and praise
Why, my soul, are you downcast?
    Why so disturbed within me?
Put your hope in God,
    for I will yet praise him, my Saviour and my God. (Psalm 42)
2. Acknowledge the little things

Beautiful blue skies, the warmth of the sun on our face, the delicious smells of coffee and freshly baked cookies…
The fact that we can see, smell, taste, and feel is a reminder that we are alive, and that God has given us our senses so we can enjoy His blessings in our day-to-day lives. Even as we struggle to feel hopeful, we can acknowledge and thank God for the littlest of things, and ask Him to keep planting and growing these small seeds of hope and joy in our hearts.
3. Portion out your tasks and map your progress
We have a huge project or assignment that's big enough to rival the wooly mammoth—and thinking about it has made us feel hopelessly weak in our knees.  
Before you choke at the thought of your never-ending to-do list and the seemingly insurmountable annual plan, take a breath, and just look at what's next. Break down big items to small, bite-sized tasks. Keep track of your progress, and take stock of the things you've managed to accomplish.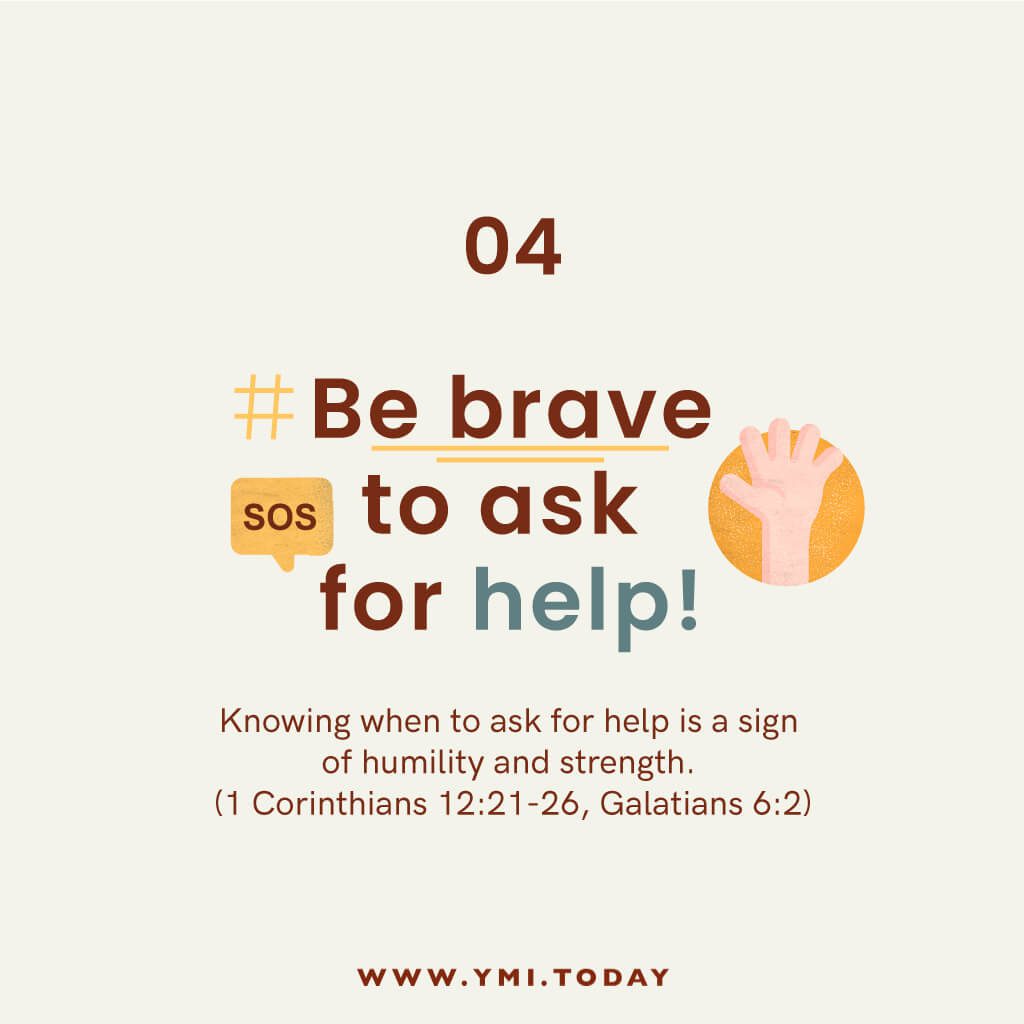 4. Be brave to ask for help (and be wise to know whom to ask)

Ever been kept awake by all sorts of unverified concerns and thoughts running through your head? And before you know it, you're down the rabbit hole of feeling hopelessness.

Sometimes, all we need is a clarifying conversation with a colleague or a friend to cut through the fog in our heads–to have someone tell us we're not alone and we don't have to go at it by ourselves.
It can be nerve-wracking asking for help (we don't want to seem weak!), but there's wisdom in seeking help when we need to. Pray for God to show or bring to us a trusted friend or community whom we can lean on.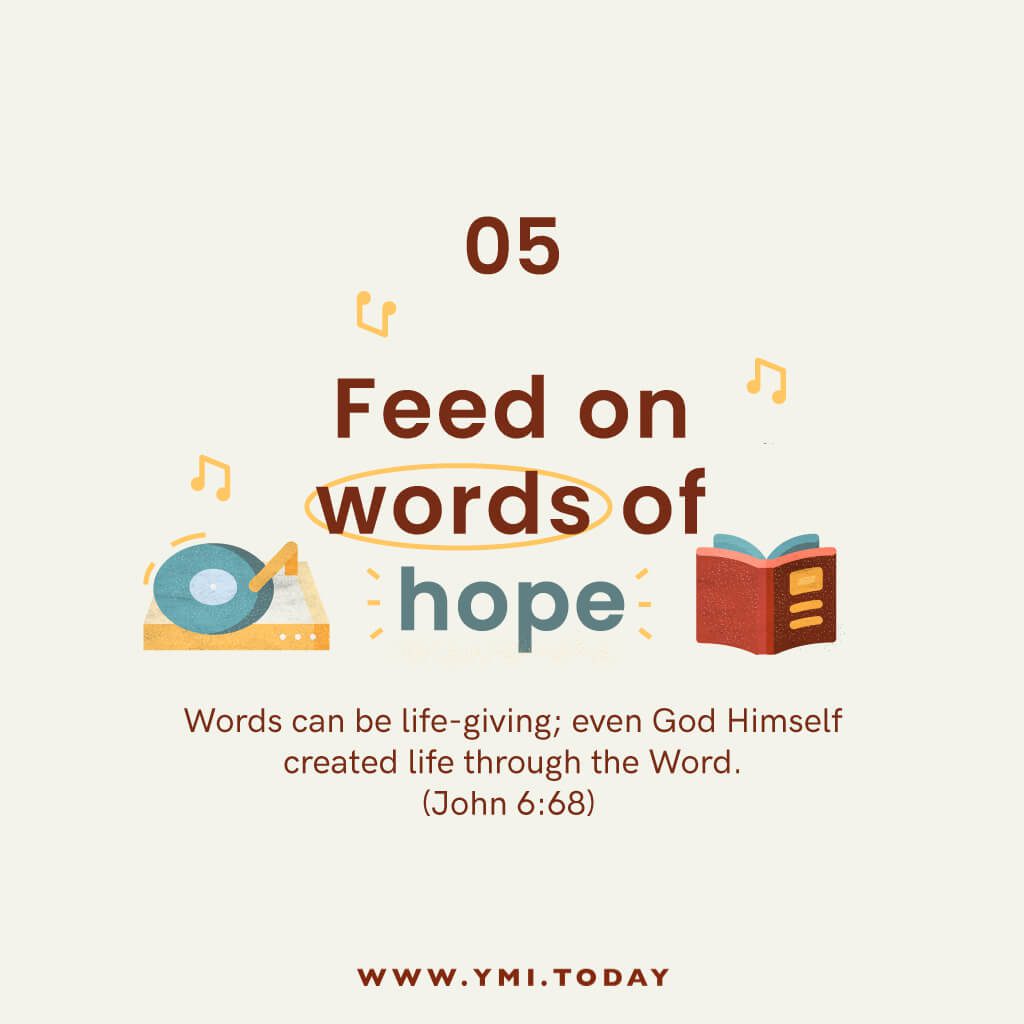 5. Feed on words of hope

What we watch, read, listen to, contain words that feed our minds and hearts. So let's dig into what really nourishes and sustains us. Whether it's movies about how good triumphs over evil, stories of divine intervention and healing, or songs that comfort and move us, God can use all of these to keep us tethered to Him. And of course, the best thing we have is His eternal Word.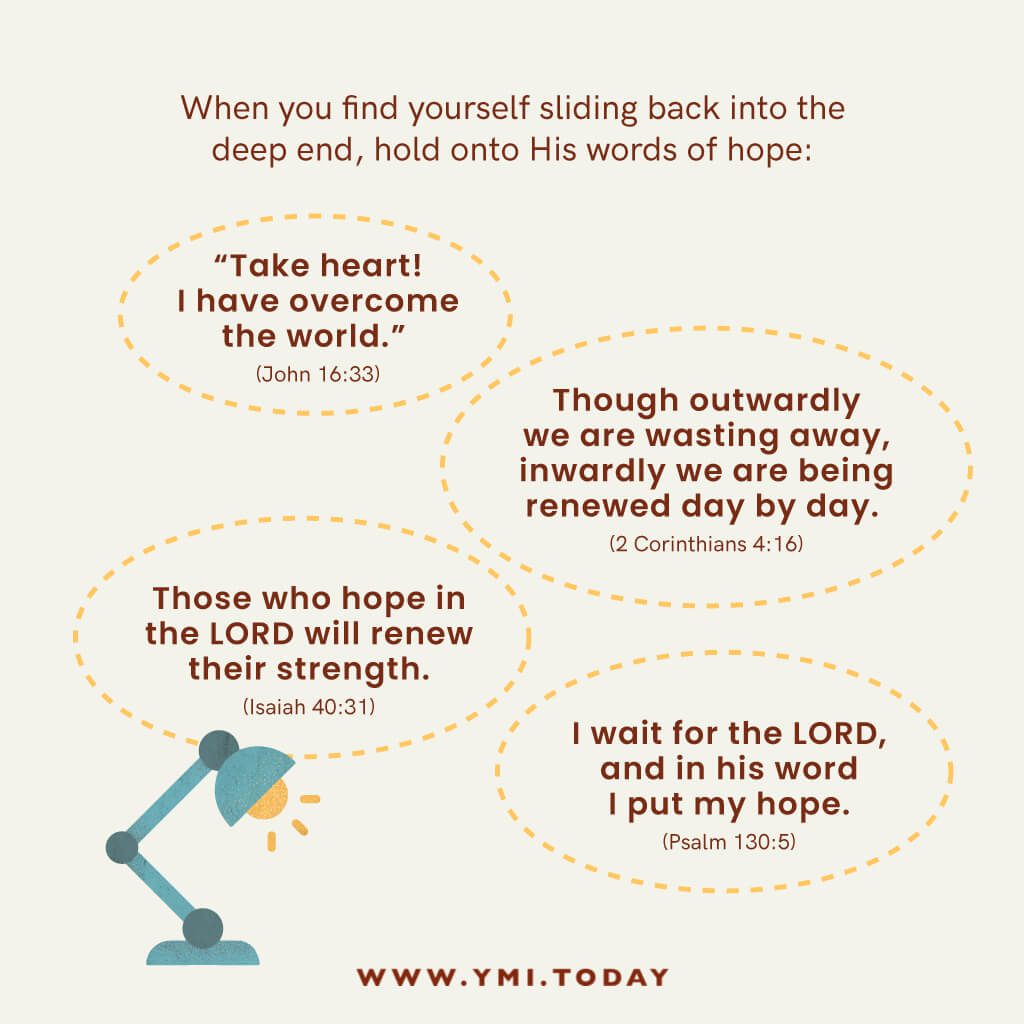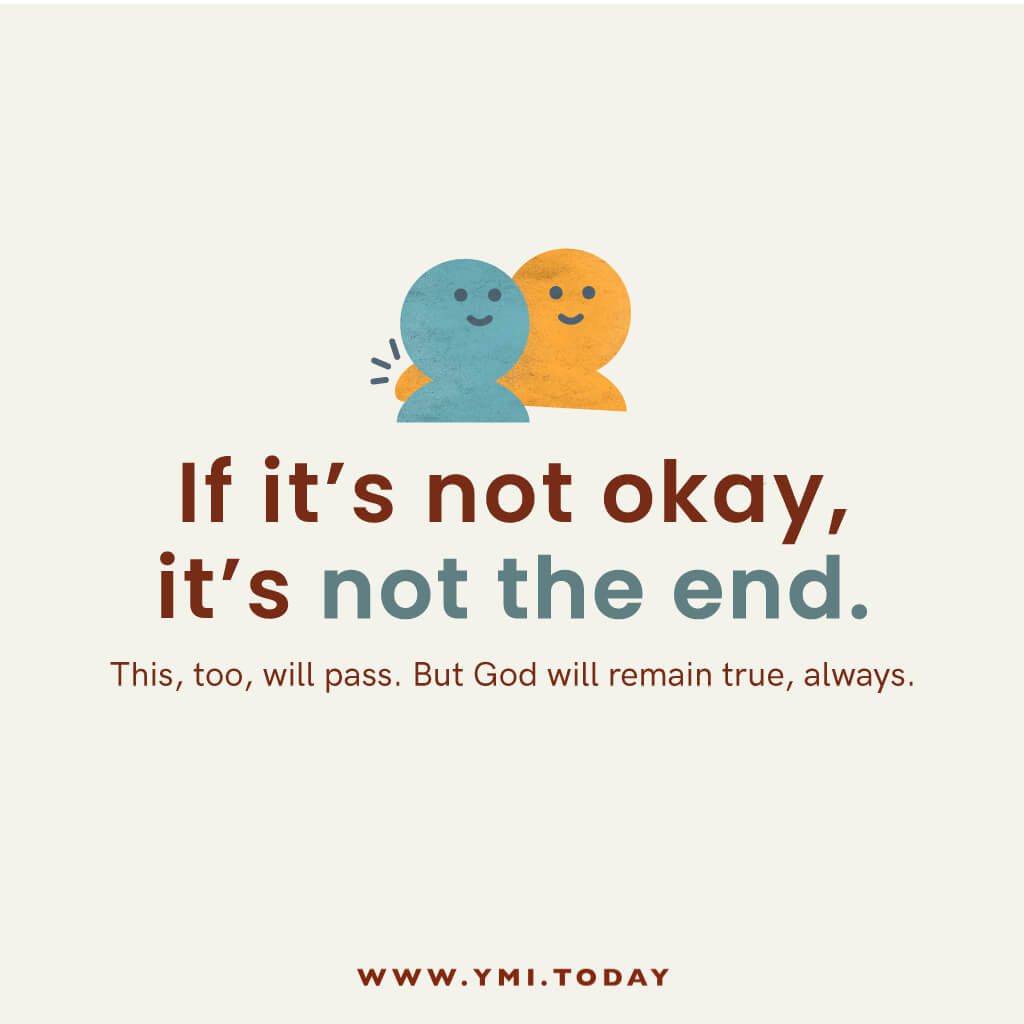 There's a line that goes, "If it's not okay, it's not the end." And this is true for us as believers. God promises that one day, He will make everything new, and ​​there will be no more death or mourning or crying or pain (Revelation 21:4-5). That is the end we are promised and the hope we have, which begins and ends with Jesus. 
https://ymi.today/wp-content/uploads/2022/01/feature-image-1.jpg
613
1024
YMI
https://ymi.today/wp-content/uploads/2017/05/ymi-logo-black-3.png
YMI
2022-01-21 12:00:46
2022-04-26 10:20:06
How to Keep Going When You Feel Hopeless