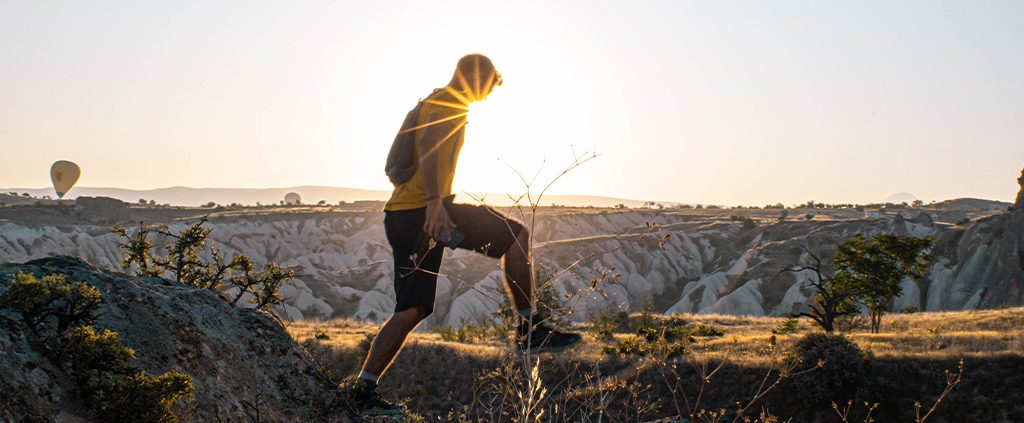 Written by Philip Roa, Philippines
When I first became a follower of Christ, my life completely changed. Up until that point, I had been struggling with a pornography addiction. It was a 7-year stronghold, but God's grace eventually led me to repent from my sinfulness and put my faith in Jesus Christ.
Within one year of coming to the faith, I moved to a new church where I joined the music team as a drummer, was discipled in a youth group, and shortly became a discipleship leader. I was on an emotional high. I felt I was finally where I was meant to be, that God had chosen me and was helping me grow spiritually.
But things started going downhill the following year. My work contract wasn't renewed, so I lost my job. I also mishandled my emotions with a girl from youth group—I wasn't clear with my intentions and led her on unintentionally. These two events plunged me into a deep depression that took me away from the ministries I was in.
At that time, I only had this thought: I surrendered my life, let the Lord work in it, and followed His leading! Why is it such a horrible mess now?
I wish I had known better when I was young, but thankfully it's not too late. So here we are—four myths about being chosen by God that can throw us off course. 
Myth 1: You'll immediately be promoted to your purpose
My coming to the faith was a wonderful—albeit emotional—experience. I was taught that we were to commit our ways to the Lord and that He would guide us on the "best path". From my early church experience, the topics of suffering and trials were not discussed as much (though of course, the sermons over the years have changed). But when the testimonies of older Christians then focused mostly on their triumphs and blessings from God, it felt like they gave the same subliminal message: Repent and give everything to God and He will make everything easy-peasy for you! No stress, no mess!
This myth slowly died when I read the story of Joseph.
Joseph went from being his father's favourite son to being sold by his brothers as a slave. From there, he became a household manager for an official, then a prisoner after being wrongfully accused of rape, then the head of the prison, and finally governor of all Egypt, second only to Pharaoh. 
All that took 13 years, with Joseph not knowing how it would turn out. But when his father passed away and his brothers thought he would finally exact vengeance, Joseph told his brothers that what they meant for evil, God had meant it for good (Genesis 50:18-21). 
Moses's story is another example. When Moses was called by God to bring His people out of Egypt (Exodus 3:7-10), he was thousands of miles away, hiding in a foreign land, because he had killed an Egyptian guard. He had gone from being a prince to a lowly shepherd.
Though Moses was responsible for his exile, God still took care of him all those years and, in time, called him to lead the Israelites out of Egypt and establish them as a nation. 
Being chosen by God rarely means a direct promotion to your purpose. Sometimes, just like Joseph and Moses, a "demotion" has to take place so we can be humbled and remember it is only by God's power, not our own, that we can move forward.
Myth 2: Your skillset determines your assignment 
We think that being chosen by God means using the talents He has blessed us with for His glory and purposes. So, it makes sense that we would want to maximise the skills He has given us to serve Him.
But there are times God calls us to go beyond what we are capable of, precisely because it is He who will shine, not us.
The story of Gideon is a good example (Judges 6:11-40; 7). He was threshing wheat in a winepress—in effect doing a basic chore while hiding—when God called Him to be Israel's next leader. As the youngest child in the smallest tribe, Gideon was not accustomed to leadership responsibilities. He even tested God thrice to guarantee it was for real! But as he obeyed, the Lord delivered a staggering victory to Israel through Gideon.
When God's calling is clear, trust that He will give you what you need to do His work.
Myth 3: You'll like everything you do
Being God's chosen means we'll enjoy everything we're asked to do, right?
When I was in my teens, I wanted to pursue communication arts for my degree, and it was during my university years when I finally figured out that I wanted to specialise in writing. I felt that it was my calling as I was naturally drawn to it and even got good grades from my professors.
However, these early experiences did not translate well into my career. The workplace opened my eyes to many disappointments: low salaries, poor-to-no benefits, and outrageous overtime hours. Somewhere along the way, my generation's motto of "Pursue your passion and you won't have to work a day in your life" had merged with my idea of how God's calling works. So here I was, pursuing my passion and "calling", but how come every moment felt like torture?
Jonah's story, although under quite different circumstances, taught me a different perspective. He was tasked to preach repentance to the city of Nineveh, which sounded like a pretty straightforward job for a prophet—except it wasn't. Jonah knew of the atrocities the people from this nation had done, so he wanted them to suffer God's judgment.
Even after he grudgingly completed his assignment, Jonah was still unhappy, and his story ended with a stern message from God. But as a result, the entire city of Nineveh believed in Israel's God and God's plan prevailed!
We may be misguided in believing that being chosen by God means our preferences will somehow naturally align with His plans and everything will fall into place. The truth that we need to internalise is this: God teaches us to place His will above ours since He calls us, not the other way around.
Myth 4: You'll have no opposition 
And then, there is the persisting misconception that we will encounter zero resistance from others as God's chosen. 
Yet even Jesus, the Son of God Himself, encountered fierce opposition. In fact, during the early days of His earthly ministry, His very own neighbours refused to listen to Him and wanted to throw Him off a cliff! (Luke 4:16-30)
And after Jesus publicly condemned the Pharisees for their corruption, they continually worked to harass and ensnare Him. And it was exactly this opposition that paved the way for His crucifixion. 
I personally encountered opposition even when I became sure of my calling to go into writing. What made it more painful was my own parents were the ones pushing me to pursue more lucrative career paths (like going into business as they did). I had to stand my ground lovingly and firmly with my parents until they understood how God's calling is unique to each of His children and not dependent on tradition. 
***
These myths I had erroneously believed were slowly dismantled when I rediscovered my faith by closely examining God's Word. After a lengthy absence from the ministry, I became accountable to my ministry leaders, and they restored me to the fold. It was a slow, painful process of learning and unlearning all the myths I believed about Christianity, as we began talking more about sin, suffering, and other ugly consequences in our weekly discussions.
Over time, God opened my eyes to the fact that being chosen by Him is about fully surrendering everything to Him, trusting that wherever and however He calls me, His goodness and love for me prevails. 
As God's chosen people, we need to renew our minds about God's calling with His perspective. In His grace, mercy, and love, He calls us to fulfil His purposes, not ours. Only when we let God plant that spiritual truth deeply in our minds and hearts can we faithfully be God's chosen.
https://ymi.today/wp-content/uploads/2022/01/4-Myths-About-Being-Chosen-by-God-1.jpg
613
1024
Philip Roa
https://ymi.today/wp-content/uploads/2017/05/ymi-logo-black-3.png
Philip Roa
2022-01-13 10:00:38
2022-01-17 14:49:24
4 Myths About Being Chosen by God