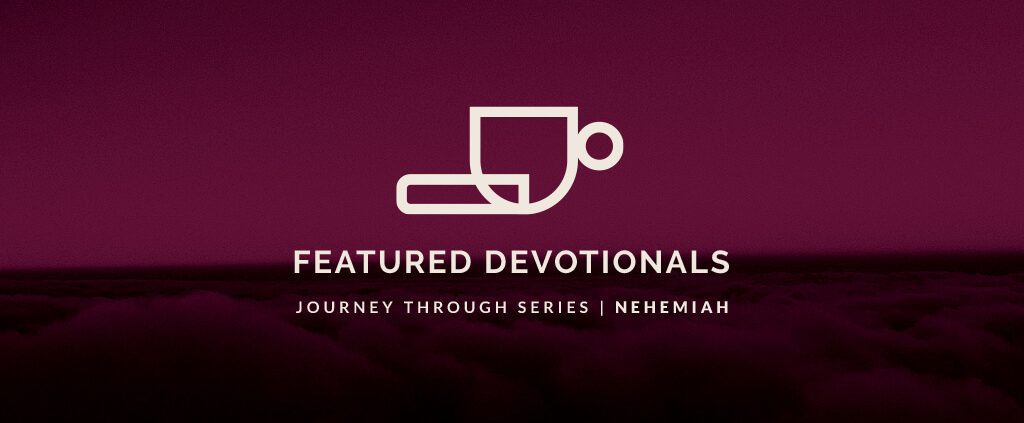 Day 25 – Nehemiah 9:16-37
The history of sin and the mystery of God's grace. This is what we find woven into the long prayer in Nehemiah 9:5-38. The Jews had been guilty of repeated sinful disobedience; they were spiritually deaf and ″refused to listen″ (vv. 16-17, 29). Suffering from spiritual amnesia, they kept forgetting what God had done for them and were ungrateful. They were also spiritually defiant, continuing in their sins against God (vv. 26, 35). They deserved God's just punishment, for they broke their covenant with God and turned against Him. The phrase ″But they″ appears several times (vv. 16, 26, 28, 29), standing as sad markers of Israel's continual apostasy and rebellion.
God, however, was repeatedly gracious. What is amazing is that for every ″But they″ there is a ″But you″ (vv. 17, 27, 28, 31). Every instance of turning to sin was met by a gracious response from God, who forgives His people and rescues them from dangerous situations. He does this because of His character: ″You are a forgiving God, gracious and compassionate, slow to anger and abounding in love″ (v. 17).
God does not abandon His people and ″desert them″ in the desert (v. 17). He acts with ″great compassion″ (v. 27) and ″great mercy″ (v. 31) because He is a ″gracious and merciful God″ (v. 31). The Jews admit that in His dealings with His people, God has always ″remained righteous″ and ″acted faithfully″ even though His people have ″acted wickedly″ (v. 33). They have repaid God's kindness with more wickedness! Yet God has not given up on them and keeps the story going with His endless supply of grace.
Divine grace will outlast human sinning (see Romans 5:20; 1 Timothy 1:13-14). It was on this basis that the Jews tell God about their ″great distress″ (Nehemiah 9:37) and plead for Him to respond graciously one more time, just like He had responded so many times before. We know that Israel kept on sinning until the arrival of Jesus, who is God's answer to the problem of persistent sinning. Having died for our sins, Jesus offers us freedom from stubborn sinfulness and help in times of trouble.
There is no sin so deep from which God cannot redeem us, if we repent and turn to Him for mercy. Some people may find themselves in the deepest pit and think they are beyond redemption. The prodigal son, for example, found himself in the worst of circumstances. When he decided to repent and return to his father's house, however, he received his father's loving forgiveness and warm embrace (Luke 15:17-24).
God redeems us from the deepest pit (Psalm 103:4). If you know someone who feels trapped, you can share with them God's amazing grace, which can redeem people from the most terrible pit.
Think Through:
What are the signs that someone is suffering from spiritual deafness, forgetfulness, and defiance? What would be effective remedies for these conditions?

For the truly repentant, God's grace overcomes the worst forms of sins (Romans 5:20). But why should we not take God's grace for granted (Romans 6:1; Hebrews 10:26-31)?
Taken from Journey Through Ezra & Nehemiah: 60 Devotional Insights by Robert M. Solomon.
https://ymi.today/wp-content/uploads/2021/09/Featured-Devotionals_Nehemiah_4.jpg
613
1024
Robert Solomon
https://ymi.today/wp-content/uploads/2017/05/ymi-logo-black-3.png
Robert Solomon
2021-10-08 00:00:00
2021-09-01 16:39:09
Grace that Outlasts