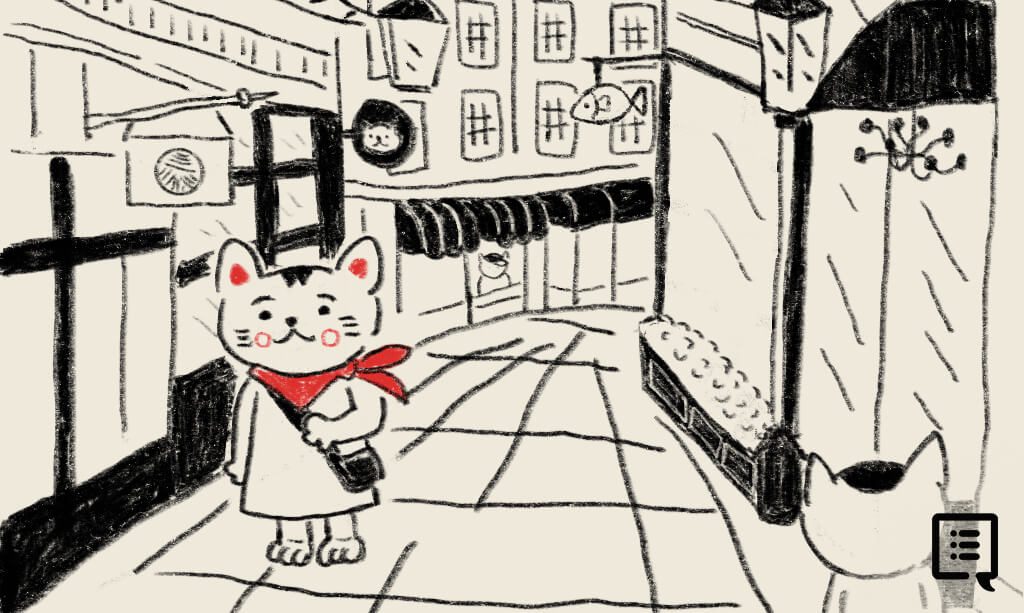 Did you know that the average adult faces some 35, 000 decisions to make on a daily basis? What to click, what to eat, what appointment to make, what to say, which thoughts to entertain—we're making choices constantly throughout the day. And 35, 000 is a staggering number, more than 10 times the average 3,000 choices children make daily.
And we grow older, our "yes" or "no" starts to matter more and more. Simple decisions (e.g., Should I get up or snooze my alarm? Should I eat a healthy or unhealthy lunch? Should I catch this train or the next?) have straightforward and predictable consequences. But there are also bigger decisions made up of many smaller decisions, which may not have as clear-cut or predictable outcomes as the smaller ones (e.g., Should I change my job / church? Should I date / marry this person? Should I migrate overseas?).
So how do we navigate the mountain of decisions before us daily and not be paralysed into inaction? As believers, is there a better way to make decisions? What are the biggest considerations we need to be mindful of?
Here are four useful questions to ask yourself when making a decision: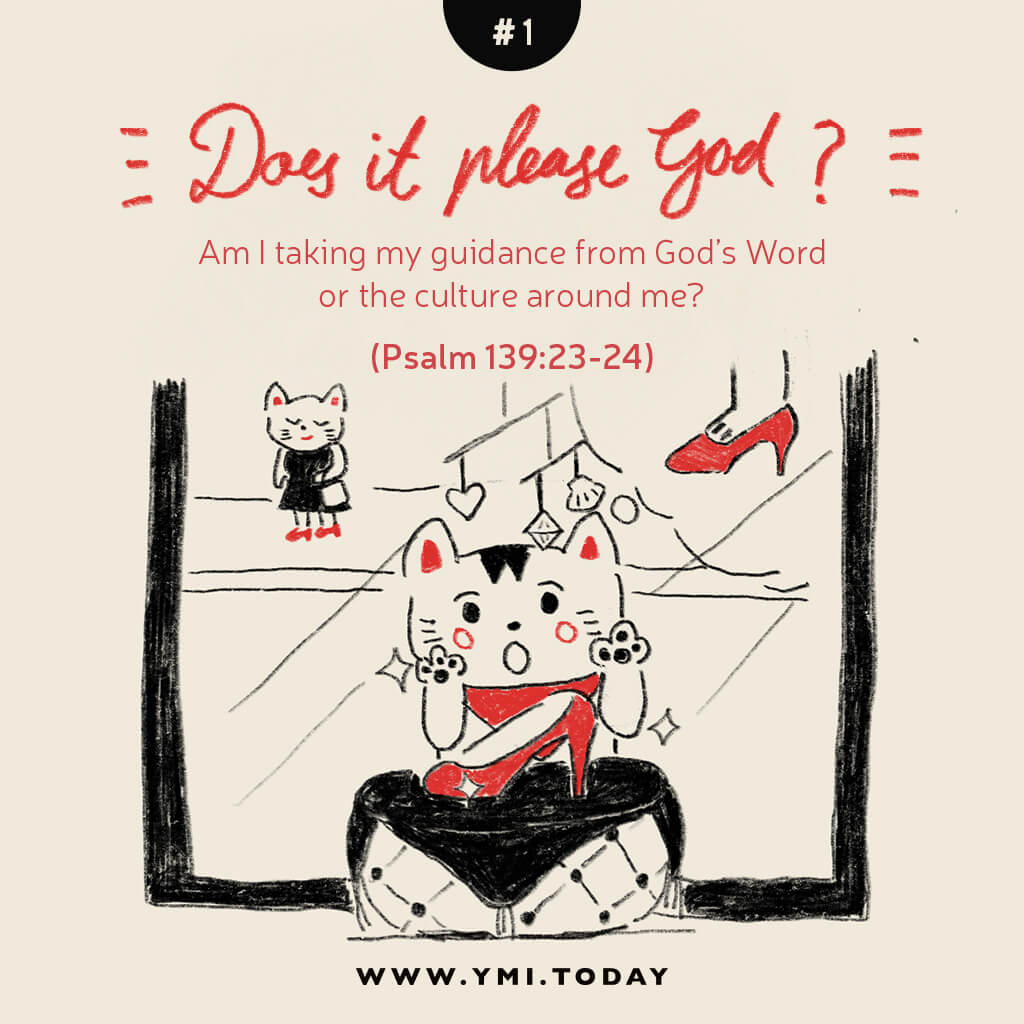 1. Does it please God?
"Search me, God, and know my heart; test me and know my anxious thoughts. See if there is any offensive way in me, and lead me in the way everlasting." (Psalm 139:23-24)
Each time we make a decision, let's take a moment to examine our motives behind them. For instance,
Am I motivated by a desire to "fit in" and for others to respect me more?
Am I motivated by a fear of "losing out" or leading a "boring" life?
Am I considering God's perspective on my situation?
Am I primarily taking my guidance from God's Word or from the culture around me?
Ultimately, our decisions will reflect whether our heart's desire is to please God. The Bible is clear on certain issues about what it means to obey God according to His good pleasure and created order. Through His Word, we know that God values sexual purity (1 Cor 6:18), humility over pride (Prov 29:23), generosity over greed (Luke 12), forgiveness over revenge (Romans 12:19), fruitful stewardship over faithlessness (Matt 25:14-30), and even family responsibility (1 Tim 5:8).
The more we know God's Word, the more we will know His heart, which is especially helpful for "grey areas" the Bible doesn't directly address. Romans 14 provides some useful guidance on the latter, such as how our decisions should consider our brothers and sisters and not stumble their faith (14:21), not be open to misinterpretation but be clearly good (14:16) and promote God's Kingdom values of righteousness, peace, and joy (14:17). Indeed, with each decision comes an opportunity to usher in God's Kingdom.
Like a muscle, making wise decisions can strengthen over time with practice as we regularly apply godly wisdom.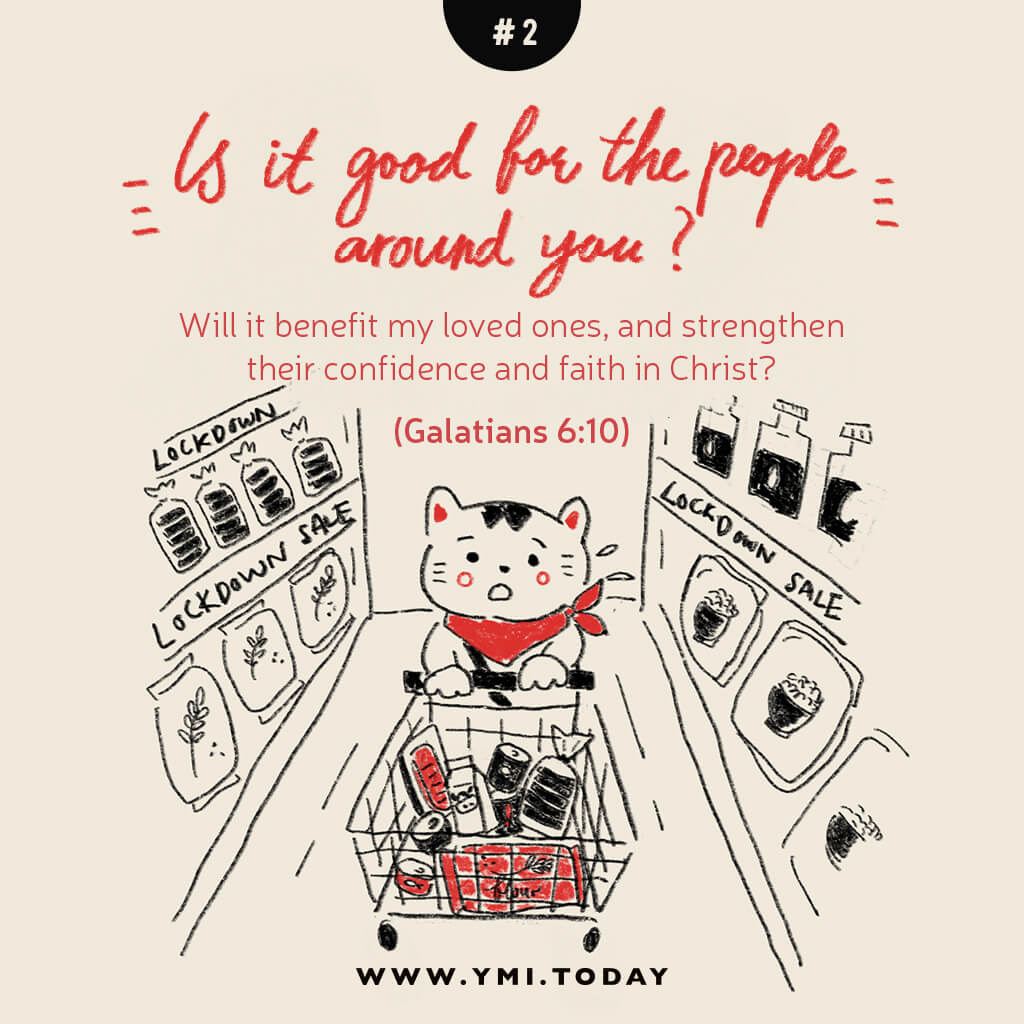 2. Is it good for the people around you?
"Therefore, as we have opportunity, let us do good to all people…" (Galatians 6:10)
"Do nothing out of selfish ambition or vain conceit. Rather, in humility value others above yourselves". (Philippians 2:3)
It's natural to look at our own social and financial gain when making decisions pertaining to our lives. But no major decision is made in a vacuum—it always has repercussions on those around us. Ask ourselves: Who would be affected by my decision? Will my change of job add or take away time from my family? How will this move overseas affect how often my children get to see their grandparents?
As 1 Cor 10:33b says, "For I am not seeking my own good but the good of many, so that they may be saved". God desires to bless others through our good works which come about through good decisions (Matt 5:16, Eph 2:10). So let's consider if our choices benefit others and help strengthen their confidence and faith in Christ.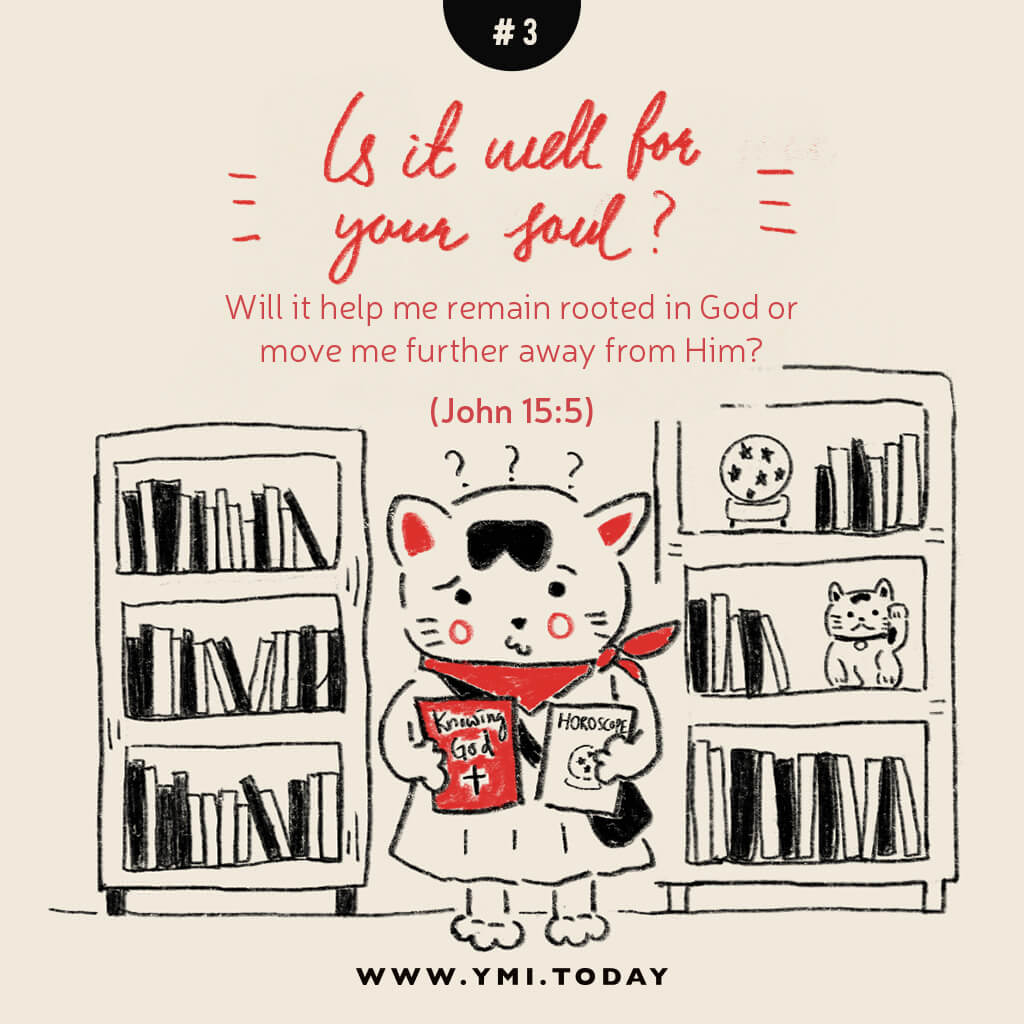 3. Is it well for your soul?
"I am the vine; you are the branches. If you remain in me and I in you, you will bear much fruit; apart from me you can do nothing." (John 15:5)
Besides considering the benefit of others, it is also good to ask ourselves if our choices will bring us closer or further from God—our source of life. A good overarching question is, "What helps or feeds my relationship with God?" Or we can mull over more specific questions, such as:
"Will accepting this job make use of my strengths and help me grow in weak areas that God has shown me?"
"Will attending this church help me feel excited about reading the Bible and praying more consistently?"
"Will joining this newcomers' ministry help me meet more pre-believers and help me grow in my desired area of evangelism?"
The choices we make—how we go about our work, relationships, and even the use of our leisure time—can invigorate or dampen our souls. Ultimately, our choices should help us remain rooted in Him (i.e., committed and surrendered to Him), so that we can bear spiritual fruit that will last and benefit ourselves and others (John 15:5).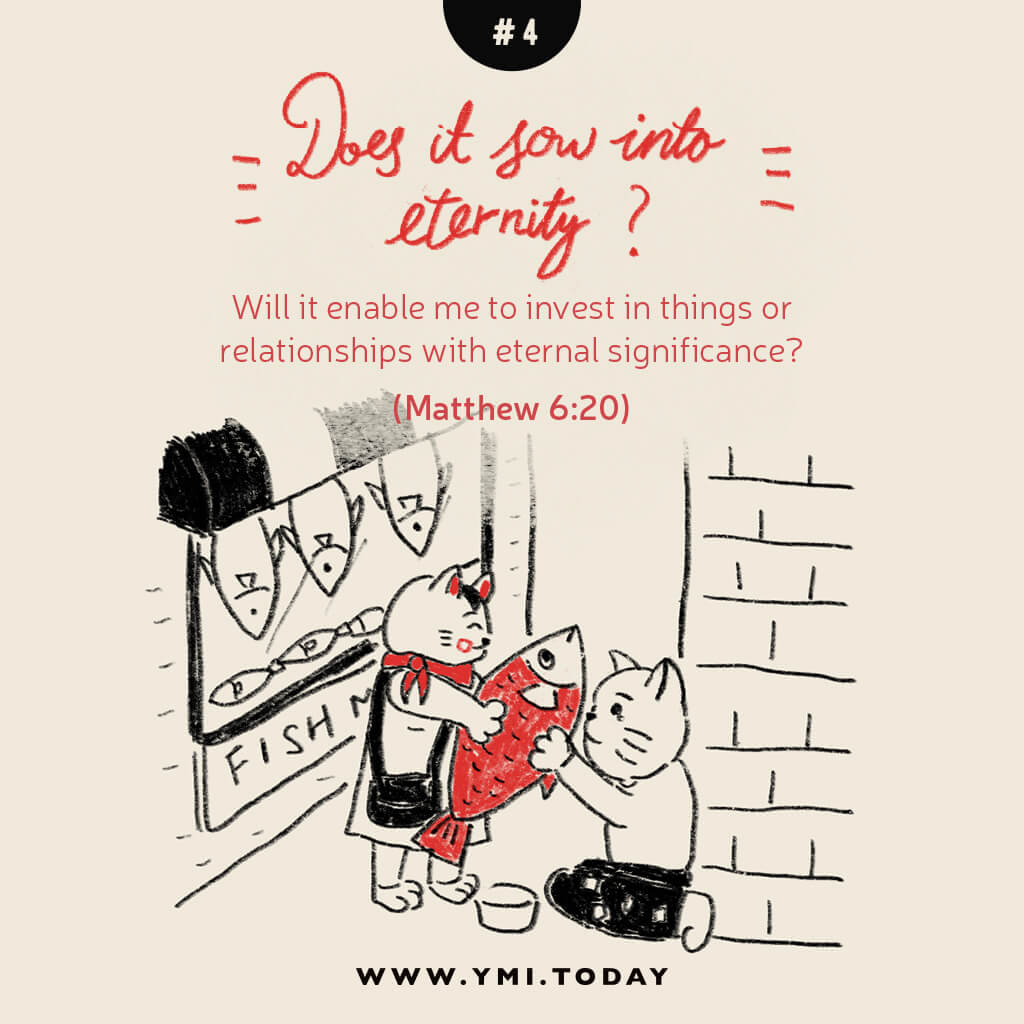 4. Does it sow into eternity?
"Store up for yourselves treasures in heaven, where moths and vermin do not destroy, and where thieves do not break in and steal. (Matthew 6:20)
The reality is that many of our smaller decisions wouldn't matter years from now (e.g., what we eat for lunch or what shoes to wear to a party). So in the grand scheme of things, it's silly to spend a disproportionate amount of time and energy on these things.
However, some seemingly small decisions can have long-lasting impact. For example, how are we managing our time so that we can regularly invest in relationships with eternal significance—with God, with family, with our church community and with pre-believers? Or, are we caring well for our bodies so that we are ready to do God's work? Also, are we being wise in our words so that others can better hear our care for them as well as the Gospel?
Perhaps we should always step back and ponder over this over-arching question: How will our decision impact our or someone else's eternity?
It can be easy to give in to fear about making a "wrong" decision. However, as God's children, we can be assured that He gives us wisdom when we ask (James 1:5) and is sovereign over everything. God holds all matters in His hands and nothing we do can thwart His plans (Job 42:2).
If you are currently in the process of making a major decision, take a moment to commit yourself and your situation to God (who already knows the outcome), listen to Him, and entrust your decision to Him who cares for you.
Seek Him in every decision you make—that is the best decision you can ever make today.
https://ymi.today/wp-content/uploads/2021/07/2-Listicle-feature-cover.jpg
613
1024
Sarah Tso
https://ymi.today/wp-content/uploads/2017/05/ymi-logo-black-3.png
Sarah Tso
2021-07-23 10:00:50
2022-04-26 17:05:52
4 Better Questions to Ask When Making Decisions